Back to News
B$Z: Arbor Snowboards Receives Multiple 2014 Awards
November 20, 2013
Arbor Snowboards Receives Multiple 2014 Awards, Their System Technology continues to lead in the snowboard industry.
Press Release from Marketing Farmer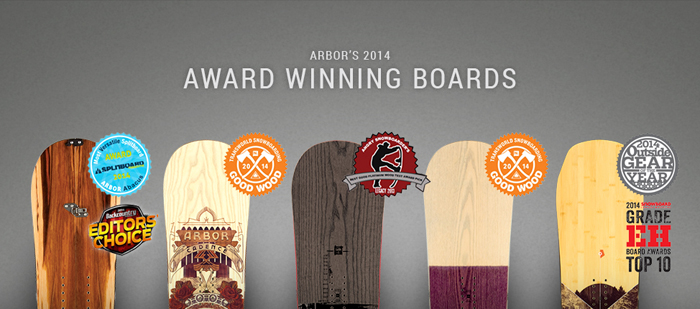 Venice, CA - November 19, 2013 - Arbor is proud to announce that their 2014 snowboard line has won multiple industry awards. The awards continue to validate their System Technology and solidify their boards a place among the most recognized in the industry for stand-out performance and ground breaking technology.
These award winning boards are equipped with Arbor's rocker platform "The System." The System was developed to provide riders with an amazing level of edge control in a design that preserves the full range of true-rocker benefits. This design includes a parabolic rocker design, Grip-Tech edge contact points and twin shaping. The resulting combination provides the float and playfulness of a rocker without sacrificing the edge hold and control found in traditional camber. For all of the technical information on The System visit: http://arborcollective.com/2011/10/the-system/
"We're really stoked on the awards we picked up on the 2014 line," says Arbor Snowboard's co-founder, Bob Carlson. "They reinforce all the design and production moves we've made of late, and continue to show that our System design is one of the best options out there."
The 2014 Awards:
Transworld Snowboarding Magazine - Good Wood Awards
Arbor Westmark
http://snowboarding.transworld.net/1000206777/snowboard-reviews/arbor-westmark-good-wood-2014/
Arbor Cadence
http://snowboarding.transworld.net/1000206877/snowboard-reviews/arbor-cadence-good-wood-2014/
Outside Buyer's Guide - Gear of the Year Award
Arbor Coda
Snowboard Canada Magazine - Grade Eh Award
Arbor Coda
http://www.snowboardcanada.com/news_article?news_id=2166"
Angry Snowboarder - Legacy Award
Arbor Blacklist (Three Years Running)
http://www.angrysnowboarder.com/2014-arbor-blacklist-snowboard-used-and-reviewed/
Backcountry Magazine - Editor's Choice Award
Arbor Abacus
Splitboard Magazine - Most Versatile Award
Arbor Abacus
http://www.splitboardmag.com/splitboards-arbor-burton-chimera/
For more information on The System, watch this video: http://youtu.be/GzqzlRyAuV0
About Arbor Snowboards
Since 1995, Arbor Snowboards has brought together a tradition of handcrafted construction, the best shaping and material technology available, and a commitment to sustainable production. Arbor is a family rooted in snowboarding and fueled by collaboration with athletes and artists who share the brand's vision for design. For more information on Arbor Snowboards visit http://www.arborcollective.com/snowboards.
---