Back to News
SNOW: U.S. Ski and Snowboard Hall of Fame Class of 2013 Announced
November 27, 2013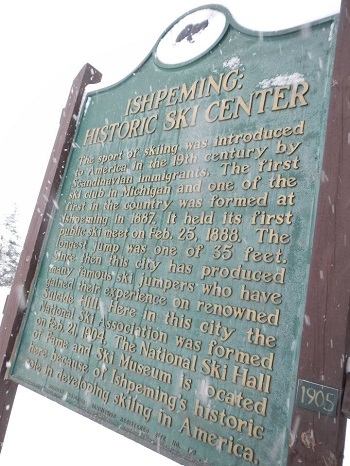 U.S. Ski and Snowboard Hall of Fame Class of 2013 Announced
Press Release from U.S. Ski and Snowboard Hall of Fame
ISHPEMING, MI – Six athletes and sport builders have been elected to the U.S. Ski and Snowboard Hall of Fame for their contributions to the sport. Honorees include big mountain skier Scot Schmidt, freestyle pioneer and world champion John Clendenin, 2006 Olympic moguls bronze medalist Toby Dawson, freestyle aerials champion Kris Feddersen, globally acclaimed ski film producer Joe Jay Jalbert and ski show pioneer Jerry Simon.
The six will be formally inducted into the Hall of Fame at a ceremony to be held in Park City, UT Saturday, April 5, 2014. The U.S. Ski and Snowboard Hall of Fame is located in Ishpeming, MI, the birthplace of the National Ski Association (now U.S. Ski and Snowboard Association) in 1905.
The honorees will be inducted in a ceremony scheduled for Saturday, April 5, 2014, in Park City, UT as the concluding event of Skiing History Week, celebrating the 50th anniversary of Park City Mountain Resort.
A formal enshrinement into the Hall of Fame will take place in September 19, 2014 at the Hall of Fame in Ishpeming. The six will bring the total number of honored members in the Hall of Fame to 393.
Information on tickets for the Hall of Fame induction ceremony or Skiing History Week is available at: www.skihall.org/ParkCity.
The inductees each achieved over 50% of ballots cast by a National Voting Panel of 200 members representing all areas of the sport.
"Our 2013 Hall of Fame inductees represent an extraordinary cross section of athletes and sport builders who have contributed at the highest level to our sport," said Bernie Weichsel, Co-Chairman, U.S. Ski and Snowboard Hall of Fame. "We're proud to welcome them as honored members of the U.S. Ski and Snowboard Hall of Fame. We expect a large turnout for our April 5 induction in Park City as a part of Skiing History Week."
The honorees are:
John Clendenin, Bloomington, IL (Aspen, CO)
Aspen native John Clendenin was one of the early pioneers of freestyle skiing, bursting onto the freestyle exhibition scene in the late '60s. One of the sport's early stars, he founded the International Freestyle Skiers Association in 1973 and won World Championship titles in 1973 and 1974. His legendary Clendenin Ski Method and book "Four Words for Great Skiing" were influential in introducing thousands to the sport. Clendenin also appeared in a host of ski films from noted producers Dick Barrymore, Joe Jay Jalbert and Greg Stump.
Toby Dawson, Seoul, South Korea (Vail, CO)
Lost as a boy in a Korean market, Toby Dawson was orphaned and raised by parents in Vail where he discovered moguls skiing. He made the U.S. Ski Team at age 19, winning his first World Cup in 2001. He reached the pinnacle of his career taking the World Championship in 2005 and Olympic silver a year later. Today he continues as a recognized global leader in the sport, introducing his birth nation to moguls skiing and serving a key role with the 2018 Olympics in PyeongChang.
Kris "Fuzz" Feddersen, Park City, UT (Steamboat Springs, CO)
Kris "Fuzz" Feddersen has had a lifetime of impact on freestyle skiing, as an athlete, coach and business leader. In 14 years as an aerialist on the U.S. Freestyle Ski Team, Kris Feddersen amassed 23 podiums and a pair of top five Olympic demonstration event finishes. As a coach, he played a key role in the gold medal sweep of U.S. aerialists at the 1998 Olympics in Nagano. As a co-founder of Flying Ace Productions, he has brought the excitement of action sports to tens of thousands worldwide.
Joe Jay Jalbert, Huntington, NY (Mullan, ID)
An accomplished ski racer, Joe Jay Jalbert's film career began as a production assistant and ski double for Robert Redford in the 1969 classic film "Downhill Racer." From official films, to industry product launches, to television specials, the Emmy award winning producer has over 800 productions to his credit including four official Olympic and 14 FIS World Championship films. His innovative production techniques combined with enterprising distribution methodology has made him one of the most sought-after ski film producers for more than four decades.
Scot Schmidt, Soquel, CA (Montana City, MT)
One of the most recognized and filmed skiers in the world, Montana native Scot Schmidt pioneered a style and remarkable ability that inspired generations of adrenaline-sport athletes. Labeled by Powder Magazine as "the original freeskier," Schmidt's impact in the 1980s literally set the stage for dramatic changes in the sport, playing a pivotal role in shaping the ski industry today. His skiing has been showcased in over 40 films and pioneered industry product testing in his over 30-year partnership with The North Face.
Jerry Simon, New York City, NY (deceased)
From the start of his ski industry career in 1964 working with Harry Leonard's ski shows, Jerry Simon's impact touched every corner of the sport. Through his work with wife Barbara Alley on ski fashion shows, pioneering the Skiing Mechanics and Managers Workshop, and producing the SkiGroup resort marketing shows nationwide, Simon helped educate industry leaders and grassroots employees and create marketing partnerships. One of his crowning accomplishments was the creation of the International Ski Film Festival – skiing's version of the Oscars. He passed away in 2010. Since then, the Jerry Award, named in his honor, has been presented annually by the Ski and Snowboard Film Institute (part of the Hall of Fame) to producers of the best films in the industry at the Ishpeming International Ski Film Festival during Skiing History Week.
U.S. Ski and Snowboard Hall of Fame
The U.S. Ski and Snowboard Hall of Fame provides highly respected perpetual national recognition to the athletes and builders who have made the highest level of national and/or international achievement and contributions to American skiing and snowboarding. Its museum, located in Ishpeming, MI is one of the largest in the world where it preserves, promotes and celebrates their achievements.
For more information visit: www.skihall.org
Contact: Tom West, President/CEO
---