Back to News
SURF: 2013 SURFER Poll Nominees Announced
December 5, 2013
2013 SURFER POLL NOMINEES ANNOUNCED
See Who Wins at SurferPoll.com on Dec. 6th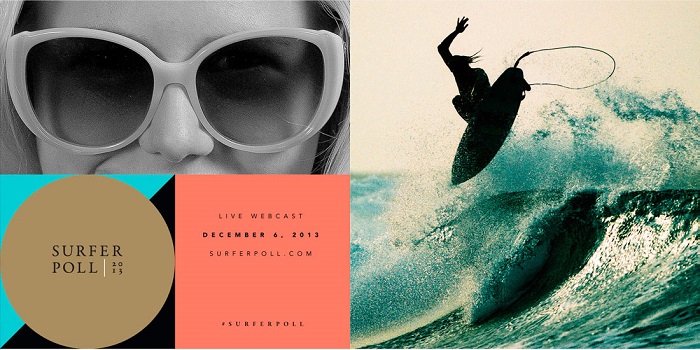 SAN CLEMENTE, Calif. — With just over a week until the biggest night in surfing, SURFER Magazine is pleased to announce the 2013 SURFER Poll video nominees.
Every year, SURFER Magazine pores over the films and shorts produced in the previous calendar year, and narrows down the best movies and performances. This year, there were so many noteworthy sessions and performances caught on tape, we've expanded the number of nominees in several categories to accommodate.
Also this year, for the first time in SURFER Poll history, we opened up the Worst Wipeout category to our SURFER readers, allowing them to vote online for the most harrowing wipeout and ultimately choose the winner.
Here are the 2013 SURFER Poll nominees:
Best Barrel
Dave Wassel, Tahiti, from Tropically Yours
Josh Kerr, Kirra, from Kirra 13
Didier Tinhin, Tahiti, from Tropically Yours
Randall Paulson, Pipeline, from Forecast Barrels
Craig Anderson, Skeleton Bay, from Slow Dance
Jordy Smith, Mozambique, from Now Now
John Florence, Tahiti, from Done
Worst Wipeout
Nakoa Decoite, Jaws, from Buttermilk Biscuits
Alain Riou, Teahupoo, from Tropically Yours
Peter Craig, Mullaghmore, Ireland, from Hallow Week
Tom Dosland, Jaws, from Buttermilk Biscuits
Adam D'Esposito, Teahupoo, from Tropically Yours
Tereva David, Teahupoo, from Tropically Yours
Heavy Water
Mark Healey
Kohl Christensen
Koa Rothman
Shane Dorian
Ian Walsh
Shawn Dollar
Greg Long
Carlos Burle
Grant "Twiggy" Baker
Garrett McNamara
Best Documentary
The North Canyon, directed by Gustavo Neves
Uncharted Waters, directed by Craig Griffin
Hawaiian: The Legend of Eddie Aikau, directed by Sam George
The Ductumentary, directed by Graham Nash and Reagan Richie
Best Short
Now Now, directed by Jacob Wooden
Highline, directed by Ryan Perry
Abyss, directed by Jay Grant
Begin Again, directed by Blake Kueny
Ice Cream, directed by Joe G
Nti Sheeto, directed by Dion Agius
Best Performance
Mick Fanning, Anything Sing
John Florence, Done
Craig Anderson, Slow Dance
Conner Coffin, Highline
Jordy Smith, Now Now
Shane Dorian, Anything Sing
Movie of the Year
Tropically Yours, directed by David Malcolm
Uncharted Waters, directed by Craig Griffin
Done, directed by Blake Kueny
Slow Dance, directed by Dane Reynolds
Hawaii: The Legend of Eddie Aikau, directed by Sam George
The 2013 SURFER Poll, which will be broadcast live from Turtle Bay on Dec. 6 beginning at 7 p.m. HST, will also include awards for the Top 10 Men and Top 5 Women, as well as A.I. Breakthrough Performer and Agent of Change.
Working media are invited to attend and cover the event. To request attendance, complete the credential request form at surfermag.com/surfer-poll/surfer-poll-media-credentials/.
For more information about SURFER Poll, click here.
Special thanks to SURFER Magazine partners FIAT, GoPro, House of Marley, KRU Vodka, Leatherman, Martin Guitars, Red Bull and Turtle Bay Resort for bringing the biggest night in surfing to life.
About SURFER
In 1960, SURFER Magazine began as the original. After a long history of delivering provocative and insightful editorial features, revealing interviews and award winning state-of-the-art photography, SURFER remains the authoritative voice of the surfing world and thus earned the moniker "the bible of the sport." The SURFER brand has also grown to include Surfermag.com, Fantasy Surfer, and the SURFER message boards. All of these assets combine to make the SURFER network the most current and reliable channel of information to the surf community. The magazine is published by Source Interlink's GrindMedia, which reaches more than 22-million active sports enthusiasts through an integrated network of magazines, online properties, events and television programming. To learn more, visit surfermag.com.
About GrindMedia
Source Interlink Media's GrindMedia is the world's largest action/adventure/outdoor media company, with 29 leading media assets featuring brands such as GrindTV.com, SURFER, SURFING, TransWorld SKATEboarding, Bike, POWDER, TransWorld Motocross, Snowboarder, Canoe & Kayak and more. GrindMedia reaches more than 40 million engaged consumers every month through its print, online, mobile, TV/video and events. Delivering significant reach across both action sports enthusiast and various in-market consumer audiences, GrindMedia also produces more than 40 leading events and webcasts such as Surfer Poll Awards, TransWorld SKATEboarding Awards, Powder Video Awards, Lowers Pro and EnduroCross. GrindMedia is also the exclusive action and adventure sports content provider for Yahoo! Sports. To learn more, visit grindmedia.com.
---