Back to News
SAIL: Helly Hansen Is The Official Apparel Partner for The Canadian Sailing Team
December 4, 2013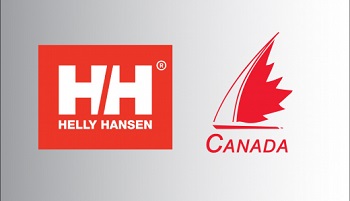 Helly Hansen Is The Official Apparel Partner for The Canadian Sailing Team
Press Release from Helly Hansen
Sail Canada, the national governing body for sailing, today announced Helly Hansen as the 2014 Canadian Sailing Team's official apparel partner.
Sail Canada selected Helly Hansen for its unparalleled Helly Tech® waterproof breathable technology as well as its shared commitment to performance, innovation, and style. Helly Hansen will outfit Canadian Sailing Team's designated athletes and coaches with a wide range of high-performance sailing apparel, including the best-selling Salt Jacket, the iconic HH Warm Ice Crew, and the award-winning H2 Flow Jacket.
"Since Norwegian sea captain Helly Juell Hansen created the world's first waterproof layer in 1877, we've dedicated ourselves to protecting professional sailors from nature's worst," said Erik Burbank, global vice president of marketing for Helly Hansen. "We're excited to work with Canada's national sailing team and support them on their upcoming regattas."
Helly Hansen will feature the Canadian Sailing Team in its North American marketing initiatives as well as support Sail Canada's championships, officials and Coaches through the 2014 season.
"It's a big year for our team," said Ken Dool, high performance director at Sail Canada. "We're rigorously training for the upcoming Miami World Cup event and the 2014 World Championships being hosted in Santander, Spain. Thanks to Helly Hansen's quick-drying Lifa® baselayers and water-repelling outerwear, our athletes are well positioned for an exciting and successful season."
About Helly Hansen
Founded in Moss, Norway, in 1877, Helly Hansen continues to protect and enable professionals making their living on oceans and mountains around the world. Their apparel, developed through a blend of Scandinavian design and insights drawn from living in some of the harshest environments on earth, helps provide the confidence professionals need to step out into the elements and complete their jobs. The company invented the first supple, waterproof fabrics more than 130 years ago, created the first fleece fabrics in the 1960s and introduced the first technical baselayers made with Lifa® Stay Dry Technology in the 1970s. Today, Helly Hansen is the official uniform partner for more than 60 ski resorts and mountain guiding operations and has outfitted more than 33,000 mountain professionals. The brand's outerwear, baselayers, sportswear and footwear for winter, outdoor and water sports are sold in more than 40 countries. To learn more about Helly Hansen's latest collections, visit www.hellyhansen.com.
About Sail Canada
Sail Canada is a Registered Amateur Athletic Association with charitable status, designated by the Government of Canada as a National Sport Organization representing the sport of Sailing. The Association represents all participants including recreational sailors and high performance athletes at the club, provincial, national and international level. Get connected with Sail Canada and the team on social media!
---