Back to News
B$Z: Cannondale Sports Unlimited Moves into New Headquarters
December 3, 2013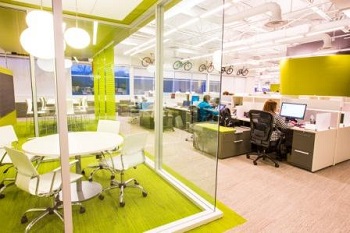 Cannondale Sports Unlimited Moves into New Headquarters
Press Release from Cannondale
Cannondale Sports Unlimited (CSU) has opened its new 51,000-square-foot global headquarters, in Wilton, CT. The new space is designed to support research and development, engineering and marketing of each of the company's brands, which include Cannondale, Schwinn, GT, Mongoose, Caloi, IronHorse and Sugoi.
The building's biker-friendly features include: a bike garage, fitness center and open spaces that leverage natural light from perimeter windows and central skylights to create a bright, inspiring work place that brings the outside world in.
"As Cannondale Sports Unlimited's rapid growth continues, it's critical that we have a world class location for our employees to do their best work," said Bob Baird, CEO and president, Cannondale Sports Unlimited. "With this new location we have created an inspiring environment for creativity and innovation, where employees can focus on designing, engineering and marketing our products, which include the best bicycles in the world."
Other features of the building include a natural plant wall and an inviting bistro/café area with an adjacent outdoor break area. The building was designed with sustainable elements including an eco roof with solar panels, Low 'e' Energy Star windows, energy efficient HVAC systems, and expansive natural day lighting.
Cannondale Sports Unlimited is composed of three operating divisions, Cycling Sports Group, Pacific Cycle Group and the Apparel Footwear Group ("SUGOI"). With a comprehensive range of brands including Cannondale, Schwinn, Caloi, GT, Mongoose, SUGOI, Charge Bikes, IronHorse, InSTEP, KidTrax, GURU and Cannondale Sports, we are motivated by our passion for creating inspired experiences for a fun, healthy world. Every project, every meeting, every moment is an opportunity to inspire someone with our products. From a Sunday family ride to the Tour de France, Cannondale Sports Unlimited employees are helping people all over the world realize their dreams, big and small. For more information, please visit cannondalesportsunlimited.com.
Cannondale Sports Unlimited is a part of Dorel Industries, Inc.'s Recreational/Leisure segment, which designs, sources, makes, sells and distributes a variety of bicycles, bicycle parts and accessories and apparel to both mass retailers and the independents bicycle dealers, or IBDs. The Recreational/Leisure segment reported sales of $928.4 million in 2012.
---