Back to News
VIDEO: Metal Mulisha Co-Founder Larry Linkogle and Suicidal Tendancies Premiere Music Video
December 4, 2013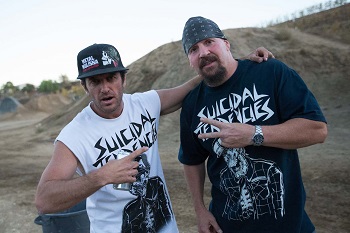 Metal Mulisha and Suicidal Tendencies Collaboration Brings Together the Rock and Freestyle Motocross Worlds
Press Release from LaChica Sports
TEMECULA, Calif. (December 3, 2013) – Larry "Link" Linkogle, regarded as one of the founding father's of Freestyle Motocross and co-founder of Metal Mulisha has joined forces with iconic action sports thrash metal band Suicidal Tendencies to star in the music video "Smash It" which premieres world-wide today at: http://www.youtube.com/watch?v=F4l-BEiWb1w. The project is in support of the Suicidal Tendencies X Metal Mulisha collaborative clothing collection the brand launched for Spring 2014, and is available now in select retailers and online.
"I am a huge Suicidal Tendencies fan and met them back in 1998 back when FMX first started and we had a huge impact on one another," commented Linkogle. "For the collaboration, we wanted to create a music video inspired by the adrenaline that drives the action sports and metal rock scene and bring together two separate but similar worlds."
The band began shooting the new music video in October over the course of two-days at Larry's O.G. Mulisha Compound in Temecula, Calif., and was directed by Jay Schweitzer and Mike McEntire of Powerbrand Films. The music video was filmed using four RED cameras, POV angles as well as an RC helicopter to showcase the band's signature live performance styles while Linkogle along with several of the Metal Mulisha team riders launched over a 18-foot ramp while simultaneously performing various freestyle motocross stunts.
"It was such an honor and privilege to direct this exciting next level Suicidal Tendencies Metal Mulisha project, no other music videos I've shot before even compare," said Schweitzer.
Linkogle, whose Freestyle Motocross accolades include holding the world record for the longest motorcycle jump, was also the youngest motorcycle rider to turn professional at age 16 and is known for building the first-ever freestyle motocross park also known as Wombat Hills in 1996. The decision to collaborate with the band Suicidal Tendencies developed out of a long friendship and mutual respect for each other's talents. As a result, Linkogle (along with Metal Mulisha rider, Jimmy Fitzpatrick) were approached by the band earlier this year to be featured on the Suicidal Tendencies' track "Smash It" off of their first album of new materials in thirteen years, coincidentally titled – "13".
"We look at the obstacles to our dreams and destroy what's in the way and the results..."SMASH IT!" said Mike Muir, Suicidal Tendencies lead singer.
Suicidal Tendencies' tour kicked off in San Luis Obispo, Calif. and will continue to Ventura, Calif. on December 21 before embarking on the Presistence Tour abroad in January 2014.
Rounding out the collaboration, a unique line of Metal Mulisha x Suicidal Tendencies merchandise was also developed and includes men's and women's t-shirts and hooded sweatshirts, available this month at www.metalmulisha.com and select retailers for a limited time.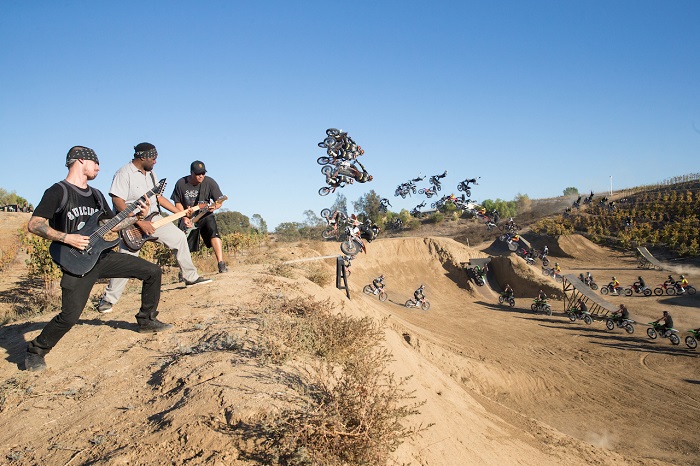 To schedule an interview with Larry Linkogle please contact his representative at LaChica Sports: Angela LaChica // 619-504-5442 // angela@lachicasports.com
ABOUT LACHICA SPORTS
LaChica Sports specializes in branding, marketing, public relations and event management. Individualized attention is paid to each client, creating and executing customized strategic plans. Years of industry experience provides the ultimate in high class service. Our values remain a common thread throughout our firm and are delivered in a consistent manner- how we interact with our clients, conduct business and celebrate success. For more information www.lachicasports.com
---