Back to News
SUPPORT: Surfrider Foundation Joins National #GivingTuesday Movement
December 3, 2013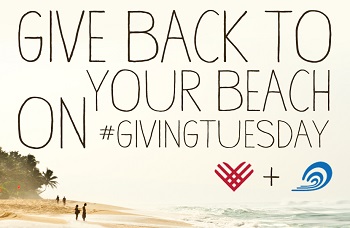 Spend With A Purpose This Giving Season
Press Release from Surfrider Foundation
After everyone has spent a day of giving thanks and a day of getting deals, Surfrider Foundation is proud to join the national #GivingTuesday movement to encourage people to spend with a purpose.
#GivingTuesday harnesses the collective power of a unique blend of partners - charities, families, businesses and individuals - to transform how people think about, talk about and participate in the giving season. During the start of the holiday shopping season, #GivingTuesday is meant to inspire people to give back in better, smarter ways to the causes they support.
"This season, our goral is to encourage others to choose a gift that ultimately gives back," said Laura Lee, Director of Marketing & Communications. "No matter how you contribute to Surfrider Foundation, you can be assured that you will make a difference on our beaches today, tomorrow and for years to come."
Everyday Surfrider Foundation is working to keep your beach healthy, accessible and protected. So we hope you'll give back to your beach on #GivingTuesday by joining or renewing your Surfrider Foundation membership, giving a Holiday Gift Membership to a loved one, shopping Surfrider Foundation merchandise or looking into other powerful ways to give. Find all of these options here: http://www.surfrider.org/givingtuesday.
When you make a contribution on #GivingTuesday, you support Surfrider Foundation's work to protect our oceans, waves and beaches. You fund campaigns that ensure your right to beach access and surf at your beach. You back programs that will someday stop single-use plastics from ending up in our oceans. You give to clean water programs that safeguard the health of our ocean waters. and so much more.
About Surfrider Foundation
The Surfrider Foundation is a non-profit grassroots organization dedicated to the protection and enjoyment of our world's oceans, waves and beaches through a powerful activist network. Founded in 1984 by a handful of visionary surfers in Malibu, California, the Surfrider Foundation now maintains over 250,000 supporters, activists and members worldwide. For more information on the Surfrider Foundation, visit www.surfrider.org.
---