Back to News
SURF: Mick Fanning Claims 2013 ASP World Title, Top 34 Finalized for 2014 ASP WCT Season
December 16, 2013
Mick Fanning Claims 2013 ASP World Title, Top 34 Finalized for 2014 ASP World Championship Tour Season
Press Release from the ASP
Mick Fanning Claims 2013 ASP World Title at Billabong Pipe Masters
BANZAI PIPELINE, Oahu/Hawaii - Mick Fanning (AUS), 32, has claimed his third ASP World Title today in epic conditions at the Billabong Pipe Masters in Memory of Andy Irons.
The final event of the 2013 ASP World Championship Tour (WCT) season, the Billabong Pipe Masters is culminating today in solid 10 to 15 foot (three-to-five metre) waves at the infamous Banzai Pipeline and Fanning's last-minute heroics in both Round 5 against C.J. Hobgood (USA), 34, and the Quarterfinals against Yadin Nicol (AUS), 28, has sealed his campaign for this year's world surfing crown over an rampaging Kelly Slater (USA), 41.
"It wasn't easy," Fanning said of his morning Round 5 bout with Hobgood. "If you want to win a world title, you have to put it all on the line. I basically got flogged for 28 minutes of that heat before that gem came through. I heard from all the boys whistling on the beach and I knew it was going to be a good one when it came in. I got a roll in off of second reef and it set up for a really good section on first reef. Came through at the right time and that was definitely a magic moment for me."
Drawing compatriot Nicol in the Quarterfinals, Fanning once again found himself at a disadvantage early in the heat with his West Australian opponent racking up a number of high scores on his backhand at Pipeline. Needing an excellent score in the dying moments of the heat, Fanning dropped into on a second reef set, setting up for a tremendously deep backhand barrel before being spat out into the channel. With throngs of fans and media swarming him on the beach, Fanning awaited judgment of his final wave – a 9.70 out of a possible 10 for the heat win and the 2013 ASP World Title.
"The world title is something that takes a whole year, but sometimes it can feel like it boils down to the final day and the final heats," Fanning said. "I'm sure I gave my wife Karissa and my mum enough stress today to last a lifetime. I was never worried myself now that I think of it. I knew what I needed to do and if the opportunity came, I knew I could do it. That opportunity came in both heats today. It's an incredible feeling. I've been having fun all year and to clinch on a day like this at Pipeline makes it that much more special."
MICK FANNING 2013 ASP WORLD CHAMPIONSHIP TOUR RESULTS:
Quiksilver Pro Gold Coast: Equal 3rd
Rip Curl Pro Bells Beach: Equal 5th
Billabong Rio Pro: Equal 3rd
Volcom Fiji Pro: Runner-Up
Oakley Pro Bali: Equal 5th
Billabong Pro Tahiti: Equal 3rd
Hurley Pro at Trestles: Equal 9th
Quiksilver Pro France: WINNER
Rip Curl Pro Portugal: Equal 5th
Billabong Pipeline Masters: TBD
Slater followed up Fanning's clinching of the 2013 ASP World Title with a clinic in his Quarterfinal against Sebastian Zietz (HAW), 25, and was congratulatory of his Australian title opponent post-heat.
"I'm excited for Mick (Fanning) – it was an exciting finish," Slater said. "Mick has been focused all year. It's hard for me to pinpoint exactly where my year didn't stack up. I got hurt in Tahiti and probably should have rehabbed more before Trestles. I didn't surf very well through Europe. A world title is a yearlong thing. It was a great year for surfing and I'm excited we get to wrap up in great waves at Pipeline."
For more information, log onto www.aspworldtour.com
---
ASP Top 34 Finalized for 2014 ASP World Championship Tour Season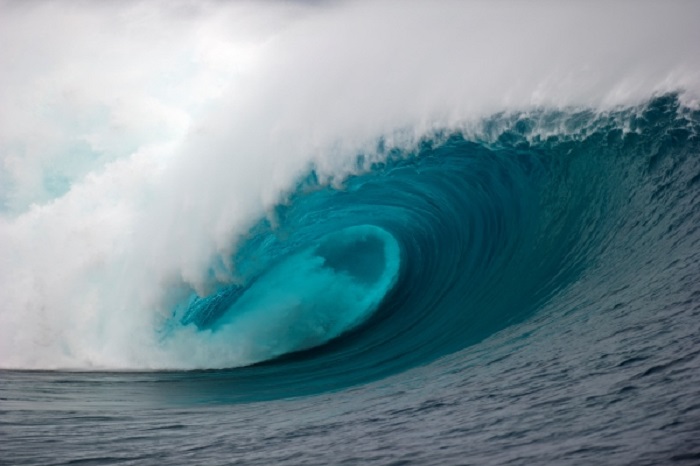 LOS ANGELES, California/USA – With the completion of the Billabong Pipe Masters in Hawaii yesterday and the crowning of Mick Fanning (AUS), 32, as the 2013 ASP World Champion, this season's ASP World Championship Tour (WCT) has drawn to a dramatic close.
In a year that witnessed the world's best surfers compete at Snapper Rocks, Bells Beach, Rio de Janeiro, Tavarua, Keramas, Teahupo'o, Trestles, Hossegor, Peniche and the Banzai Pipeline, 2013 not only hosted an incredible battle between Fanning and 11-time ASP World Champion Kelly Slater (USA), 41, for the world surfing crown, but also a fierce fight in terms of qualification and requalification for next year's elite tour.
The 2014 ASP Top 34, the most elite surfers on the planet, will be comprised of the Top 22 finishers on the 2013 ASP WCT rankings, the Top 10 finishers on the ASP Qualification Series (QS) rankings (barring surfers who have already qualified through the Top 22 on the ASP WCT rankings) and two ASP wildcards.
2013 ASP World Championship Tour (WCT) Top 22:
1. Mick Fanning (AUS)
2. Kelly Slater (USA)
3. Joel Parkinson (AUS)
4. Jordy Smith (ZAF)
5. Taj Burrow (AUS)
6. Julian Wilson (AUS)
7. Kai Otton (AUS)
8. Nat Young (USA)
9. Josh Kerr (AUS)
10. John John Florence (HAW)
11. C.J. Hobgood (USA)
12. Michel Bourez (PYF)
13. Adriano de Souza (BRA)
14. Gabriel Medina (BRA)
15. Filipe Toledo (BRA)
16. Sebastian Zietz (HAW)
17. Adrian Buchan (AUS)
18. Jeremy Flores (FRA)
19. Miguel Pupo (BRA)
20. Fred Patacchia (HAW)
21. Bede Durbidge (AUS)
22. Matt Wilkinson (AUS)
2013 ASP Qualification Series (QS) Top 10 (barring double qualifiers):
- Adam Melling (AUS)
- Kolohe Andino (USA)
- Alejo Muniz (BRA)
- Jadson Andre (BRA)
- Mitch Crews (AUS)
- Aritz Aranburu (EUK)
- Raoni Monteiro (BRA)
- Travis Logie (ZAF)
- Dion Atkinson (AUS)
- Brett Simpson (USA)
ASP Wildcards:
- Owen Wright (AUS)
- Tiago Pires (PRT)
ASP Replacement Surfers:
- Glenn Hall (IRL)
- Mitch Coleborn (AUS) – next in line on 2013 ASP QS rankings
- Patrick Gudauskas (USA) – next in line on 2013 ASP WCT rankings
- Willian Cardoso (BRA) – second in line on 2013 ASP QS rankings
The ASP Wildcards for the 2014 ASP WCT have been allocated to Owen Wright (AUS), 23, and Tiago Pires (PRT), 33.
Due to the large number of deserving surfers requesting wildcards for the 2014 season, the ASP Commissioner's Office has allocated the first replacement spot for next season to Glenn Hall (IRL), 32, who sustained a significant back injury last June in Fiji.
The first stop on the 2014 ASP World Championship Tour will be the Quiksilver Pro Gold Coast from March 1 – 12, 2014.
For more information, log onto www.aspworldtour.com
---