Back to News
VIDEO: Kim Woozy Inspires Females to Pursue Action Sports at TEDx America's Finest City
December 18, 2013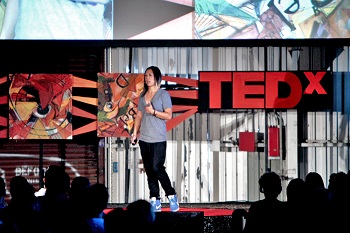 Kim Woozy Inspires Females to Pursue Action Sports at TEDx America's Finest City
Press Release from MAHFIA
SAN DIEGO — December 11, 2013 — At TEDx America's Finest City, Kim Woozy, Founder and President of MAHFIA, a video production company and web channel rooted in women's action sports, presented her talk "If She Can Do It, So Can I."
Discovered by TEDx at a film screening of Underexposed: A Women's Skateboarding Documentary, Woozy was invited to speak alongside 11 of San Diego's leaders in technology, entertainment and design at the Public Market in downtown San Diego. The speakers were selected to share their dialogues in action with 300+ attendees, helping to shape the San Diego community and instigate a movement for change.
"As an actions sports advocate, I hope to inspire young girls to pick up a board and just go for it. My goal in creating MAHFIA is to motivate females to pursue their passions and proactively contribute to the change they wish to see. For the future of women in action sports, it's our responsibility to go out and make things happen," says MAHFIA Founder and President, Kim Woozy.
Established in 2010, MAHFIA exposes the untold stories of females in action sports culture. Its mission is to promote females for their accomplishments and offer inspiration and entertainment for girls who are interested in the creative lifestyle of skateboarding, snowboarding and surf culture.
Looking forward to 2014, MAHFIA will be expanding its website to include interactive elements and continue to deliver authentic video content. Additionally, MAHFIA will be partnering with The Alliance to produce a female skateboarding event series and teaming up with Group Y to establish a series of women's action sports industry networking events.
View and share Kim Woozy's TEDx talk:
https://www.youtube.com/watch?v=fA2ZHdkw_t4
Title: "If She Can Do It, So Can I"
Speaker: Kim Woozy, MAHFIA
Event: TEDx America's Finest City San Diego
Location: San Diego Public Market, Barrio Logan
Date: October 5, 2013
Athletes Featured:
Mimi Knoop
Allysha Bergado
Karen Jonz
Lizzie Armanto
Nora Vasconcellos
Vera Janssen
About Kim Woozy
A product of the millennial generation, Kim Woozy was born and raised in the heart of Northern California's Bay Area. Her childhood was influenced by the juxtaposition of San Francisco's rich cultural diversity, Silicon Valley's technological innovation and the Sierra Nevada's epic outdoor adventures. With nearly a decade of experience in the action sports industry, Woozy aims to authentically construct the future of board sports culture for females as well as introduce the lifestyle to young girls around the world. MAHFIA.tv
About TEDx & TED
In the spirit of ideas worth spreading, TEDx is a program of local, self-organized events that bring people together to share a TED-like experience. TED a nonprofit organization devoted to Ideas Worth Spreading. Started as a four-day conference in California 25 years ago, TED has grown to support those world-changing ideas with multiple initiatives. The annual TED Conference invites the world's leading thinkers and doers to speak for 18 minutes. Their talks are then made available, free, at TED.com. TED speakers have included Bill Gates, Al Gore, Jane Goodall, Elizabeth Gilbert, Sir Richard Branson, Nandan Nilekani, Philippe Starck, Ngozi Okonjo-Iweala, Isabel Allende and former UK Prime Minister Gordon Brown.
Tedxamericasfinestcity.com
Ted.com
For additional images and information contact:
Valerie Gee
MAHFIA Public Relations
valerie@press-g.com
---