Back to News
SKATE: Nominees Announced For The 16th Annual TransWorld SKATEboarding Awards.
December 19, 2013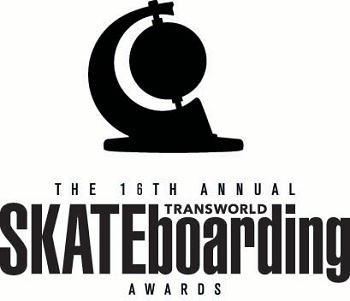 Winners To Be Awarded In Long Beach, CA On Tuesday, January 7, 2014
Press Release from TransWorld Media

Carlsbad, CA - Since its inception, the TransWorld SKATEboarding Awards have become the premier, go-to annual event for the skateboarding industry. Now in its 16th year, the TransWorld SKATEboarding Awards will officially recognize and honor the year's top skaters and video as voted on by the TWS editorial staff. Thousands of TWS readers will also have the chance to vote online to determine the winner of the only award in the industry picked solely by skateboarding fans themselves—the TWS Readers' Choice Award. In addition, TWS will be presenting the Eric Stricker Memorial Award, in memory of the late Eric Stricker, former editor of TransWorld SKATEboarding, and the TWS Legend Award, recognizing deserving recipients who have dedicated their hearts and souls to skateboarding. All winners will be announced and awarded with their trophies during the invite-only live event on January 7, 2014 in Long Beach, California during the Agenda trade show. Following the awards there will be an exclusive trailer for the next TWS video #26 coming Summer 2014.
The official nominees for this year's awards are (in alphabetical order):
Best Rookie
- Brad Cromer
- Evan Smith
- Jon Dickson
- Julian Davidson
- Mark Suciu
Best Team
- Cliche
- Deathwish
- Element
- Habitat
- Zero
Video
- Bon Voyage
- Chronicles 2
- Cold War
- Deathwish
- Made
TWS Readers' Choice
- Brandon Westgate
- Chris Cole
- Evan Smith
- Ishod Wair
- Mark Suciu
- Silas Baxter-Neal
- Wes Kremer
Best Video Part
- Ishod Wair- Chronicles 2
- Tommy Sandoval - Cold War
- Jon Dickson - Deathwish
- Brandon Westgate - Made
- Silas Baxter-Neal - Perpetual Motion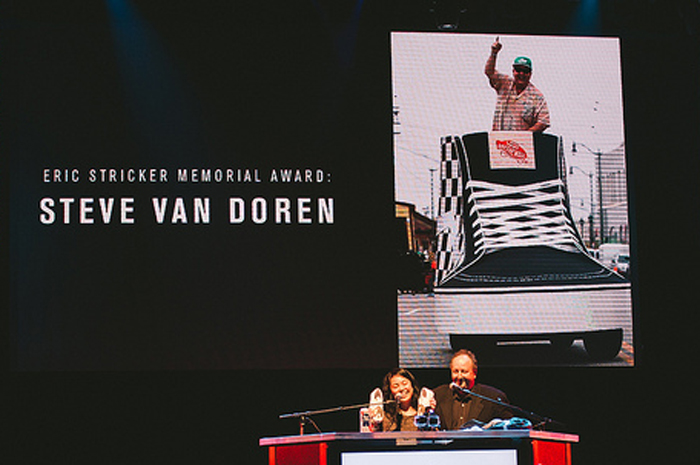 The TWS Legend and Eric Stricker Memorial Awards recipients will be announced at a later date.
For more information about the 16th Annual TransWorld SKATEboarding Awards, click HERE and follow Twitter and Instagram feeds at @TransWorldSKATE (#TWSAWARDS). Special thanks to our sponsors: Agenda, Red Bull, GoPro, New Era, and Pabst Blue Ribbon.
Entry to award show granted with Agenda trade show wristband. All other industry and TransWorld guests RSVP to info@transworld.net
About TransWorld SKATEboarding
TransWorld SKATEboarding has been the largest, most respected skateboarding media outlet in the world for more than 30 years. Known widely by its mantra, skate & create, and delivering the most innovative photography, cutting-edge editorial, and top-notch videos, TransWorld SKATEboarding offers its audience an inside look at the skateboarding culture through its magazines, videos, events, and website. TransWorld SKATEboarding is published by GrindMedia, the world's leading action sports media company. TransWorld SKATEboarding can be found online at skateboarding.com.
About Grind Media
Source Interlink Media's GrindMedia is the world's largest action/adventure/outdoor media company, with 29 leading media assets featuring brands such as GrindTV.com, SURFER, SURFING, TransWorld SKATEboarding, Bike, POWDER, TransWorld Motocross, Snowboarder, Canoe & Kayak and more. GrindMedia reaches more than 40 million engaged consumers every month through its print, online, mobile, TV/video and events. Delivering significant reach across both action sports enthusiast and various in-market consumer audiences, GrindMedia also produces more than 40 leading events and webcasts such as Surfer Poll Awards, TransWorld SKATEboarding Awards, Powder Video Awards, Lowers Pro and EnduroCross. GrindMedia is also the exclusive action and adventure sports content provider for Yahoo! Sports. To learn more, visit grindmedia.com.
---