Back to News
EVENT: AGENDA is the
January 6, 2014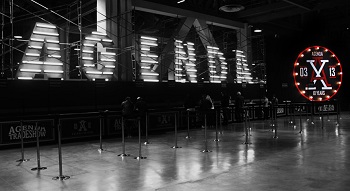 AGENDA is the "fucking" Epicenter of Today's Youth Culture & Street
Press Release from Agenda
LOS ANGELES (January 6, 2014) – AGENDA, the leading forum for the action sports, surf, streetwear, lifestyle and footwear industries heads into its 11th year in Long Beach on January 7th and 8th. The first show in the January 2014 circuit marks the largest show-to-date curating a diverse brand offering of over 700 brands encompassing the authentic AGENDA experience. Enhancing the true California youth lifestyle capture are new expansions and peripheral marketing activations include the growing of THE WOODS and AGENDA WMNS, continuation of BERRICS AGENDA, GrindMedia's "THE BREAK" media lounge, the TransWorld SKATEboarding Awards, AGENDA Emerge conference, and others soon to be experienced.
AGENDA stays true to its roots and steered with a clear vision. "We are consistently evolving, evaluating our success by tearing it down and striving to build the best youth culture and street lifestyle experience out there," explains AGENDA Founder Aaron Levant. "We continually challenge ourselves and look forward to achieving greater success."
Complementing the action sports curation, GrindMedia's "THE BREAK" media lounge returns for its second season. In season one of "THE BREAK", interviews with industry heavy weights included the likes of Volcom's Founder Richard Woolcott, Hurley's Founder Bob Hurley, Fox's Founder Pete Fox, Vans' President Kevin Bailey, just to name a few. This season brings you an insider's peek into the minds of industry veterans and Founders. We welcome Quiksilver's Founder Bob Mcknight, Rusty's Founder Rusty Preisendorfer, Element's Founder Johnny Schillereff and a host of other high-level executives. Aimed at offering industry insights, sharing behind-the-scene brand lessons and enlightening today's young entrepreneurs in our industry.
Back by popular demand, AGENDA Emerge returns to the Long Beach Convention and Entertainment Center on January 8th. AGENDA Emerge's Long Beach edition welcomes a new talented panel of industry veterans Zumiez co-founder Tom Campion, Karmaloop's Founder Greg Selkoe, and HUF's Founder Keith Hufnagel. New to AGENDA Emerge is a new one-on-one intimate conversation format with self-made brands, Paul "P Rod" Rodriguez and multi-platinum Hip Hop artist Nasir "NAS" Jones discussing his new Las Vegas sneaker boutique venture called 12AM Run.
AGENDA WMNS expands her reign welcoming new women's branded collections. Year-round peripheral marketing activations and events continue to build the community by supporting the Women's dedicated section on the show floor. Translating AGENDA WMNS into art is the "Babe Show" gallery. Finely curated by talented New York based illustrator and designer Sophia Chang (@esymai), aka the Bun Queen, a roster of female artistic creatives have been handpicked to represent the AGENDA WMNS female-centric voice.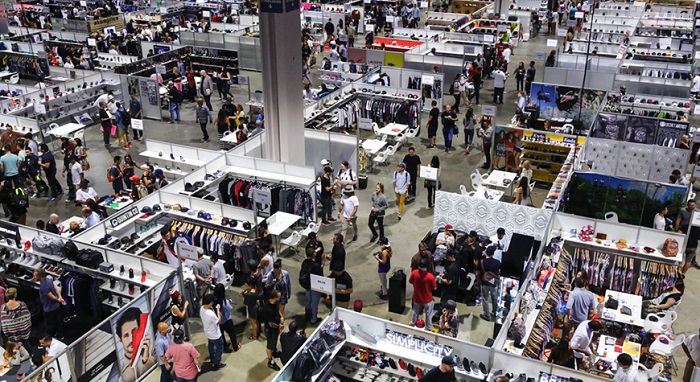 Since its inception, the TransWorld SKATEboarding Awards have become the premier, go-to annual event for the skateboarding industry. Now in its 16th year, the TransWorld SKATEboarding Awards will officially recognize and honor the year's top skaters and video as voted on by the TWS editorial staff in conjunction with the AGENDA tradeshow on January 7th night. In 2009, the Berrics and AGENDA came together to curate an authentic core skate environment. Continuing our collaborative strategic partnership with the Berrics, the most visited skateboarding related website in the world, we continue in the Berrics Unified Program, supporting the core skate community.
Capturing the life at the show, Howard Stern's once dubbed as "the Prince of all media" and the number-one show on Faction Sirius Radio, The Jason Ellis show, live broadcasts on both days on the AGENDA show floor industry pulling the top skate and industry personalities.
AGENDA Long Beach is the largest and most diverse offering of all three AGENDA shows, providing a true cross-section representing each genre of California subculture. AGENDA Long Beach is both a national show with retailers hailing from 49 states and globally from 48 countries. With over 31% of the retailers visit from over 1000+ miles away, AGENDA is a truly international event attracting over 15k people. AGENDA Long Beach continues its exponential growth by diversifying show categories and increasing the brand offering catering to our youth lifestyle & street culture.
AGENDA curates a three-dimensional experience where attendees will also get to experience California lifestyle in its truest form. AGENDA Long Beach will take place on January 7th and 8th at the Long Beach Convention Center.
For additional information visit: http://agendashow.com
About AGENDA
The AGENDA Trade Show is a forum for the most inspired in the streetwear and action sports industries to unite. Lines speak for themselves and buyers are not intimidated by the usual overwhelming tradeshow experience. From the garage-run lines on the verge of explosion, to the well-established elite, AGENDA caters to the needs of buyers and brands that exist on a higher level of design and aesthetic. With a strong emphasis in style, art, music and culture, the AGENDA experience is as much a lesson as it is a tool.
About Reed Exhibitions
Reed Exhibitions is the world's leading events organizer, with over 500 events in 41 countries. In 2012 Reed brought together seven million active event participants from around the world generating billions of dollars in business. Today Reed events are held throughout the Americas, Europe, the Middle East, Asia Pacific and Africa and organized by 34 fully staffed offices. Reed Exhibitions serves 44 industry sectors with trade and consumer events and is part of the Reed Elsevier Group, a world leading provider of professional information solutions. www.reedexpo.com
---