Back to News
SKATE: Best Skaters of the Year Earn TransWorld SKATEboarding Awards Last Night
January 8, 2014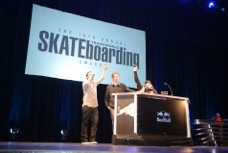 Best Skaters of the Year Earn TransWorld SKATEboarding Awards Last Night
Press Release from GrindMedia
CARLSBAD, Calif., Jan. 8, 2014 - We announced the recipients of the 2013 TWS Awards at our annual Award Show last night in Long Beach, California. Skateboarding's heavyweights packed out the Terrace Theater as emcees Brian Schaefer and Lizard King presided over the biggest night in skateboarding honoring the best skaters of the year.
Kicking off the night was legendary Santa Cruz skateboards graphic artist Jimbo Phillips accepting the Eric Stricker Memorial Award on behalf of his father, Jim Phillips, for his decades of contributions to the world of art and skateboarding. Over the last forty years Jim Phillips has produced some of the most iconic and recognizable board graphics and logos of all time - forever cementing his signature style as a hallmark of the skate art aesthetic.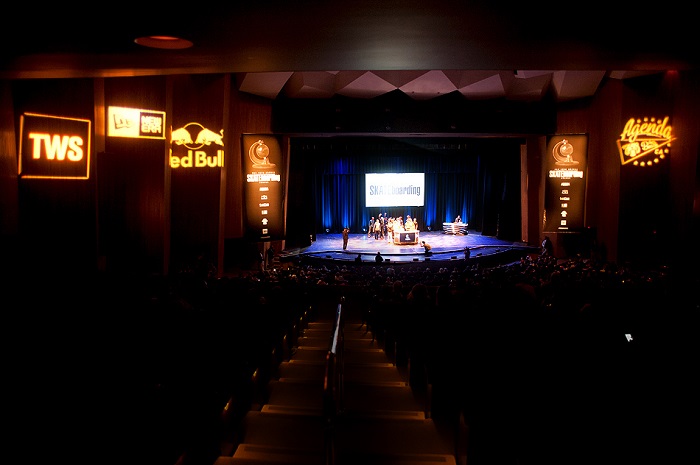 Next up was the Readers' Choice Award presented to Habitat pro Mark Suciu. As an underground favorite, Suciu's refreshing style showcased in several landmark video parts alongside substantial editorial coverage last year earned him the popular vote among fans nationwide.
Mark Suciu again took the stage in receipt of the Best Rookie Award. With a year marked with accomplishments including a welcome video from adidas and a pro board from Habitat, Mark Suciu was definitely an exciting up-and-comer to watch in 2013.
Accepting the award for Best Team was Element. Element has consistently assembled some of the greatest lineups of pros and ams since its inception, but its 2013 squad which included bar-raising contributions from Nyjah, Appleyard, Tim Tim, Davidson, and Fletcher rounded out an incredible year for the brand and its team.
The award for Best Video went to Nike SB for its showstopping release, The SB Chronicles, Vol. 2. As the sequel to the previous year's Chronicles, Nike SB brought cinematic prowess to the screen matched with above the line skateboarding from the best of its team earning it fanfare and critical acclaim across the board.
The award for Best Video Part was accepted by New England powerhouse, Brandon Westgate for his dramatic last part in the Emerica video, MADE Vol. 1. Westgate has been consistently redefining East Coast skateboarding with his speed, power above average snaps, but his jaw dropping performance in MADE was truly his time to shine.
Wrapping up the evening accepting the coveted Legend Award was veteran pro and industry mainstay, John Lucero. Pro since the early 80s, Lucero helped pave the way for modern skateboarding during its formative years. He's also credited with inventing the slappy and starting the iconic brand, Black Label, which has sponsored some of skateboarding's most legendary pros over its 25-year history.
Following the Awards show, TransWorld SKATEboarding debuted the first trailer for their 26th feature film, Outliers, coming this summer.
For more information about the 16th Annual TransWorld SKATEboarding Awards, click HERE and follow Twitter and Instagram feeds at @TransWorldSKATE (#TWSAWARDS). Special thanks to our sponsors: Agenda, Red Bull, GoPro, New Era, and Pabst Blue Ribbon.
About TransWorld SKATEboarding
TransWorld SKATEboarding has been the largest, most respected skateboarding media outlet in the world for more than 30 years. Known widely by its mantra, skate & create, and delivering the most innovative photography, cutting-edge editorial, and top-notch videos, TransWorld SKATEboarding offers its audience an inside look at the skateboarding culture through its magazines, videos, events, and website. TransWorld SKATEboarding is published by GrindMedia, the world's leading action sports media company.TransWorld SKATEboarding can be found online at skateboarding.com.
About GrindMedia
Source Interlink Media's GrindMedia is the world's largest action/adventure/outdoor media company, with 29 leading media assets featuring brands such as GrindTV.com, SURFER, SURFING, TransWorld SKATEboarding, Bike, POWDER, TransWorld Motocross, Snowboarder, Canoe & Kayak and more. GrindMedia reaches more than 40 million engaged consumers every month through its print, online, mobile, TV/video and events. Delivering significant reach across both action sports enthusiast and various in-market consumer audiences, GrindMedia also produces more than 40 leading events and webcasts such as Surfer Poll Awards, TransWorld SKATEboarding Awards, Powder Video Awards, Lowers Pro and EnduroCross. GrindMedia is also the exclusive action and adventure sports content provider for Yahoo! Sports. To learn more, visit grindmedia.com.
---