Back to News
B$Z: ECHELON announces on-shoring to USA, other big changes
January 14, 2014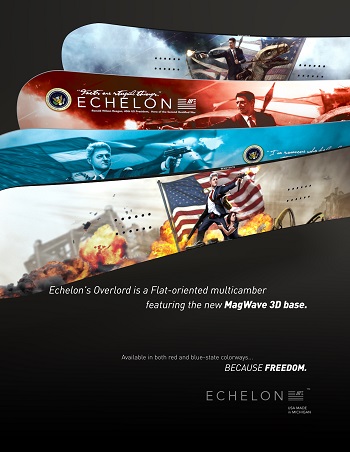 ECHELON announces on-shoring to USA, other big changes; Complete redesign of all products from the core outward, new lines of business, premium packaging, the Precision line, and USA manufacturing in Michigan
Press Release from Echelon Snowboards
Monrovia, CA – Echelon Snowboards has instituted a multitude of sweeping changes this year, starting with its move to a US based manufacturing facility. Since inception Echelon has looked unceasingly for a North American partner that could fulfill its technical requirements, and in a year marked with numerous overseas factory changes and shake-ups for many big brands, Echelon is proud to say that we shook things up on our own and brought production on-shore. "Company Commander" Don Engel summarizes the move:
"From the beginning, it's been our desire to produce in the US. Why did it take this long? Well because we didn't set out to just compete with a cookie cutter product based solely on where it was made, we set out to dominate on innovation, quality, and performance. It has always been our mission to find a US production partner that shared our mindset and understood you can't get 21st century results from complacent thinking and outdated materials while using thirty-year-old equipment. Point blank, that isn't how we roll. It took three years, but we finally located a US based manufacturer, SCCS of Michigan delivers the finish our customers deserve and understands that being awesome comes from your results, and not from where your board is made. We will compete like Americans traditionally have and always should: through quality of work, not charity of location."
The new board line has been completely redesigned from the core outward, featuring all new shapes, camber profiles, and a new 3D base technology that supplants the E3 base used in previous products. Conceptualized by Echelon and brought to reality under the guidance of veteran shaper and new lead technical designer Eric Luthardt (a Michigan native with 15 years of industry experience) the new tech is called MagWave, and is described by Eric as "The most complex base profile ever designed." It aims to give back some of the edge control lost in raised-edge bases, while maintaining the desired catch-resistant effect. A 5-radius asymmetrical non-3D model with the traditional-camber-esque "Pentacam" multicamber will also be all-new for next season.
The Echelon line has also been reduced in number of models and divided into two tiers: Performance and Precision, envisioned by designer Eric Luthardt as "high-end and highest end". The Performance line provides amazing value at a price point that remains affordable ($469-499), especially when you consider the only part of these boards that weren't given a serious tech upgrade is the insert pack. The Precision line is what happens when you remove price concerns from one of the world's most experienced designers; Echelon Precision models contain high-end name brand materials from aerospace, defense, and other industries with a secret mixed-wood core that is 25% lighter than other cores but retains response and durability. Don explains the thought process behind the company direction:
"Industry majors continue to overproduce, allowing the channel to be filled with far too many units and models for retailers to choose from and stock effectively, then imposing ever-shrinking buy-decision times and large MOQs as they fight to maintain their bloated operations. This retailer and industry-hostile strategy has essentially knocked out the concept of budget boards; many people needing a bargain just buy an overproduced closeout at 50% off, especially since many brands aren't changing anything year to year except slapping on new graphics.
In response, Echelon has made a decision to scale-down and ramp-up our line, producing only boards for those who demand the best, at a price point that's become filled with overproduced, middle of the road, generic tech. We will compete on new levels of technical innovation and performance, precise quality, and as always an uncompromised commitment to your riding and the fun of snowboarding"
This also means the introduction of premium packaging for the new line. Performance boards will deploy with custom board-bags reminiscent of a military duffel that lend a premium purchase experience for the new owner, as well as providing a useful after-sale travel and storage solution vs. the current high-end "plastic sack with zipper" you might find out there. The Precision line boards will arrive inside a custom-made, soft-feel black bag that complements the highest-end product within.
In addition to the changes in hardgoods, Echelon is introducing two other new products; a wheeled board bag based on MILSPEC MOLLE/PALS technology, and a new "Riding Hoodie" called the Ghillie which incorporates several jacket-like features and a loose-fit integrated facemask into a comfortable and affordable ($69.95 MSRP) street-friendly style, and available for immediate delivery.
Come see the full unveiling of the new Echelon line at SIA in Denver on Jan. 30th, booth #1974 (http://bit.ly/1a2IkMK).
If you would like more information or to set up an appointment please contact Justin Erickson, Global Sales Director at +1.855.324.3506 or email at justin@echelonsnow.com.
---