Back to News
Ryan Tuerck of Network A's 'Drift Garage' and 'Tuerck'd'
January 24, 2014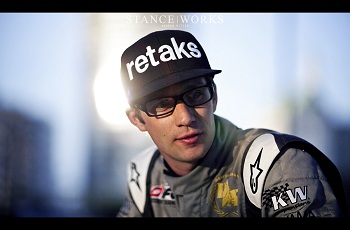 Ryan Tuerck of Network A's 'Drift Garage' and 'Tuerck'd'
Professional Formula Drift racer Ryan Tuerck started working with Network A in 2012 on 'Tuerck'd' the first web series to explore the fun side of the DIY drifting lifestyle, and has since worked relentlessly to create "one of the largest viral video presences of all professional action sports participants with over 7 million views."
"It's really cool to see fans' reaction and it's more of a challenge now to keep them, and everyone else, happy and stoked on everything I'm doing - so that I can keep doing this," said Ryan Tuerck.
Ryan hopes to keep the stoke alive for his latest project with Network A, a 4-part How-To mini-series co-starring Chris "The Professor" Forsberg, called 'Drift Garage'. The plan is to build a respectable drift car with $5,000, and will include everything from buying the body and engine to demoing and rebuilding - all while having fun.
We interviewed Ryan to get the scoop on how he worked with Network A to launch 'Tuerck'd' a successful web-based video series about drifting. And, we asked him about filming for 'Drift Garage', which airs on Network A in weekly installments; with episode 1 premiering on Jan. 20th, and episodes 2, 3 and 4 airing weekly on Tuesdays beginning January 28th.
How did you initially get involved with Network A?
I had a lot of ideas in my head for a long time, but no budget from the professional side of the sport to pursue ideas I had that were off-track. My manager, Jacob Agajanian, who works for WMG and also has an affiliation with Network A, was the key connection in making things happen. I was constantly saying to Jacob that if we only had the money and budget to go do this stuff, I know we'll be really successful. So, he ended up being introduced at some point to Annie [Fast] at Network A, and then with Stefan [Van Engen] – and he pitched them my ideas. He followed up with a little bit of a better proposal, to seem more professional, and they took a chance on us. It just exploded into something super successful. I think a lot of it had to do with the ideas, as well as the need for that sort of content to come out of drifting - something from outside of the normal, repetitive competition side of the sport.
So you obviously had a plan in mind with some solid ideas on paper before you approached Network A, correct?
Yeah, absolutely - it was a short list of ideas. I was sponsored by Red Bull in the past and I have always felt like they had pushed their athletes to try and go above and beyond their expectations. That was always my train of thought. Unfortunately, I never got the support from them but I feel like everything happens for a reason. Then, I was able to bring a lot of the ideas I had brought up with Red Bull to the table with Network A, and was able to finally put them to use. But, I only had a few ideas initially and I was left with the thought that I would have to think of a lot more awesome content to make, to keep this successful show for the fans. It's definitely been difficult at times and my creative process has been tested quite considerably through season 2.
With 2 successful seasons of 'Tuerck'd' now under your belt, you recently got done filming for a new four-part video series for Network A - what was that like?
I literally drove off the set of our last episode of 'Tuerck'd' and straight to the airport after 18 hours of driving and flew to Baltimore to start filming 'Drift Garage'. That was a lot of fun. It was cool for me because a lot of the 'Tuerck'd' episodes only feature me. I don't get to work with my drifting-related friends throughout the year as much as I would like to. So, coming out with a show with a good friend like Chris Forsberg, and being able to work with him on a technical side of the sport that hasn't exactly been shown in this light before, was just a lot of fun. Throughout the process of filming there was a lot of goofing around. We feel very at home in a garage and working on cars, because it's what we have grown up doing as very hands-on individuals, paving our own way into the professional side of drifting. It was cool to screw around. It wasn't very stressful. It was more relaxing, with just a couple buddies having a good time while screwing around and throwing a car together.
What were your specific roles in producing 'Tuerck'd' and 'Drift Garage'?
With 'Tuerck'd' I am involved with everything from start to finish - this includes making phone calls, securing venues, paying for insurance, on-site set up...everything! I am involved in one way or another with every facet of 'Tuerck'd'. On 'Drift Garage' I was definitely in a position to feel much more relaxed, although I'm sure Forsberg was maybe a little more stressed out because he had to perform. But, I didn't have to set everything up. I was able to just come and have a good time and I didn't have to really do anything on top of just standing in and helping out and being part of the fun. It helps relieve stress to have a lot less on your shoulders so you're able to perform in front of the camera in a much more relaxed atmosphere, and it seemed to make things better for everyone involved.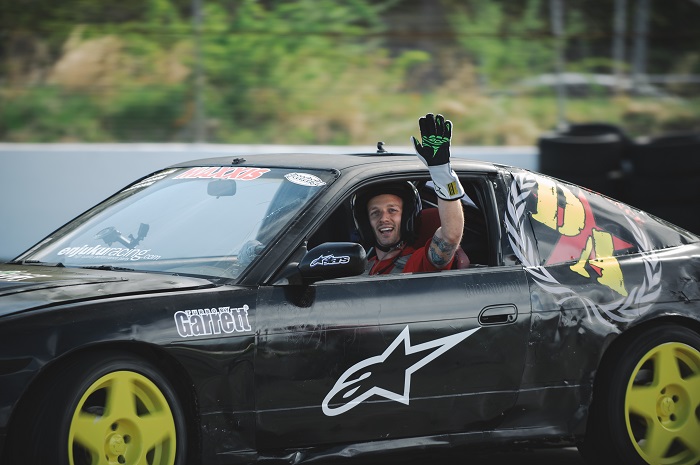 What was your initial goal with launching 'Tuerck'd' and 'Drift Garage'? Were you planning to create a series, or did you have it more in mind to produce individual episodes?
I was planning to do a series, but I had all these other ideas. My series ideas are geared more towards one simple idea, rather than a bunch of different ideas coming together to create a show. It was more catered towards something like, 'ok, maybe I'll be able to close down a couple of streets and I'll do a series of street drifting and will release that as a six-episode series'. Or, something like that. Instead, after pitching the idea to Network A and realizing that it would be much better on a grand scale to just introduce pretty much everything that I could possibly think of doing and making that happen.
I think that's part of the reason why 'Tuerck'd' has been so successful. It was because we went in every direction we could while filming for this show, like showing some professional footage, some stuff in a Formula Drift car, as well as the fun times just goofing around at home with my brothers. And I have to mention the time we rented out a mountain to go film, which was one of the coolest videos that I've ever filmed on one of the coolest roads that I've ever drifted on. During the pitch to Network A is when I realized that I needed this methodical process to make sure I could produce a seasonal thing.
So, what does the actual process of filming entail? Do you have someone following you around with a camera at all times or do you keep it more in line with the plans you've made in advance?
A lot of the time we are just planning, planning, planning. It's not unusual that we don't get to visit the venues that we end up filming at until the cameras are rolling. So, we'll show up and spend a day just planning shots. We usually only have a day to get on set and really plan out exactly how the video is going to go. Working with Andy Laputka from Shoot First Media, and my manager Jacob, to really take it all in and look at things from every angle to figure out how it can be shot the best and how we can make it appeal to our viewers. We want to make things look as exciting as it can be. That's why it's usually very stressful and the cameras aren't rolling all the time. But, they are rolling as much as they possibly can be.
Where do you see room for improvement?
The one thing I do want to improve on is gathering more behind-the-scenes footage to be able to put into the videos. A lot of goofy and fun things just don't make it because oftentimes we only catch half of the actual situation that's funny. It'd be fun to feature the kind of craziness that it takes to get these videos done and filmed in such a short amount of time. It creates a lot of turmoil, hatred and fun all at the same time.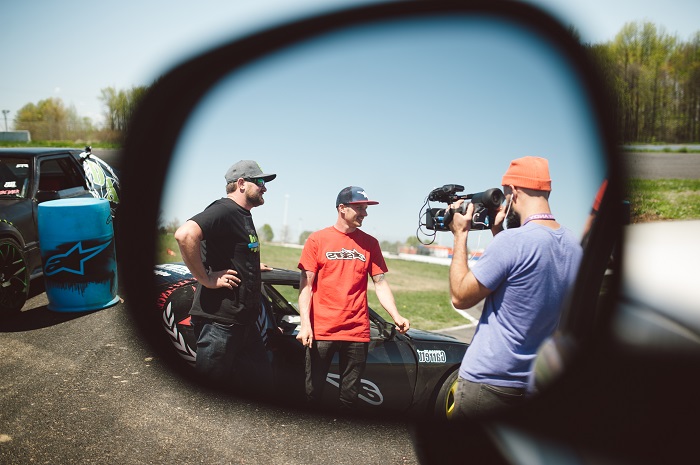 What challenges have you faced?
I'd say the biggest challenge so far has mainly been the weather. We're always praying that it's not going to rain and it's not going to be crappy. We're hoping that it's going to be warm. But, it could be windy. So the interviews will be a pain in the ass to do. Really, it's all a challenge of working with daylight and weather. There is never enough time during the day to get a shoot done or to get all the shots that you want to get. And you're also dealing with potential rain a lot of the time. For instance, early in season 2, our first shoot was in Englishtown, NJ and I rented the place out for 3 days - expecting a rain day. It ended up raining for a day and a half. So, we only had a day and a half to shoot 'x' amount of videos, and we were trying to shoot 3 at the time. There were a lot of things involved and this was one of the bigger shoots that I had put together with the crew. It was definitely trying and we found ourselves in a pretty difficult situation. So, we were all on hands on deck just trying to set the next shot up and working to jam everything together as quickly as possible. We got it done, but in a lot of ways it definitely could have been better if we had more time.
Do you have any fears?
My biggest fears are: number one is weather. Number two is my car not working, like having an engine blow and not being able to fix it on set. After everything has been paid for and everyone is in town from their flights and in their hotels, not being able to film because the car breaks is a bummer. And number three is people getting hurt.
Have you had to deal with any personal injuries or mishaps on set during production?
Knocking on wood, nothing severe. No serious injuries and no serious issues with the cars – nothing that couldn't be fixed on the set. We usually try to do a pretty good job with having spare parts, just for that reason. Most of the time it works out. I've been taught all that stuff and have had enough professional experience to know what kind of spare parts we're going to need. And what's most likely to break above others.
What aspects of your background have helped lead you to where you are today and what aspects of your background help you in your day-to-day operations?
I grew up racing motocross, so the competitive side of me and being able to set realistic goals and achieve them has a lot to do with my childhood. I was able to transfer that into drifting, with personal challenges and goals that I had while starting out. That was a huge factor in how I got to where I was on the professional side of the motorsport.
Then, growing up with my two brothers – I have a twin brother Justin and a younger brother Evan – having them around growing up on a lake in New Hampshire had a lot to do with my creative process and being involved in a lot of ideas that we end up implementing into 'Tuerck'd'. Like, the New Hampshire episode from Season 2 where we visit the falls and do a bunch of cliff jumping and rope swings – that's just stuff that we all grew up doing as kids. Growing up here has a lot to do with the ideas that I come up with. But, a lot of the other ideas we end up doing on 'Tuerck'd' are kind of no-brainers. Like that road up in Oregon, obviously that's one of the coolest roads that a lot of people have ever seen. So, being able to drift on that and have that dream come true was just a simple idea for an epic video.
What's been the biggest reward for you in working with Network A in producing some amazing videos?
The biggest reward is the fan-base I have that has grown. There's a lot of people that are just super stoked on watching the content that I create with the team and the crew – and it's an extremely satisfying thing to work your ass off and get as much of the shots as possible. Sometimes it's a pain-in-the-ass and sometimes it's an amazing time, but either way you always have your fingers crossed hoping that we get the shots we want to be able to portray our idea on film as well as we had hoped. So it's always really cool and I'm always very excited to see all the positive comments from the fans on all our videos and on Facebook and on all the social media in general. These days, with having everything at your fingertips, being able to interact with a lot of the kids and a lot of the fans is really cool.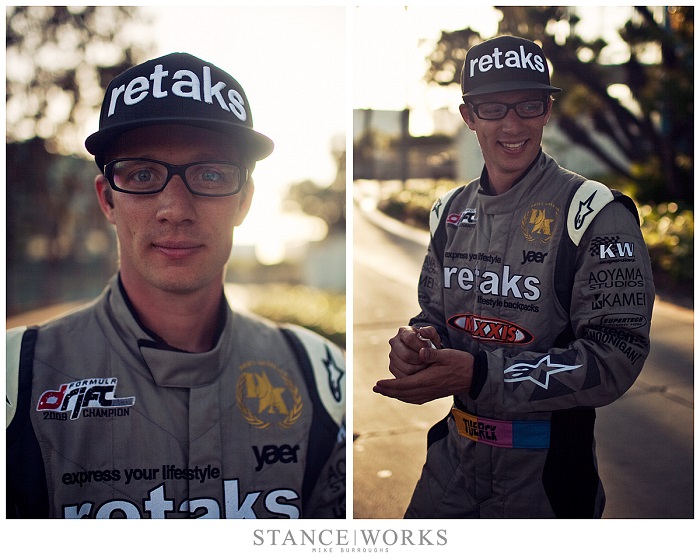 What is your reaction to how well the show has been received? Did you go into it with any expectations?
I really had no idea. I thought I had a really cool concept, but I had no idea. I had filmed one other video previously, called Off-Season, which had a lot of success. I thought that if I filmed videos for Tuerck'd in the right way, I know I would have some success. But, I didn't know how much. And, with Network A's huge subscriber base, I knew that was going to help out a ton. I thought it was going to do well, but I didn't realize how much positive impact it really was going to have. I'm totally blown away. When I go to the Formula Drift events now, I'm more well-known for the 'Tuerck'd' series than for my competitive driving on the track, it seems. It's kind of wild to see that and to have gone through that transition.
Do you have any plans for the upcoming season of 'Tuerck'd'? Have you been filming? Have you been generating any ideas?
I always have plenty of ideas – some of them are too wild and some of them are too costly to be able to do. But, I always have plenty of ideas. It just depends on what kind of support I can get for doing them. Others, if I can get the right connections, maybe we can make happen.
A lot of the videos are based on meeting people and shooting from the hip and playing it as it goes. When we went to go shoot the UK video, we had a good plan of what we wanted to do, but it ended halfway – we only had half a video with our idea. So, when we got there, we ended up meeting quite a bit of people at an event. And they all told us to go to this place. And to go check this out. So, we would do that. And when we went up to Driftland, we had bought tickets the night before and we hopped on a plane the next morning of and flew up there. And we met a group of phenomenal guys and they pretty much showed us a great time – they gave us cars to drive, tires, and fuel, and they fed us. It was one of those situations where we didn't know what to expect and it turned out making that one of the best parts of the video.
Care to add any last words?
I always want to thank my fans for all the support. They're always really good with the positive comments and that's really what drives me to keep doing this and wanting to create better content and new ideas. So, I want to thank everybody for watching what I create and liking it and being a fan. And, especially to Network A for taking a chance on a redneck like me from New Hampshire.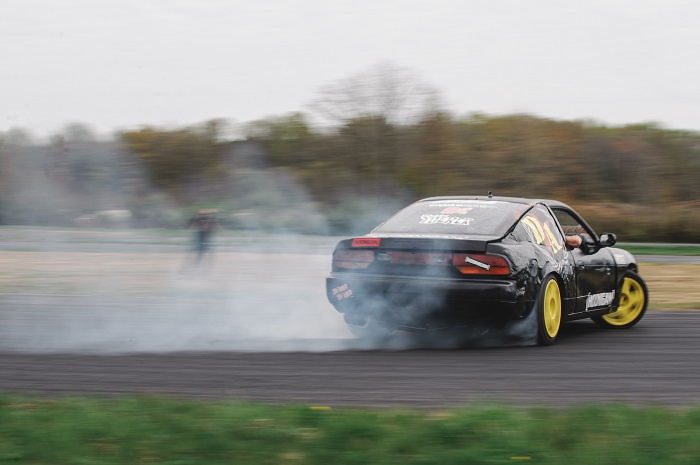 Go watch 'Drift Garage' and 'Tuerck'd' now! And keep up with the latest from Ryan and the other stars of Network A at networka.com. Also, be sure to check them out on Facebook, Twitter and Instagram. And head to Ryan's Facebook, Twitter and Instagram; tell him you read all about him on Malakye.com!
---