Back to News
EVENT: AGENDA Emerge NY - Recap
January 28, 2014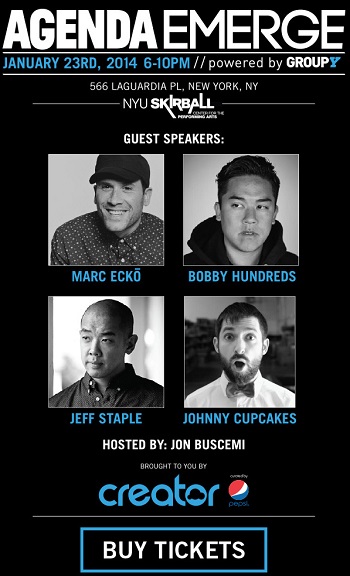 EVENT: AGENDA Emerge NY - Recap
News from Azione PR
Thursday night, AGENDA, the leading forum for action sports, surf, streetwear, lifestyle and sneaker industries, wrapped up its New York show with AGENDA Emerge powered by GROUP Y. Sharing firsthand their industry insights and business intricacies, the highly curated creative and brand building conference featured some of today's most iconic creative directors, innovators and industry leaders in street culture:
• Mark Ecko, Founder of Ecko Inc. American fashion designer, entrepreneur and artist
Marc gave a no-nonsense, easy to follow, breakdown of what makes people successful, taking key points out of his book, "Unlabel." He spoke about his "Authenticity Formula*" and how it can help shape a level-headed entrepreneur (or, artist, as he put it). He talked about how the rise to success isn't a straight line, its curved and messy but unlike popular belief, it's okay and encouraged to be messy.
• Bobby Hundreds, Founder of The Hundreds, a men's apparel company and online magazine
Bobby circled his "lesson" around his experience with law school only to realize that although he would have a successful future in law, it wasn't his passion. His motto of "Blood, Sweat, and Years," was broken down into two key points; put in the hard work and be very patient. Bobby also stressed to the audience to, "Be the best at being you, because you suck at being someone else."
• Jeff Staple, Founder of Staple Design a clothing collection, a creative agency and a retail store - Best known for his collaboration for limited-edition shoe collection with Nike
Jeff, owner of "The Reed Space" and known as "the guy who created the Pigeon Shoe," saw the importance and impact of design early in his career. He spoke on wealth not being about money, finding what makes you happiest and following that path. Wealth will come if you feel passionate about your dream. Jeff also repeated the well known quote, "If you do what you love, you'll never work a day in your life."
• Johnny Cupcakes (John Earle), Founder and CEO of Johnny Cupcakes Inc.
Johnny took the audience through his journey from a high school kid trying to make a buck to the successful marketer and business owner that he has made himself into today. At an early age, he learned the proper business techniques through trial and error and spoke about the importance of the support of his family and friends in building a recognizable and creative brand.
*Authenticity is equal to your unique voice, multiplied by truthfulness, plus your capacity for change, multiplied by range of emotional impact, raised to the power of imagination
---