Back to News
SNOW: Legend Award Announced For The 15th Annual TransWorld SNOWboarding Riders' Poll Awards
January 30, 2014
Legend Award Announced For The 15th Annual TransWorld SNOWboarding Riders' Poll Awards
Bryan Iguchi to receive TransWorld SNOWboarding Legend Award in Denver, Colorado on Friday January 31, 2014 during SIA weekend
Press Release from GrindMedia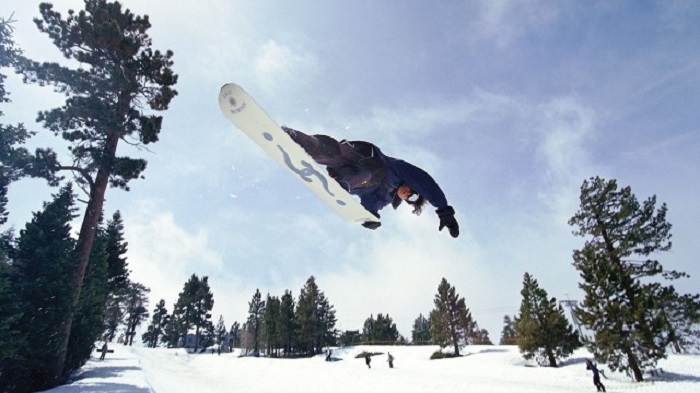 This year's TransWorld SNOWboarding Legend Award goes to Bryan Iguchi, and while his riding is still growing in a way that could equally qualify him for any number of Riders Poll awards, we felt that it was about time to recognize his lifetime of commitment and contribution to snowboarding.
Bryan's evolving legacy comes down, in part, to always listening to himself and following his own path. In the early 90s he grew away from life as a sponsored skateboarder and moved to Big Bear, California, where he made contributions to park riding, filming, and board design - progressing riding in one of the first snowboard parks at Bear, filming segments with Mack Dawg when contests took precedent, and helping Burton develop its Ouija Twin model. All of this was just Bryan doing his thing, but it had a ripple effect throughout the snowboard community.
At a high tide of his freestyle career, Guch saw his snowboarding going in a different direction: the mountains surrounding Jackson Hole, Wyoming. After moving to Jackson to ride powder and learn about what he was riding, he was dropped by most of his sponsors. The snowboard industry essentially told him that what he was doing was wrong, but this didn't stop him from following the path he wanted to. The ripple effect of that move is still being felt today.
Nearly two decades years later, Bryan is still living in Jackson Hole and riding every day. He's a certified guide, a student of the mountains, and a mentor to younger generations of riders. We can thank his disregard of expectations for creating a snowboard climate in which professional riders are free to pursue their own vision of what snowboarding is to them.
For everything that Bryan has done for snowboarding so far, join us in honoring him with the 2014 TransWorld SNOWboarding Legend Award. The award will be presented at the Ogden Theater in Denver, Colorado, on Friday, January 31 during the 15th Annual TransWorld SNOWboarding Riders' Poll Awards. Doors open at 7:00 p.m. The show starts at 8:30 p.m. For those who can't make it, stay in the loop through our Instagram and Twitter feeds @TWSNOW (#riderspoll15) or catch the videos at TWSNOW.com/riderspoll.
To see more of Bryan's legacy watch the Powder & Rails series HERE
For more on TransWorld SNOWboarding and the prestigious Riders' Poll Awards, visit TWSNOW.com.
For updates, get connected to our Facebook, Twitter and Instagram feeds at @TWSNOW (#RIDERSPOLL15).
Industry guests, RSVP for tickets to info@transworld.net. Tickets can be picked up from the TransWorld SNOWboarding booth (#276) at the Blue Bird Social Zone at SIA.
About TransWorld SNOWboarding
TransWorld SNOWboarding is the world's number one snowboard media outlet with an audience of over 1.4-million. Celebrating 25 years since its inception in 1987, TransWorld SNOWboarding continues to successfully and creatively cover the snowboard culture with innovative photography, original videos, award-winning print and multi-layered digital magazines, snowboard instruction, consumer events and cutting edge awards shows. TransWorld SNOWboarding can be found online at transworldsnowboarding.com and is based in Carlsbad, California. TransWorld is a division of Grind Media and Source Interlink.
About Grind Media
Source Interlink Media's GrindMedia is the world's largest action/adventure/outdoor media company, with 29 leading media assets featuring brands such as GrindTV.com, SURFER, SURFING, TransWorld SKATEboarding, Bike, POWDER, TransWorld Motocross, Snowboarder, Canoe & Kayak and more. GrindMedia reaches more than 40 million engaged consumers every month through its print, online, mobile, TV/video and events. Delivering significant reach across both action sports enthusiast and various in-market consumer audiences, GrindMedia also produces more than 40 leading events and webcasts such as Surfer Poll Awards, TransWorld SKATEboarding Awards, Powder Video Awards, Lowers Pro and EnduroCross. GrindMedia is also the exclusive action and adventure sports content provider for Yahoo! Sports. To learn more, visit grindmedia.com.
---