Back to News
SNOW: Winners Announced For The 15th Annual TransWorld SNOWboarding Riders' Poll Awards
February 3, 2014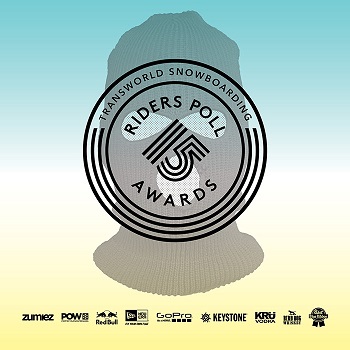 Winners Announced For The 15th Annual TransWorld SNOWboarding Riders' Poll Awards
Press Release from TransWorld SNOWboarding
Denver, CO – It was a wild night at the Ogden Theater on Friday as the top riders in snowboarding took the stage to accept their awards. With Emcee's Preston Strout and Jack Mitrani at the helm, riders were recognized for the best in individual progression and style, while filmmakers were awarded for excellence in their video projects. Winners of the TransWorld SNOWboarding Riders' Poll awards are determined by polling over 100 pros and receiving one of these peer-selected awards is one of the highest accomplishments in snowboarding. If you missed the show live, catch all the action at TWSNOW.com/riderspoll or follow our Twitter and Instragram feeds @twsnow, #riderspoll15.
Here's who won at the biggest night in snowboarding.
Men's Rookie Of The Year
- Justin Fronius
Woman's Rookie Of The Year
- Danyale Patterson
Women's Video Part Of The Year
- Desiree Melancon
Men's Video Part Of The Year
- Louif Paradis
Online Video Series Of The Year
- Adidas Welcome series
Video Of The Year
- Déjà Vu
Standout Performance Of The Year
- Gigi Rüf
TWSNOW Men's Readers Choice
- Halldor Helgason
TWSWNOW Women's Readers Choice
- Jess Kimura
Legend Award
- Bryan Iguchi
Women's Rider Of The Year
- Desiree Melancon
Men's Rider Of The Year
- Gigi Rüf
The Riders' Poll Awards are sponsored by Red Bull, New Era, GoPro, Keystone, Krü 82 Vodka, Bird Dog Whiskey, Pabst Blue Ribbon, Zumiez, and Protect Our Winters.
About TransWorld SNOWboarding
TransWorld SNOWboarding is the world's number one snowboard media outlet with an audience of over 1.4-million. Celebrating 25 years since its inception in 1987, TransWorld SNOWboarding continues to successfully and creatively cover the snowboard culture with innovative photography, original videos, award-winning print and multi-layered digital magazines, snowboard instruction, consumer events and cutting edge awards shows. TransWorld SNOWboarding can be found online at transworldsnowboarding.com and is based in Carlsbad, California. TransWorld is a division of Grind Media and Source Interlink.
About Grind Media
Source Interlink Media's GrindMedia is the world's largest action/adventure/outdoor media company, with 29 leading media assets featuring brands such as GrindTV.com, SURFER, SURFING, TransWorld SKATEboarding, Bike, POWDER, TransWorld Motocross, Snowboarder, Canoe & Kayak and more. GrindMedia reaches more than 40 million engaged consumers every month through its print, online, mobile, TV/video and events. Delivering significant reach across both action sports enthusiast and various in-market consumer audiences, GrindMedia also produces more than 40 leading events and webcasts such as Surfer Poll Awards, TransWorld SKATEboarding Awards, Powder Video Awards, Lowers Pro and EnduroCross. GrindMedia is also the exclusive action and adventure sports content provider for Yahoo! Sports. To learn more, visit grindmedia.com .
---