Back to News
EVENT: Camp Shred, World's Largest Surf Demo, Returns to Cardiff March 15-16
February 27, 2014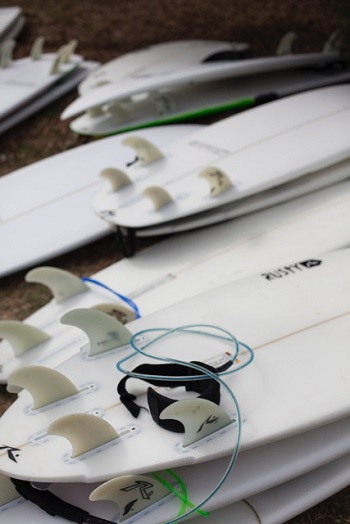 Camp Shred, World's Largest Surf Demo, Returns to Cardiff March 15-16
Wetsuits, surfboards and other surf gear can be pretty major purchases, so the opportunity to try before you buy can't be beat.
Press Release from GrindMedia
SAN CLEMENTE, Calif., Feb. 27, 2014 – SURFING Magazine and Surf Ride have teamed up to bring Camp Shred, the world's largest surf demo, back to San Elijo Campground in Cardiff By the Sea, Calif., March 15-16, 2014. The event, now in its second year, unites the best surf brands and thousands of their loyal consumers for a fun weekend of camping, surfing and demoing the latest greatest gear, all while giving back to California State Parks.
Wetsuits, surfboards and other surf gear can be pretty major purchases, so the opportunity to try before you buy can't be beat. The list of surf industry titans who will be sharing their newest shapes, designs and products includes: Billabong, Boardworks, Body Glove, Clif Bar, Everyday Surfboards, FCS, Futures Fins, Firewire Surfboards, JS Surfboards, Lost, O'Neill, Panda Surfboards, Rip Curl, Robert August Surfboards, Rusty, Sector 9, Surftech Surfboards, Vampirate and more!
But the fun doesn't stop with the free demo opportunities. The festival-like campground will also feature music and entertainment, food trucks and the ever-popular beer garden.
The free and open to the public event will run from 8 a.m. to 4 p.m. on Saturday and 8 a.m. to 3 p.m. on Sunday. Proceeds from sponsor-filled goody bag sales and Subaru test drives will benefit California State Parks.
For updates, details, directions and more, visit www.campshred.com. #campshred
Camp Shred wouldn't be possible without it's generous sponsors and partners. Big thanks to Surf Ride, SURFING Magazine, C20 Pure Coconut Water, Subaru, Banzai Bowls, Sierra Nevada, New Era and 94.9 FM for their support.

About SURFING Magazine
SURFING Magazine is the official storyteller of modern surf culture. We seek out the personalities and ideas that define our community - progressive, authentic and young, with a focus on the experiences and lifestyle that make surfing more than a sport. Travel. Photography. People. Fashion. Music. Art. The magazine is published 12 times per year by Source Interlink Media's GrindMedia, an integrated network of magazines, digital properties, events and television programming. Visit surfingmagazine.com
About Surf Ride
Starting as a seedling in the 1970s, Surf Ride has grown from the ground up, sprouting first in Oceanside, and branching out to a second location in Solana Beach. With both store fronts rooted along the Pacific Coast Highway, Surf Ride is committed to providing our customers with as many product choices as possible. Our hard work has paid off and has led to recognition from Transworld Business as 'Hardgoods Retailer of the Year'. From Land to the Sea, our vision is to get everyone as stoked on riding the elements as we are. SurfRide.com was created to provide product to your doorstep with the click of a button.This year, 2014, is our 40th anniversary as a family-owned surf shop. 40 Years of Surf! Still core since '74. Visit surfride.com
About GrindMedia
Source Interlink Media's GrindMedia is the world's largest action/adventure/outdoor media company, with 29 leading media assets featuring brands such as GrindTV.com, SURFER, SURFING, TransWorld SKATEboarding, Bike, POWDER, TransWorld Motocross, Snowboarder, Canoe & Kayak and more. GrindMedia reaches more than 40 million engaged consumers every month through its print, online, mobile, TV/video and events. Delivering significant reach across both action sports enthusiast and various in-market consumer audiences, GrindMedia also produces more than 40 leading events and webcasts such as Surfer Poll Awards, TransWorld SKATEboarding Awards, Powder Video Awards, Lowers Pro and EnduroCross. GrindMedia is also the exclusive action and adventure sports content provider for Yahoo! Sports. To learn more, visit grindmedia.com.
---