Back to News
WEB: March Logo Madness Returns
March 4, 2014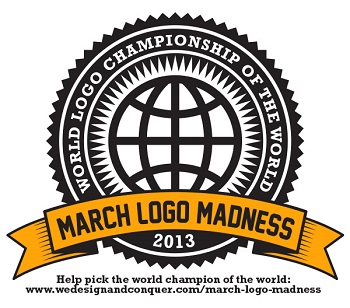 Valhalla's March Logo Madness Returns for Seconds
The competition pits Youth Cultures favorite logos to see who's best.
Press Release from Valhalla
After a tremendous response last year the logo competition returns. The group from Valhalla has sorted through thousands of logos from within Action Spots & Youth Culture to put together a month long competition to see which is everyone's favorite.
The bracket competition takes its cues from the NCAA March Madness basketball tournament but instead of a bunch of guys running around for 3hrs, logos from brands like Quiksilver, Volcom, Independent Trucks, Girl Skateboards, Burton, Nike, Adidas and Obey go head to head for a day. Whoever gets the most votes moves on to the next day to battle the next logo.
The competition is broken up into the four main categories from Action Sports, Surng, Skateboarding, Snowboarding & Lifestyle. Each week logos from within these categories battle amongst themselves to see who is the champion. The four bracket champions from the weekly tournaments will battle each other on March 31st in a winner takes all Battle Royale.
The breakdown for the months battles are:
Week 1 – March 3-9 – Surng
Week 2 – March 10-16 – Skateboarding
Week 3 – March 17-23 – Surng
Week 4 – March 24-30 – Lifestyle
Week 5 – March 31 – Grand Royale Winner Take All Final
Voting for the competition is free, doesn't require registration and takes a minute.
To view & vote in the daily battles, visit www.wedesignandconquer.com/march-logo-madness
The brands for 2014 include: O'Neill, Rip Curl, Sanuk, Reef, Quiksilver, Hurley, Billabong, Toes on the Nose, Local Motion, Hang Ten, Transworld Surf, Surng Magazine, Super Brand, Volcom, HIC, Ocan Minded, Town & Country, Jimmy'z, Channel Islands, Lost, Carlsbad Pipelines, RVCA, Xcel, Mr Zogs Sex Wax, Bubble Gum, The Skateboard Mag, Transworld SKateboarding, Creature Skateboards, Thrasher Magazine, Santa Cruz Skateboards, Independent Trucks, Gullwing, HStreet, Plan B, GIrl, Chocolate, New Deal, Element, Pig Wheels, Enjoi, Crailtap, The Berrics, Spitre, Bones, Black Label, Dog Town, Alien Workshop, Toy Machine, Baker, Zero, Powell Peralta, Destructo, Thunder, Krooked, Blind, Snowboarder Magazine, Transworld Snowboarding, Never Summer, Nitro, Jones, SIgnal, Analog, Yes, Rome, Ride, Santa Cruz Snowboards, Union Bindings, Capita, Yobeat, JSLV, Technine, Gnu, Lib Tech, Flow, Forum, Bluebird, Spring Break, Burton, Salomon, Robot Food, Anon, 32, 686, Ne, The Hundreds, Zoo York, Stussy, Huf, True, Krew, Supra, Adidas, Puma, Obey, Tribal, Electric, Skullcandy, Undefeated, Crooks and Castles, Upper Playground, The Shadow Conspiracy, Nixon, Nike, Grizzly Grip, UNIV, Etnies, Fallen, DC, Vans, Diamond Supply, Supreme, LRG, Johnny Cupcakes, Deus ex Machina, Iron & Resin. ALL LOGOS PROPERTY OF THEIR RESPECTIVE OWNERS.
---