Back to News
SUPPORT: The Sheckler Foundation Announces Finalists for Ryan Sheckler's Be the Change Initiative
March 10, 2014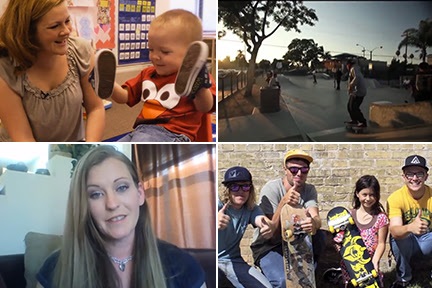 The Sheckler Foundation Announces Top Four Finalists for Ryan Sheckler's Be the Change Initiative
Vote for the Cause You'd Like to See Benefit Children or Injured Action Sports Athletes by March 17
Press Release from The Sheckler Foundation
March 10, 2014 (San Clemente, CA) – The Sheckler Foundation has announced its top four finalists within the 2014 "Be the Change" initiative. Ryan Sheckler's "Be the Change" initiative was created to help injured action sports athletes and kids in need. From the submissions made to "Be the Change," four lucky finalists have been chosen and placed on the Sheckler Foundation's site to raise greater awareness for their individual causes. The finalist that receives the most votes by Monday, March 17, 2014 will receive support from the Sheckler Foundation, which includes funding up to $10,000 to make their project a reality.
Professional Skateboarder and Sheckler Foundation Founder, Ryan Sheckler says, "We had numerous entries and it was hard to narrow down the finalists, but we believe these were the most compelling and can help change or inspire the lives of so many people. We hope you can help make an impact with these guys by voting for the cause you'd like to see 'Be the Change'."
Here are the top four finalists and links to watch the causes:
•To Autism with Love (TAWL) – Providing care packages for less fortunate families who have children on the autism spectrum.
•Complete the "On the Grind" Documentary – A powerful documentary in bringing light to skaters who use skateboarding to elevate themselves from poverty.
•Equipment for "Skate Club" for Kids – "Skate Club" of the Boys & Girls Club in Sheboygan, WI are working to raise funds to grant kids skateboarding gear.
•Peach's Neet Feet – Custom hand-painted shoes are made for kids fighting through serious illnesses.
Having helped numerous different causes and individuals over the years, the Sheckler Foundation is on a mission to empower people to "Be the Change." To view the videos online, learn more about each of the finalists and for additional information, visit shecklerfoundation.org. Voting ends on Monday, March 17, 2014 and the winner will be announced on the following day, March 18, 2014.
For additional info on The Sheckler Foundation, stay tuned to, facebook.com/shecklerfoundation and follow @ShecklerFoundation on Twitter, LinkedIn and Instagram.
About The Sheckler Foundation:
Founded in 2008, The Sheckler Foundation was created as an avenue for Ryan Sheckler, his family, friends and business associates to give back to the community and industry that they are so grateful for. Fueled by the desire to contribute to the many causes that directly benefit and enrich the lives of children and injured action sports athletes, The Sheckler Foundation will produce fundraising events, passion projects and web-based initiatives to raise capital and awareness. Our ultimate goal is to empower our community to "Be the Change!"
---