Back to News
Shaper Supply Q&A with Founder Florian Saylor
March 12, 2014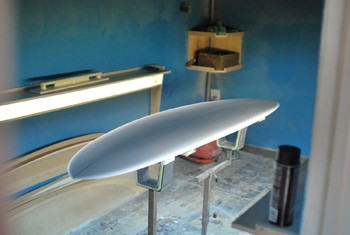 Shaper Supply Q&A with Florian Saylor
Shaper Supply in Los Angeles, Calif. provides area watermen the supplies, knowledge and space for shaping and repairing surfboards, boats and other marine craft. The shop was launched in 2012 by Florian Saylor and currently offers a wide selection of product and services, including shaping lessons, DIY-shaping space, high-quality hand tools, foam surfboard blanks, art supplies and much more. Not only do local surfers get the benefits of Florian's experience as a backyard shaper, he is also helping to generate business for area glassing shops and is on his way to helping surfers everywhere get the supplies they need to shape their own boards.

"This is the first retail shop I've ever owned and never imagined the endless amount of things there are to do," said Florian Saylor, Founder of Shaper Supply. "It was a crazy first year, but I'm very happy with where the shop is now."
We interviewed Florian to get the scoop on launching Shaper Supply to find out what it's like to own a retail store dedicated to the craft of building surfboards. We asked him about the challenges and rewards of being a first-time business owner, we got the scoop on how he runs the operation from day to day and much more - check out the Shaper Supply Company Q&A.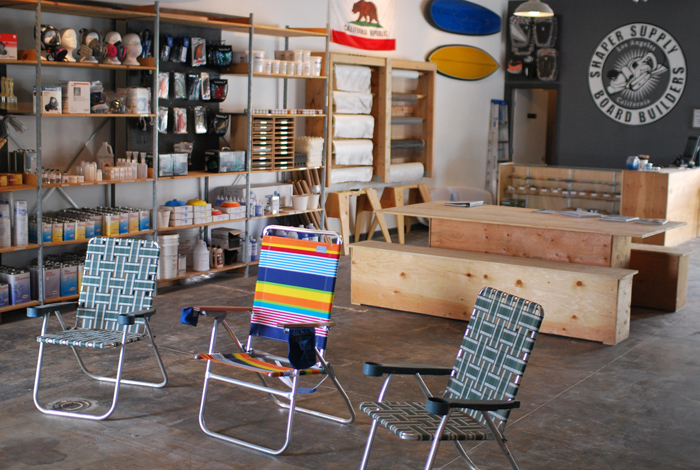 What was the initial inspiration for starting Shaper Supply?
As a backyard shaper, I'd known for a long time that Los Angeles needed its own local supply shop – there was a growing community of shapers in the area and we all dreaded having to fight traffic up to Ventura or down to Orange County to pick up these materials.
The initial intention for the store was really to supply materials (blanks, cloth, resin, etc.) and offer shaping bays for rent, but right after opening our doors, people showed an interest in learning to shape boards and the lessons kicked off on their own that way.
Who runs the business?
I launched the business about a year and a half ago now, without investors or other business partners. Everything in the shop was built from scratch – I built out the shaping bays, a friend welded the racks, I even actually fell through the ceiling when I was doing my own electrical work (if you see the Mexican blankets hanging on the ceiling, they are not just decorative, they also cover up a Florian-shaped hole).
What has been reaction from the surf industry after a year in the business?
Very positive. We've just begun talking with an industry veteran about doing a collaborative project in the next few months. Also, there's no glassing done on-site, so the local glass shops are happy with the new business that we send their way.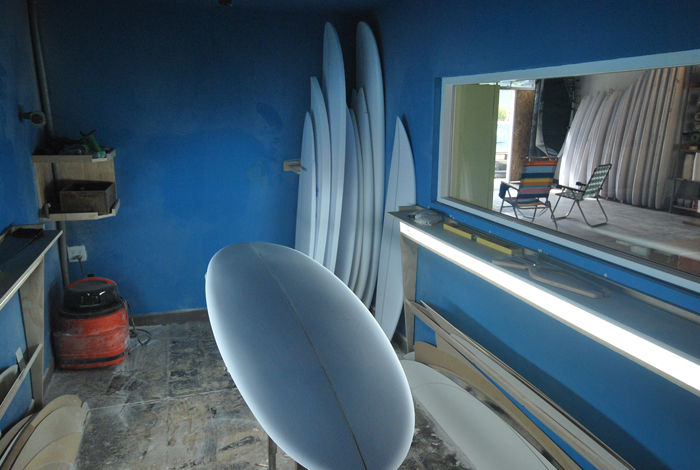 Have you received any backlash from the shaping community in regards to your company possibly redirecting their business?
I haven't - hand-shaping a board is hard work, and if anything, shaping students go home with a much deeper respect for the masters of the craft.
Who is your competition?
I haven't heard of anyone else doing this in Los Angeles at this point.
What is a typical day like at Shaper Supply?
It varies. Shaping lessons are set by appointment and the bay rentals are always busy as space is limited in LA, and not all people can afford a house or apartment with a garage. We get all sorts of people cruising in with shaping or ding repair needs and questions. We have a projector that is used to play surf movies and contests, if there is an event on, you are likely to see some surf rats drinking beers and arguing about scores and waves. We also host events from time-to-time – we've had board swap meets, some great bands play here, and a few good block party-style BBQ's.
What have been the most popular services offered by Shaper Supply?
The material sales such as resin, blanks and tools are a larger part of the business than the shaping lessons that we provide. We get a lot of customers coming in for these materials that use them for other, non-surf-related purposes as well, such as art, motorcycle helmets, tons of random things you would never think of. In November someone came in to get a bunch of resin and fiberglass to make giant Christmas bulbs for an outdoor mall.
Where do you see room for growth?
The online sales of tools, materials and supplies are definitely growing fast.
Are there any thoughts or plans to open more locations?
We've got some exciting things in the works but not ready to give away any surprises.
What have been the challenges after a year in business?
Finding enough hours in the day - this is the first retail shop I've ever owned and never imagined the endless amount of things there are to do from maintaining the website, shooting product images, social media, answering online product questions, helping customers with questions, keeping up with inventory stock, managing the finances/accounting, marketing… I could go on forever. Oh yeah, keeping up with City Tax, County Tax, Sales Tax, State Tax, Federal Tax. Taxes are a bitch.
What has been the biggest reward for you in launching Shaper Supply?
We rent the shaping bays on a monthly basis as well and some of the experimental shapes those guys are doing are super fun to see. It's rad to see the monthly guys become friends and talk board design or go for a surf. In a way, it's bringing together a little local community of guys who've found a passion for shaping and experimenting with board designs.
3523 S. Centinela Ave
Mar Vista, CA 90066
310.862.4407
Regular Hours:
Monday-Thursday: 12pm - 6pm
Friday & Saturday: 11am - 5pm
Closed Sundays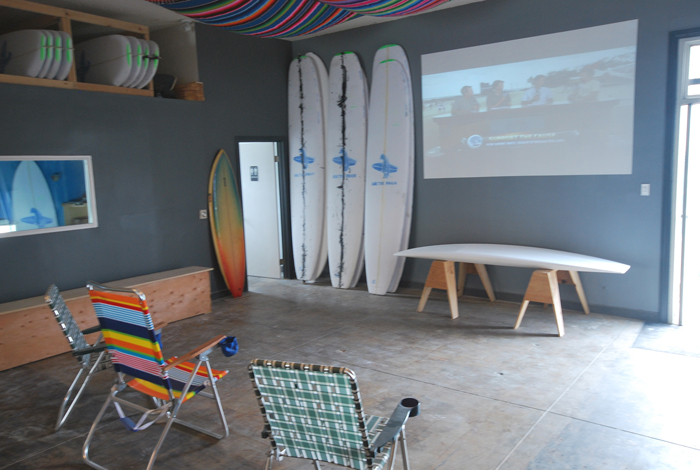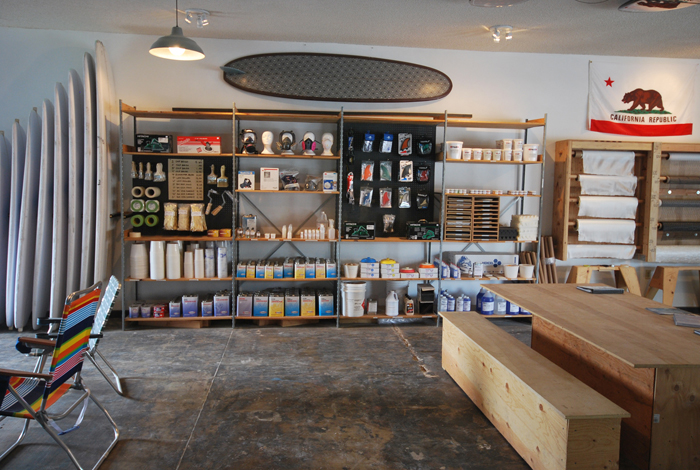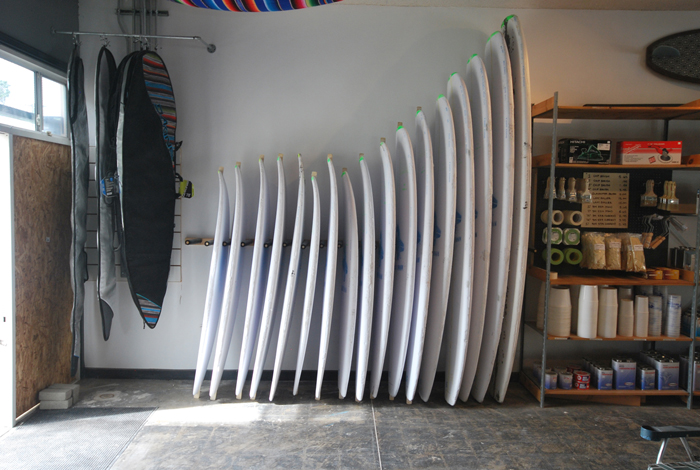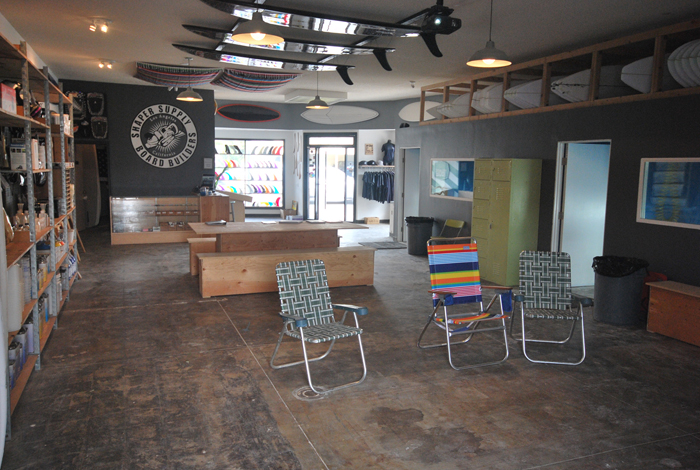 ---