Back to News
WEB: Ocean Minded Launches the Redesign of Company Website
March 19, 2014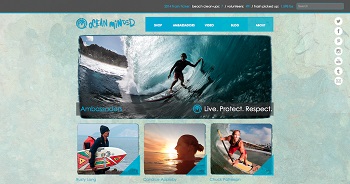 Ocean Minded Launches the Redesign of Company Website
With the launch of the redesign, Ocean Minded is offering a 20% off discount on all spring styles. Enter promo code NEWSITE20 at checkout through Monday, March 24, 2014.
Press Release from Ocean Minded
San Clemente, CA (March 17, 2014): Just in time for the Spring season, leading footwear brand, Ocean Minded, is excited to announce the launch of their newly redesigned website, www.oceanminded.com.
The Ocean Minded brand was built on the principles of protecting our beaches, respecting the environment, and providing a product that parallels Southern California's ocean lifestyle. The revamped site boldly showcases these values, highlighting the company's latest footwear selections, Brand Ambassadors, environmental efforts, and the company's appreciation for captivating photography and video.
"The goal was to update the existing site and better convey our story, including the four pillars of the brand – Quality, Authenticity, Community and Responsibility," explained Ocean Minded's Marketing Director, Bob Tanner. "Whether you're a first time visitor or a returning customer, we want everyone who comes to oceanminded.com to know exactly who we are, and what we do, within the first few seconds. Our team was led by Gino Beltran, and they've done a phenomenal job - exceeding all expectations".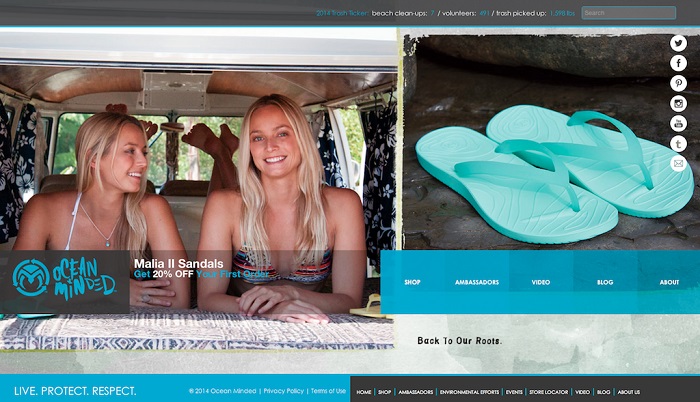 With the launch of the redesign, Ocean Minded is offering a 20% off discount on all spring styles. Enter promo code NEWSITE20 at checkout through Monday, March 24, 2014.
Key features and additional updates to oceanminded.com include:
•Enhanced full screen photography highlighting new product and brand ambassadors
•A new live "Trash Ticker" that updates weekly as we continue beach cleanups throughout the world
•Updated Brand Ambassador profiles featuring slideshows, action videos and their favorite Ocean Minded products
•Engaging content for our loyal fans and customers through the Environmental Efforts, New Products, Company Blog and Brand Ambassador pages
•An elevated user experience through an easy-to-navigate design and functional layout
•Strong product, lifestyle and action imagery and content,
•Much more!
Visit the new website at: oceanminded.com
ABOUT OCEAN MINDED
Born on the sands of San Clemente, California in 1996, Ocean Minded™ was built on the principles of protecting our beaches, respecting the environment, and an overall love of Southern California's ocean lifestyle. The company initially produced comfortable, durable sandals for surfers and those who were inspired by coastal living.
In 2007, Ocean Minded™ was acquired by Crocs, Inc. and has become a leading designer and manufacturer of high-quality footwear, apparel and accessories for men and women.
Our products are primarily targeted at the beach, outdoor, and action sports markets and many of our footwear styles feature Croslite™ material - a proprietary, revolutionary technology that gives each pair the soft, comfortable, lightweight and odor-resistant qualities our customers have come to love and expect.
---