Back to News
SURF: Ian Walsh's 11th Annual Menehune Mayhem Event Went Off Last Saturday in Maui
March 25, 2014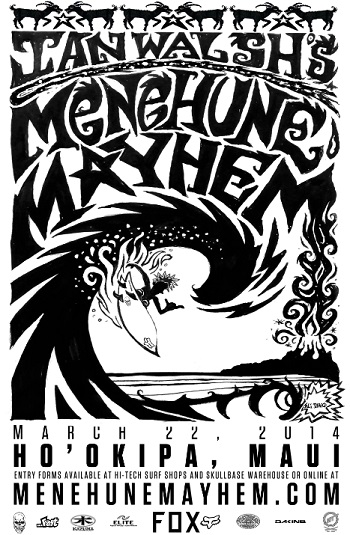 Ian Walsh's 11th Annual Menehune Mayhem Event Went Off Last Saturday in Maui
In addition to presenting both competitive surfing and memorial awards, Ian Walsh's Menehune Mayhem also recognizes academic achievement.
Press Release from Fox Head Inc
HO'OKIPA, MAUI (March 25, 2014) – Ian Walsh's Menehune Mayhem celebrated its 11th Anniversary on Saturday, March 22nd. The 4 to 8 foot stormy waves provided the 150 young contestants surfing in 10 divisions a highly contestable surf at Pavills Peak. Menehune Mayhem is a surf contest that embraces the community of Maui and the scholastic achievements of its participants.
"When I first started this event 11 years ago it started as something for the kids to look forward to and give them something to do at the beach because there was a lapse in surf events on Maui at that time," says Walsh. "It's something that has grown into a carnival like event. Each year I love bringing new activities to the event and this year I was especially excited to bring Matt Kinoshita of Kazuma Surfboards and his son Chaz to do a demonstration of how to shape a surfboard. We basically brought a shaping bay to the beach where we had a live shaping seminar. This helped the kids see how a board is shaped and learn what it is they are riding while giving them the opportunity to watch and ask questions to Matt and Chaz. Matt was my first shaper more than 20 years ago and that made it even more special." says Walsh, who is an internationally recognized professional surfer and Maui native.
In addition to presenting both competitive surfing and memorial awards, Ian Walsh's Menehune Mayhem also recognizes academic achievement. Ian Walsh was valedictorian of KingKekaulike's Class of 2001 and awards prizes for competitors with the highest grade point averages. The Maui County Mayor, Alan Arakawa came down to check out the surf action and presented six academic excellence awards with Ian. "This an example of someone coming from the community, a young gentleman that wanted to give back to the community," says Mayor Arakawa, "for Ian Walsh to be willing to come back, sponsor an event like this, specifically for the youth, and to encourage them to not only be very active sports-wise, but to rewardtheir scholastic ability sends a real strong message that it's important to have athletic skill, as well as be a good scholar is tremendous for the community."
Thank you to all the sponsors that supported and made this event possible: The Walsh Family and special friends, Fox, Dakine, Skull Base, Lost Surfboards, Kazuma, Elite Physical Therapy & Sports Medicine, Flatbread Company HI Tech Surf Shop, Taiko Drums, Keiki Art Center and Kalama Middle School.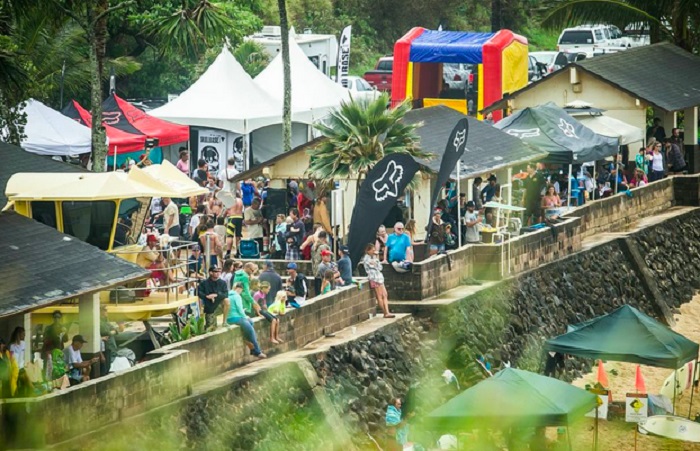 2014 IAN WALSH MENEHUNE MAYHEM GPA AWARDS
GIRLS
Sophia Jonston - Grade 9, Maui Prepatory Academy
Tasha Jahrmarkt - Grade 12, King Kekaulike High School
Serene Gunnison - Grade 12, King Kekaulike High School
BOYS
Logan Bedimol - Grade 8, Hawaii Technology Academy
Miles Seafica - Grade 12, King Kekaulike High School
Kalaheo Kahikina - Grade 6, Kalama Intermediate School
IWMM 2014 MEMORIAL AWARDS
TRISTAN TURTLE BRENNEN AWARD: SOS SURF BOARD - TATIANA EBRO
ANDY IRONS AWARD: SOS SURF BOARD - SPIKE CANNON
ERIC DIAZ AWARD: NEW BOARD DONATED BY ALOHA EVENT LIGHTING - SOPHIA BUNCH
JUSTIN ROBERSON AWARD: NEW BOARD DONATED BY ALOHA EVENT LIGHTING - TEIVA KEAMONIBOTH
STEVE COONEY AWARD: KAZUMA SURFBOARD - KAI JENKINS
SION MILOSKY AWARD: KAZUMA SURFBOARD - CONNOR PRADOS
IAN WALSH MENEHUNE MAYHEM 2014 FINALS
Girls 9 & Under
1st Kirra Spalding
2nd Ellie May Brown
3rd Sophia Bunch
4th Tia Rista
5th Maya Maki
6th Skye Rosenbald
Girls 10-11
1st Jasmine Crawford
2nd Olivia Yossa
3rd Angelina Yossa
4th Kayalani Mullen
5th Cecilia Buckingham
6th Malia Baker
Girls 12-14
1st Aloha Lopez
2nd Summer Macedo
3rd Tatiana Ebro
4th Sophia Johnston
5th Kayla McCarthy
6th Ella Self
7th Emma Gomez
Girls 15-17
1st Sierra Lerback
2nd Serene Gunnison
3rd Kailee McCarthy
4th Tasha Jahrmarkt
5th Makoa Ah Sam
Boys 7 & Under
1st Otis Buckingham
2nd Roran Mullen
3rd Teiva Keamoniboth
4th Jack Howard
5th Marley Franco
6th Makoa Kapunia
Boys 8-9
1st Luc Guidroz
2nd Shion Crawford
3rd Chase Anderson
4th Ty Simpson-Kane
5th Tai Munoz
6th Levi Young
Boys 10-11
1st Ocean Macedo
2nd Axel Rosenbald
3rd Kailuna Paula
4th Tony Nunez
5th Jackson Bunch
6th Connor Prados
Boys 12-13
1st Logan Bediamol
2nd Marco Rista
3rd Conan Gentil
4th Payce Duryea
5th Caeden Flores
6th Malik Hurdman
Boys 14-15
1st Cody Young
2nd Monte Grant
3rd Ean Kimmel
4th Khristan Olsen
5th Tristan Kahikina
6th Nick Nunez
Boys 16-17
1st Chaz Kinoshita
2nd Imai Devault
3rd Miles Serafica
4th Ridge Lenny
5th Shade Hurdman
6th Cyan Clark
ABOUT FOX HEAD, INC
Founded in 1974, Fox Head Inc. has maintained its position as the innovation leader in the MX industry by designing and producing motocross protection and apparel for the world's best riders. Building off this athlete-driven design philosophy the company has expanded its activity and products into MTB, BMX, Surf and Wakeboarding. Fox is a privately held company with offices in Irvine, CA; Morgan Hill, CA; Calgary, AB and Barcelona, Spain.
---