Back to News
SKATE: Woodward at Copper Welcomes Chad Bartie
April 14, 2014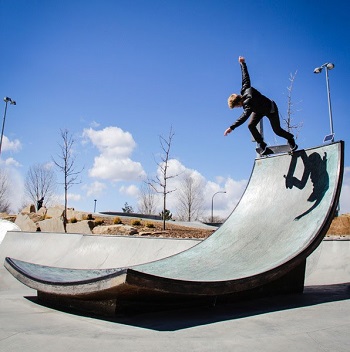 Woodward at Copper is Proud to Welcome Chad Bartie to Host Skate Camp this Summer.
Join Pro Skateboarder Chad Bartie at Woodward at Copper Skate Camp this Summer.
Press Release from Master Plan Communications
Copper Mountain, CO (April 14, 2014) – Woodward at Copper is proud to welcome pro skateboarder Chad Bartie to host skate camp this summer. He will be there for Week #6, July 20-July 26, 2014. A day at Woodward at Copper summer camp is a lot like many skateboarders' day dreams – breakfast, skate tranny or street in The Barn, lunch, skate local parks, dinner, skate The Barn. See what it is like for yourself in this new "A Day at Camp with Chad Bartie" video: https://www.youtube.com/watch?v=49bj-om_a_4
A typical day at summer camp will include morning and evening skate sessions in The Barn, skate trips to various skate parks around Colorado, and many more recreational activities including trampolines, create-a-skate, go-carting, and more. Woodward at Copper summer skateboarding camp is offered from June 15th – July 31st.
Known as an all-terrain shredder, Chad Bartie is a goofy footed Aussie that moved to the U.S. to pursue his lifelong passion of skateboarding as a 15 year-old. Bartie's been pro for more than 15 years, and he'll be passing on some of that experience to Woodward at Copper campers this summer.
Campers can save $50 by booking before April 20th. Click here or call 1-888-350-1544 for additional information or to register for camp.
For more information check out: http://www.woodwardatcopper.com/
Keep up with Woodward at Copper at www.facebook.com/WoodwardCopper or @WoodwardCopper on Instagram and Twitter.
For more information, contact:
Ashton Maxfield
949.289.6493
ashton@masterplanpr.com
---