Back to News
EVENT: 15th Annual Newport Beach Film Festival Announces 2014 Action Sports Film Series
April 14, 2014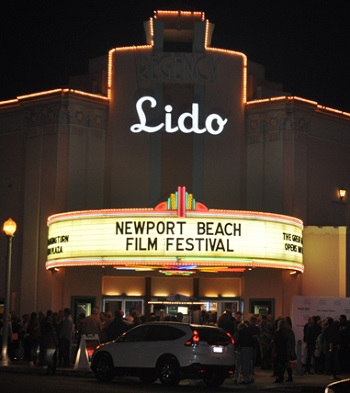 15th Annual Newport Beach Film Festival Announces 2014 Action Sports Film Series
NBFF to Host World Premieres of H2mexicO, Land of Patagones, XOXO and North American Premiere of OUT in the lineup.
Press Release from QandAmarketing.com
Newport Beach, Calif. - The Newport Beach Film Festival (NBFF) proudly announces its 2014 Action Sports Film Series (ASFS), an international showcase of films celebrating athletes, visionaries, filmmakers, cinematographers, pioneers, entrepreneurs and artists who have shaped the action sports culture and cultivated its progression with their innovation, energy and creativity. Emerging on the forefront as the largest action sports cinema event in the nation, the Action Sports Film Series will take place during the week of the Newport Beach Film Festival (April 24 - May 1, 2014) in Orange County, CA, a location celebrated as the epicenter of the surf wear and action gear industry and the ultimate destination to experience music infused cutting-edge adventure on the big screen.
Films will screen at Island Cinema (999 Newport Center Drive in Newport Beach), Regency Lido Theatre (3459 Via Lido Drive in Newport Beach), Triangle Square Cinemas (1870 Harbor Boulevard in Costa Mesa), and at Regency South Coast Village Theater (1581 W. Sunflower Avenue in Santa Ana).
The Action Sports Film Series offers filmgoers an opportunity to experience breathtaking cinematography, fascinating cultural journeys, in-depth portrayals and compelling stories that explore the physical, emotional, historical and spiritual realms of surfing, stand up paddling (SUP), snowboarding, kite boarding, B.A.S.E. jumping and other extreme sports. Highlights include red carpet film premieres, filmmaker panels, post-parties, athlete guest appearances, autograph signings and the participation of action sports industry leaders.
The NBFF Action Sports Film Series will spotlight fifteen (15) films from around the world. Tickets are $14 for adults and $12 for seniors and students. Tickets are available at www.NewportBeachFilmFest.com.
2014 NEWPORT BEACH FILM FESTIVAL ACTION SPORTS FILM SERIES LINEUP
Bella Vita (2013, Documentary, Italy, USA, 82 minutes)
Director / Screenwriter: Jason Baffa
Featuring: Chris Del Moro, Conner Coffin, Parker Coffin, Leonardo Fioravanti, Lauren L. Hill, Dave Rastovich
Hidden in a world of Italian tradition, a modern surfing world is connected to the Mediterranean's coastal lifestyle in this exploration of the connections between old and new.
Chasing Giants (2013, French Polynesia / USA, Documentary, USA, 36 minutes)
Director / Screenwriter: Bill Kiely
Featuring: Shane Dorian, Alex Gray
Venture inside the thrilling, dangerous, and high stakes world of big wave surfing.
Flux: Redefining Women's Surfing (2014, Documentary, USA, 17 minutes)
Director: Mia Montanile, Sarah Lee, Chad King
Screenwriter: Chad King, Sarah Lee, Mia Montanile
Featuring: Kahanu Delovio, Cori Schumacher, Kathy Kohner-Zuckerman
Surfing is an expression of freedom for women around the world, but what happens when the media and the larger culture of sexualization threaten to take that freedom away?
H2mexicO (2014, Documentary, USA 74 minutes) – WORLD PREMIERE
Director / Screenwriter: Brent Deal
Featuring: Dave Kalama, Gerry Lopez, Jamie Mitchell, Chuck Patterson, Slater Trout, Dave Boehne, Talia Decoite, Danny Ching, Connor Baxter
Follow eight stand up paddle superstars on a groundbreaking SUP journey aboard the super surf-yacht Royal Pelagic, as they take the sport where it has never been before – the rugged and surf drenched Baja's coast.
INTO THE MIND (2013, Documentary, Canada, 75 minutes)
Director: Dave Mossop, Eric Crosland, Jp Auclair
Screenwriter: Dave Mossop
Featuring: Callum Pettit, Kye Petersen, Xavier De Le Rue, Jp Auclair, Tom Wallisch, Eric Hjorleifson, DCP, Samuel Anthamatten, Johnny Collinson, Angel Collinson, Benji Farrow, Austin Ross, Ian Mcintosh, Ingrid Backstrom, Chris Rubens, Renan Öztürk, Jimmy Chin, Mark Abma, Conrad Anker, Izzy Lynch, Rush Sturges, Matty Richard, Julian Carr, Stan Rey, James Mcskimming, Joel Loverin, Rory Bushfield, Kris Erickson, Karma Tsering
Experience the majesty of Alaska, Bolivia, the Himalayas and beyond as the lines are blurred between dream state and reality, and immerse you into the mind of a common skier as he attempts to climb and ski the ultimate mountain.
Land of Patagones (Tierra De Patagones) (2014, Documentary, Argentina, 75 minutes) – WORLD PREMIERE
Director: Joaquin Azulay, Julian Azulay
Screenwriter: Gaspar Segafredo, Joaquin Azulay
Featuring: Julian Azulay, Joaquin Azulay
The "Gauchos del Mar" brothers pursue their goal of surfing at one of the southernmost areas of the world: Staten Island. They travel across Patagonia to Ushuala and live in a tent. Finally, to reach their destination, they must sail through the Beagle Channel and across the Straight of Le Maire, one of the most dangerous seas in the world.
The Old, the Young & the Sea (2013, Documentary, Austria, 90 minutes)
Director / Screenwriter: Mario Hainzl, Andreas Jaritz
From the Atlantic Coast of France to Spain to Portugal, this documentary frames a vivid snapshot of Europe's postmodern coastal culture which is significantly influenced by the hippie heritage of the 1960s, modern surfing popindustry and the vital relationship of coastal inhabitants with mother nature.
One Inch From Flying (2013, Documentary, USA, 10 minutes)
Director: Will Suto
Four high lining athletes rig and walk stunning lines in San Francisco and the California high desert. As the athletes confront the primal fears of heights and exposed places, they explore the potential of the human mind.
OUT in the line-up (2014, Documentary, Australia, 69 minutes) - NORTH AMERICAN PREMIERE
Director / Screenwriter: Ian Thomson
Featuring: David Wakefield, Thomas Castets, Cori Schumacher, Robbins Thomson, Barton Lynch, Keala Kennelly, Barney Frank
Two gay surfers unite to uncover the taboo of homosexuality in surfing. Together they embark on a global journey to speak with people from all corners of the surfing community about an aspect of surf culture that has until now remained hidden. As their journey unfolds, they uncover a culture of fear, secrecy and exclusion but are inspired to affect change by connecting people, provoking discussion and looking to the sport's grass-roots values of freedom of spirit and love for the ocean.
Serendipity (2014, Documentary, Australia /Maldives / Sri Lanka, 64 minutes)
Director / Screenwriter: Simon Lamb
Featuring: Tony Hinde, Tom Carroll, Nick Carroll, Albert Falzon, Bob McTavish, Simon Anderson, Paul Pearson, Ashley Hinde, Glenn Best, Ian Lyon, Mark Scanlon, Gary Mortimer, Doug Spong, Ken McNickle, Ahmed 'Dara' Rasheed, Garry English, Franck Bywalski
The story of Anthony Hussein Hinde, considered as the father of surfing in the Maldives, as he kick starts the nation's emerging tourism industry and finds his own personal nirvana.
STAND (2013, Documentary, Canada, 46 minutes)
Director: Nicolas Teichrob, Anthony Bonello
Cast: Norm Hann, Raph Bruhwiler
Take a journey through the waters of British Columbia's west coast, a coastline of immense beauty, pristine ecosystems, and a way of life rich in culture and history that is under threat by the proposed Enbridge Northern Gateway pipeline and tanker route.
Stephanie in the Water (2013, Documentary, USA, 70 minutes)
Director: Ava Warbrick
Featuring: Stephanie Gilmore
Stephanie Gilmore is the undisputed champion of women's surfing. This is an intimate portrait of a competitor, a champion who is forced to ask herself, for the very first time, "why do I want to win?"
Tally-Ho (2012, Documentary, USA, 6 minutes)
Director / Screenwriter: Matt Blank
Featuring: Matt Blank
A brief look into the sport of B.A.S.E jumping and an exploration of why the risks are worth the rewards.
With A Kite (2013, Documentary, USA, 79 minutes)
Director / Screenwriter: Adam Boozer, Timothy M. Tewell
Featuring: Davey Blair, Bill Parker, Jason Slezak, Eric Rienstra, Craig Cunningham
An inside look at the most influential contest in the sport of kite boarding through the perspective of professional rider Davey Blair and his fellow top-tier riders.
XOXO (2014, Documentary, USA, 36 minutes) – WORLD PREMIERE
Director / Screenwriter: Brent Deal, Chris Aguilar
Featuring: Talia Decoite, Tehani Gangini, Ashley Baxter, Kelly Potts, Paige Alms
Five women try and change kids lives by sharing their love of the Ocean.
ABOUT THE NEWPORT BEACH FILM FESTIVAL
Celebrated as one of the leading lifestyle film festivals in the United States, the Newport Beach Film Festival seeks to bring to Orange County the best of classic and contemporary filmmaking from around the world. Committed to enlightening the public with a first-class international film program, a forum for cultural understanding and enriching educational opportunities, the NBFF focuses on showcasing a diverse collection of studio and independent films from around the globe. The 15th Annual Newport Beach Film Festival runs April 24th - May 1st and will spotlight over 350 films from around the world.
---