Back to News
SURF: Surfing Legends / VIPs expected at Bruce Brown Tribute event
April 22, 2014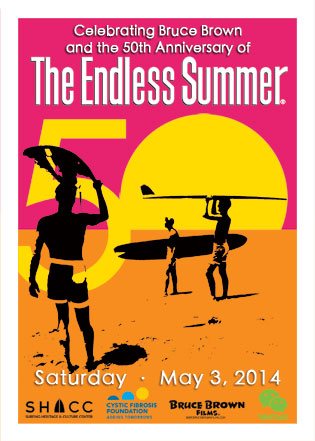 Surfing Legends and VIPs Lining Up to Attend Bruce Brown Tribute Event, May 3rd in Huntington Beach
The Bruce Brown Tribute Event will take place at the Waterfront Beach Resort, a Hilton Hotel, in Huntington Beach on Saturday, May 3, 2014.
Press Release from SHACC
SAN CLEMENTE, CA — Surfing Heritage and Cultural Center (SHACC) announced today that the guest list for the tribute event celebrating Bruce Brown and the 50th Anniversary of The Endless Summer is stacked with surfing legends and VIPs. The event will take place at the Waterfront Beach Resort, a Hilton Hotel, in Huntington Beach on Saturday, May 3, 2014.
According to SHACC's Executive Director, Paul Strauch, a surfing legend himself, "it's going to be a once in a lifetime gathering of surfing VIPs and ambassadors coming together to honor Bruce for his remarkable contributions to the surfing, surf travel and film industries. We're thrilled to be presenting Bruce with the first-ever, SHACC Lifetime Achievement Award."
In addition to The Endless Summer trio of Bruce Brown, Robert August, and Mike Hynson, the film's original publicist, R. Paul Allen, John Van Hamersveld, the renowned artist who designed the film's iconic poster, and Bob Bagley the former business manager at Bruce Brown Films, will be reunited for the first time in many years.
Also expected to be in attendance are: Greg Noll, big wave pioneer and surfboard builder; Fred Hemmings, the 1968 World Surfing Champ and surfing promoter; Peter Townend, 1976 World Surfing Champion; Greg MacGillivray, surf cinematographer and IMAX filmmaker; Lance Carson, legendary Malibu surfer/shaper; Renny Yater, master surfboard shaper; Joey Cabell, standout pro surfer of the '60s and '70s and cofounder of The Chart House restaurant chain; Randy Rarick, Executive Director of the Triple Crown of Surfing; and Jericho Poppler, former pro surfer and cofounder of the Women's International Surfing Association. The stars of The Endless Summer II, Robert "Wingnut" Weaver and Pat O'Connell, will also be present, with Wingnut taking on some of the event's emcee duties.
Attendees will have an opportunity to mingle with many of these legends and view the extensive collection of Endless Summer memorabilia on display prior to the sit down dinner, tribute program and live auction. Proceeds from the evening's fundraising activities will benefit two 501(c)(3) non-profits, SHACC and Cystic Fibrosis Foundation.
A diverse group of businesses have stepped up to help make the Bruce Brown tribute event possible, including City National Bank, the event's "red carpet" sponsor. Additional sponsors include RE/MAX Select One, 18/8 Fine Men's Salons, Rainbow Environmental Services, Zem Gear, makers of innovative athletic foot wear; Visit Huntington Beach; the Waterfront Beach Resort, a Hilton Hotel; Karl Strauss Brewing Co., which licenses The Endless Summer brand for one of its beers; Orange Coast Winery, which is licensed to market its Endless Summer Wine; Wahoo's Fish Tacos, caterer for the event's VIP pre-party; Tiki Farm, purveyors of Polynesian Culture; and Karma Tequila, sponsors of the event's official cocktail.
Tickets are still available, but the event is expected to sell out within the next two weeks. For more information or to purchase tickets, drop into the SHACC website at: www.surfingheritage.org or call (949) 388-0313 x0.
---