Back to News
SURF: Bruce Brown/Endless Summer Tribute Party Delivers Unforgettable Evening for a Packed House
May 6, 2014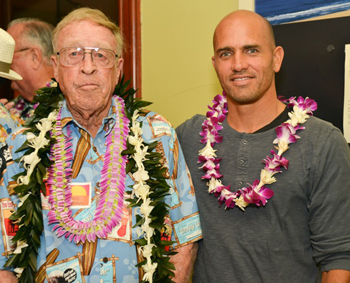 Bruce Brown/Endless Summer Tribute Party Delivers Unforgettable Evening for a Packed House
Event Raises Over $100,000 for SHACC and Cystic Fibrosis Foundation
Press Release from SHACC
HUNTINGTON BEACH, CA — A sellout crowd of more than 450 people dropped into the Waterfront Beach Resort, a Hilton Hotel, to honor venerable filmmaker and master storyteller, Bruce Brown. The event also commemorated the 50th anniversary of the release of his film, The Endless Summer, which forever changed the world's perceptions about surfing and surfers.
"People came from Hawaii and across the US, and as far away as Brazil, Italy, France, Japan and Fiji to be part of this special tribute and celebration," said Paul Strauch, Executive Director of Surfing Heritage and Culture Center (SHACC). "The event was everything we hoped it would be. Bruce and the film's stars, Robert August and Mike Hynson, have had such a huge influence on so many people over the years, we wanted to make sure they received the recognition they deserve."
"I've never seen so much gray hair and so many bad aloha shirts in one place," joked Robert "Wingnut" Weaver, the evening's emcee and star of Endless Summer II, who did a wonderful job of engaging the audience and coordinating the evening's program and live auction.
From fearless big-wave pioneer Greg Noll to 11-time world champion, Kelly Slater, the ballroom was dotted with surfing legends who, along with friends, family and fans, had come to pay tribute to Bruce. Attendees were treated to priceless, behind the scenes stories about the making of the film and how it came to be one of the most successful documentaries of all time.
During the tribute program, Brown, August, and Hynson were joined on stage by R. Paul Allen, the film's publicist, Bob Bagley, former business manager at Bruce Brown Films, and John Van Hamersveld, the artist who created the film's timeless, pop culture poster. Together, the group recounted the challenges and the joys of making and promoting The Endless Summer a half-century ago. They also shared insights on the film's lasting appeal to surfers and non-surfers alike. It was a fun and, at times, very funny history lesson in surf culture.
In 2013, SHACC curated an extensive collection of Endless Summer memorabilia to create a 50th Anniversary Exhibition, and shortly thereafter began plans to recognize Bruce Brown for his life's work.
SHACC teamed up with the Cystic Fibrosis Foundation (CFF), an organization with close ties to the surfing community. Surfing — and breathing in the ocean's salty air — is an effective form of therapy and is helping extend the lives of people battling cystic fibrosis. People like 13-year-old Taylor Ross.
Taylor delivered a moving speech about her struggles with the hereditary, life-threatening disease. How surfing helps her expel thick mucus from her lungs so she can breathe easier. And how her friends at CFF continue to bring new hope…and raise funds to find a cure. Her talk inspired thousands of dollars in donations during the event's "Bid from the Heart" appeal.
The evening culminated with Bruce Brown receiving the first-ever SHACC Lifetime Achievement Award for his permanent contributions to the surfing and filmmaking industries. During the award ceremony, Brown described the night—and all the praise and support — as "overwhelming."
With respect to all who had traveled great distances to attend, Bruce quipped in his classic wry and witty fashion: "I probably wouldn't have done it for you."
It was a perfect evening, inspired by a highly acclaimed little film about the search for the perfect wave.
A special thanks to the event's sponsors including: City National Bank, RE/MAX Select One, 18/8 Fine Men's Salons, Hobie Surf Shop, Rainbow Environmental Services, Zem Gear, Visit Huntington Beach, the Waterfront Beach Resort, a Hilton Hotel, Karl Strauss Brewing Co., Orange Coast Winery, Wahoo's Fish Taco, Wade Koniakowsky Fine Art, Tiki Farm, Karma Tequila, Jack's Surfboards, Freewaters, and Dusters California.
About SHACC
Surfing Heritage and Culture Center (SHACC), is a 501(c)(3) non-profit organization dedicated to preserving, presenting and promoting surfing's heritage for the appreciation and education of current and future generations. It also has the goal of surfing being more accurately understood, represented and enjoyed. SHACC is located in San Clemente, California and houses the world's largest collection of historic images and surfboards.
About Cystic Fibrosis Foundation
The mission of the Cystic Fibrosis Foundation, a nonprofit donor-supported organization, is to assure the development of the means to cure and control cystic fibrosis and to improve the quality of life for those with the disease. The Foundation is the leading organization in the United States devoted to cystic fibrosis. It funds and accredits more than 115 CF care centers, 95 adult care programs and 50 affiliate programs, and has 80 chapters and branch offices nationwide.
#SHACC #BBF #TheEndlessSummer #BruceBrownFilms #CFF
---