Back to News
EVENT: 5th Annual Skateboarding Hall of Fame Induction Ceremony
May 12, 2014
5th Annual Skateboarding Hall of Fame Induction Ceremony on Thursday, May 15, 2014
ISHOF Inductees include: inductees: Gregg Carroll, Jim Muir, Steve Olson, Lance Mountain, Natas Kaupas, and two women – Laurie Turner DeMott and Ellen Oneal Deason.
Press Release from Shout PR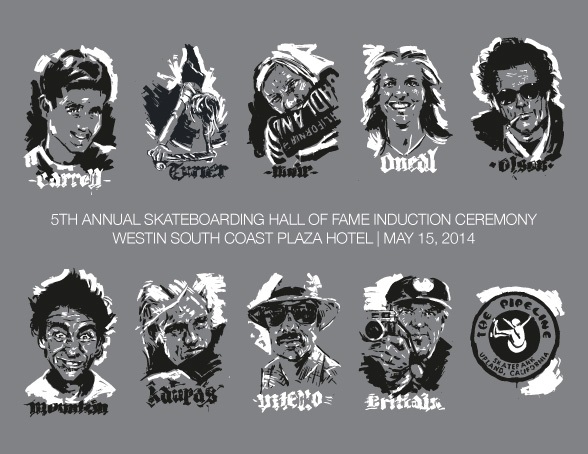 WHO: IASC and ISHoF Host the 5th Annual Skateboarding Hall of Fame and Icon Awards Ceremony at IASC
WHAT: The International Association of Skateboard Companies (IASC) and the International Skateboarding Hall of Fame (ISHOF) are proud to announce this year's Skateboarding Hall of Fame inductees: Gregg Carroll (1960s), Jim Muir (1970s, Era One), Steve Olson (1970s, Era Two), Lance Mountain (1980s, Era One), Natas Kaupas (1980s, Era Two), and two women – Laurie Turner DeMott (1960s) and Ellen Oneal Deason (1970s).
This year's Icon Award recipients are Fausto Vitello, J.Grant Brittain and Pipeline Skatepark / The Hoffman Family. Created in 2009, The Skateboarding Hall of Fame recognizes and honors the history of skateboarding and those influential figures who have significantly shaped skateboarding and our culture throughout the years.
The night will include a Happy Hour, VIP meet-and-greet cocktail party, and the Awards Ceremony. All proceeds benefit the not-for-profit efforts of the Skateboarding Hall of Fame and the Go Skateboarding Foundation's Just One Board initiative.
WHERE: The Westin South Coast Plaza Hotel 686 Anton Blvd, Costa Mesa, Calif. 92626
WHEN: Thursday, May 15th, 2014
· Happy Hour: 5:00 pm
· VIP Meet-and-Greet, Cocktails and Appetizers: 6:30 pm
· General Admission: 7:30 pm
· Awards Ceremony: 7:45 - 10:00 pm
Tickets are available online: http://2014shof.eventbrite.com/
For Press Inquiries contact: Erika Klein SHOUT PUBLIC RELATIONS erika@shoutpr.com
About IASC
The International Association of Skateboard Companies is the member-owned not-for-profit trade association of skateboarding. The mission of the IASC is to represent the global skateboarding community with a united voice by listening, understanding and acting on the needs of skateboarders and the skateboard industry. IASC's goals are to promote skateboarding, increase participation, educate and save our members money. IASC serves its members and the skateboarding community by focusing on areas that affect not only the business but the overall sustainability and health of skateboarding as a whole. For more information please visit: http://theiasc.org/
About ISHOF
The International Skateboarding Hall of Fame was created to honor the passion, dedication and contributions to skateboarding history and culture by skateboarders and cultural icons throughout the decades. The Skateboarding Hall of Fame is located in Simi Valley, Calif.
About Just One Board
Just One Board is a skateboard-recycling program created by the International Association of Skateboard Companies charitable arm, the Go Skateboarding Foundation, to benefit underprivileged youth, engage skateboarders with their local community, support skateboard retailers and serve as the base of a campaign promoting the positive power of skateboarding. For more information please visit: http://justoneboard.org/
---