Back to News
EMP: Ridgemont Outfitters Assembles 2014 Footwear Rep Force
May 22, 2014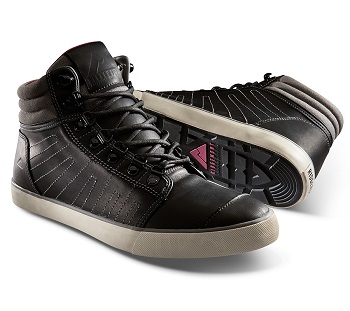 Ridgemont Outfitters Assembles 2014 Footwear Rep Force
Ridgemont's initial rep force includes some of the best the outdoor and action sports industries have to offer.
Press Release from Remedy Communications
Long Beach, CA (May 22, 2014): Ridgemont Outfitters (www.ridgemontoutfitters.com) is pleased to announce the first group of reps starting the adventure with them in 2014. Ridgemont's debut line of footwear satisfies an unfilled void in the industry with a unique selection of products that blend the essential technical qualities of an approach-style hiking shoe with a modern cultural design aesthetic.
"Right now there's nothing on a retail shop's shoe wall that meets the consumers needs for both on the trail and around town. Skate and gym footwear aren't for hiking and what's designed for rugged terrain simply looks out of place everywhere else," commented Stacy Lowery, creative director for Ridgemont. "Ridgemont is new school outdoor footwear. When we showed it to retailers who had someone under 35 on their buying team with them, they instantly got it."
Ridgemont's initial rep force includes some of the best the outdoor and action sports industries have to offer.
In the Southeast, Bob Riggott will be covering Florida, Georgia, Alabama, Tennessee and the Carolinas. He can be reached by emailing bob.riggott@gmail.com.
North of Bob, Dan Broadwell and the Flour City Distribution team will be building retail relationships across the Mid-Atlantic and New England regions. Email Bob's team at flourcitydist@gmail.com.
Moving west, Scott Robertsonwill be handling retail accounts across Texas, Oklahoma, Arkansas, Louisiana, Kansas and Missouri. Scott can be scott@robcorep.com.
Retail accounts in Colorado, Utah, New Mexico and Wyoming will soon be visited by Tytus Friar. Anyone in those states that's eager to see the line can email him now at tytusfriar@mac.com and he'll add you to the top of the list.
Jason Rothmeyer will be holding things down for Ridgemont in California, Arizona and Nevada. Interested retailers can reach out to him by emailing jrothmeyer@gmail.com.
In the Northwest, Nate Saso is the man to call for the latest on Ridgemont. He'll be handling retailers in Oregon, Washington, Montana and Idaho. Email him at nsaso@hotmail.com.
Ridgemont Outfitters creates footwear and other products that incorporate the technical elements required by those who live adventurously, but still work aesthetically when the trail ends and the sidewalk begins.
More information on Ridgemont Outfitters can be found online at http://ridgemontoutfitters.com/, https://twitter.com/RidgemontOutfit, http://instagram.com/ridgemont_outfitters and https://www.facebook.com/ridgemontoutfitters.
---