Back to News
CAMP: Sage Kotsenburg to Headline Summer Camp at Woodward
May 29, 2014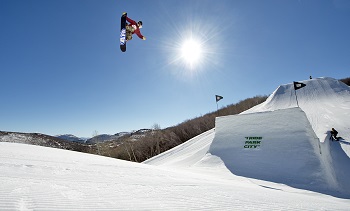 First-ever Olympic gold medalist in men's snowboard slopestyle to visit Camp Woodward
Sage Kotsenburg will hang out with campers July 14-15 at Woodward Copper and July 16-17 at Woodward Tahoe
Press Release from Camp Woodward (photo credit: Rob Mathis)
Woodward, PA (May 29, 2014) – Woodward is thrilled to welcome the first-ever Olympic gold medalist in men's snowboard slopestyle to camp this summer as Sage Kotsenburg hits Woodward Copper July 14-15 and Woodward Tahoe July 16-17. Campers will get the opportunity to hang out, train and grab photo ops with the Olympian.
Kotsenburg made history taking the gold in men's snowboard slopestyle this year at its debut in the Winter Olympic Games in Sochi. The GoPro athlete, Park City local and "I Ride Park City" All Stars team member has been on a crazy ride since winning the gold medal. He's been on a Wheaties box, early morning talk shows, late-night television, landed in the pages of Rolling Stone and his next stop is camp at Woodward.
"We are stoked to host Sage to camp this summer," said Pheobe Mills, Director of Woodward Tahoe and a snowboarding halfpipe and slopestyle judge at this year's Olympics. "After his groundbreaking gold-medal performance at the 2014 Winter Olympic Games, he is sure to be an inspiration for our campers and will no doubt exude his love and passion for snowboarding with everyone at camp."
There is still time to sign up to join Sage at camp in July. If you can't make these dates, there are always pros dropping in. To register or find out more information visit: woodwardatcopper.com or woodwardtahoe.com
About Woodward
For over forty years Woodward has been the leader in lifestyle and action sports progression. Offering innovative facilities and the best summer camp experience, Woodward is a world-class destination for both aspiring youth and professional athletes. Woodward is a community where action sports, gymnastics, cheer and digital media are all given the tools necessary to reach new heights in an atmosphere that fosters creativity and passion. Woodward currently has four unique locations, open to all ages and ability levels, in the United States including the original Camp Woodward in Woodward, Pennsylvania; Woodward West in Tehachapi, California; Woodward Tahoe at Boreal Resort in California; and Woodward at Copper in Summit County, Colorado, plus Woodward Beijing in China with more locations on the horizon. To find out more information, please visit campwoodward.com.
---