Back to News
WEB: Opper Sports Production Launches Vaporvue
June 2, 2014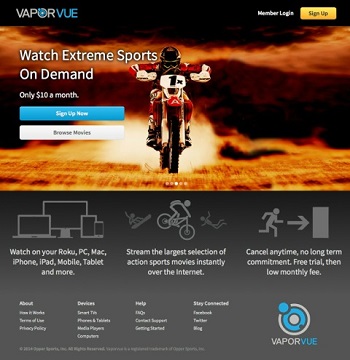 Opper Sports Production Launches Subscription-Based Streaming Video Service for Extreme Sports
Vaporvue Gives Extreme Sports Enthusiasts On-Demand Access to the Best Movies, Documentaries, TV Series and Videos for One Low Monthly Price
Press Release from Opper Sports Production
SOLANA BEACH, Calif., June 2, 2014 –Opper Sports Production (OSP) announced today the launch of Vaporvue to meet the increasing consumer demand for professionally produced extreme sports content. Beginning June 21st, for $9.99per month, subscribers will gain streaming access to the best actionsports and outdoor entertainment from www.vaporvue.com on Internet connected devices.
"We developed Vaporvue as a sustainable platformwith both the end user and the content owner in mind," said Vaporvue Co-founder Ira Opper. "We are providingour subscribers with a high-quality viewing experience and the filmmakers a medium to showcase and monetize their work."
Working closely with the filmmakers themselves, broadcast and online video platformpioneerOSP has compiled more than 1,000 of the besthigh-qualitycontemporary and classic movies,TVseries, documentaries, travel and informational videos about surfing, skiing, snowboarding, paddling, motorsports, mountain biking, climbing, fitness, outdoorand adventure. The videos will be available to stream onInternet connecteddevices including smart TVs, phones, tablets, media players and computers. In simple terms, Vaporvue will be Netflix for the extreme sports world.
"Access is everything," said Robert 'Wingnut' Weaver, who has starred in Bruce Brown's moviesand is a respected surfer and spokesman for the sport. "The future of extreme sports, and especially surfing films, is high-definition streams you can watch anytime, anywhere, and you'll get plenty of that on Vaporvue. This is the most incredible collection of mind-blowing movies."
Extremesports enthusiasts have long been loyal viewers of content for their respective sports, and the global demand for extreme sports videos is surging due to the increasing number of people participating in these sporting activities.According to Techradar.com, 2013 saw a continued rise in the popularity of online video, with mobile devices accounting for more and more content consumption, and this trend is expected to continue to grow through 2014 and beyond.
Vaporvue will allow unlimited access to a broad range of movies that can be viewed anywhere with an Internet connection. Everything from classic filmslike, Cosmic Children, Off The Grid, and True Champions to epic videos likeCome Hell or High Water,Groundswelland the Surfer's Journal Series will be easy to find and access anywhere anytime.
"Super clean site, massive selection, lightning-fast, and 500 times easier to use than my toaster," commented Matt Warshaw, author of The Encyclopedia of Surfing."Vaporvue is awesome!"
The Vaporvue site will go live on June 21st. For more information, visit www.vaporvue.com.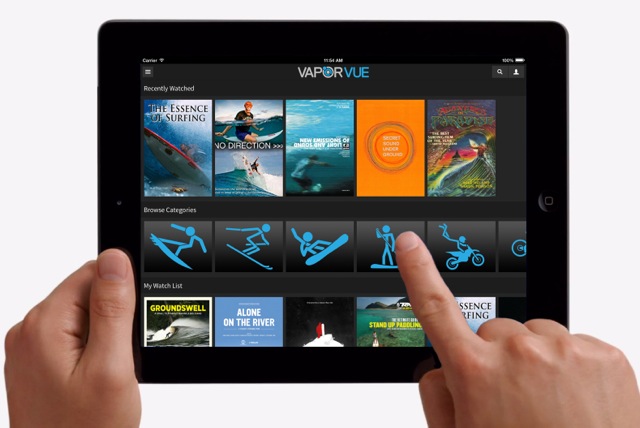 About Opper Sports Production
Opper Sports Productions is an Emmy award winning digital production company specializing in Ultra High Definition. OSP is currently developing proprietary online video platforms, over-the-top television services and remote display networks. Since 1982, Opper Sports Productions has produced "cutting-edge" extreme sports television programs, documentaries and videos airing on ESPN, Fox Sports, and National Geographic Adventure. The company maintains the world's largest surfing film archive. www.oppersports.com
---