Back to News
SURF: Celebrating 2014 International Surfing Day and Olympic Day
June 12, 2014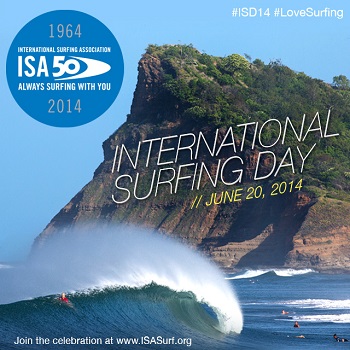 Celebrating 2014 International Surfing Day and Olympic Day
Join the Celebration: Click here to find out how!
Press Release from the ISA
On June 20th, the ISA marks the annual occasion of International Surfing Day - our sport's way of celebrating Surfing around the world and promoting the sport and its wonderful culture internationally. 2014 is also the ISA's 50th anniversary so we would like to celebrate this year in an extra special way.
During the same week, On June 23rd, the sporting world will celebrate the 66th Olympic Day - a global celebrationof the modern Olympic Movement and its core values of EXCELLENCE,FRIENDSHIP and RESPECT.
As Surfing aspires to become an Olympic sport, we believe this year during the week of International Surfing Day and Olympic Day, we can showcase to the sporting world and the Olympic Movementjust how popular Surfing is and how elite athletes, recreational surfers and global fans would love to see the sport be part of the Summer Olympic Games.
A toolkit in the link below aims to help surfers globally plan and activate simple and fun programs that engage your local community and surfers around the world.
Ultimately, the ISA wants to collate, publish and promote all the great stories, images and videos that surfers, National Surfing Federations and their local communities will create to celebrate International Surfing Day. The ISA can then proudly highlight our commitment to promoting Olympic Day and show the power of the global Surfing community to back our cause to become an Olympic sport. With your help we can make this dream a reality!
CLICK HERE TO FIND OUT HOW YOU CAN BE PART OF THE CELEBRATION
---