Back to News
Tyler Daigler, Inside Sales & Customer Service Team Lead at Flow Sports
June 20, 2014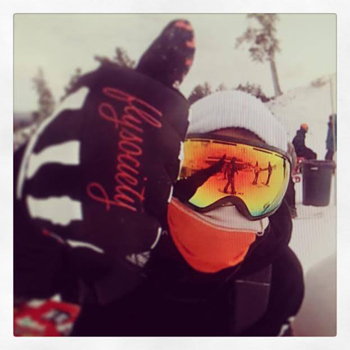 Tyler Daigler, Inside Sales & Customer Service Team Lead at Flow Sports
Tyler Daigler is a lifelong action sports enthusiast who was building a successful career in sales working for companies in the energy industry until he landed his dream job with Flow Sports in 2013 through Malakye.com. After six months on the job, Tyler is settling into his new position in this completely new industry, where he is responsible for driving account management, business development & sales strategy for Flow Sports and its three brands - Flow Snowboarding, NXTZ and SIC.
"As someone who grew up as a skater and snowboarder, you think you have a solid grasp of what's going on. Once you are on the inside however, all of that goes out the window," says Tyler Daigler of Flow Sports. "Learning the business side of the industry has been challenging yes – but EXTREMELY rewarding."
We interviewed Tyler Daigler, Inside Sales & Customer Service Team Lead at Flow Sports, to get the scoop on how he made the transition from working for a Fortune 300 energy management corporation to the action sports industry. We asked him what led to his decision to make such a major career move, what his new job is like, how his life is different one year later, and much more - check it out!
Can you take us through the hiring process that landed you your dream job at Flow Sports near the end of 2013?
I had been working for Schneider Electric, a Fortune 300 energy management corporation for about three years. I loved my job, but always dreamed about working in the action sports industry – so I was keeping my eye out for the right fit. I found Flow's job posting on Malakye, so I wrote up my cover letter and sent my resume in. Malakye had gotten me a few interviews in the past, so I was feeling pretty good about it. After an initial phone interview we scheduled an onsite meeting the following day. We discussed the changes that Flow was looking to make in both its sales force and over sales strategy, along with how my career experience and ability would help achieve the success and results Flow was looking for. The rest is history!
How did you celebrate when you found out you had secured the gig?
The first thing I did was call my parents. They have stood behind my action sports dream since I was hitting home made jumps in the front yard before elementary school. No lie, when I was 12 they built me a mini ramp in the front yard, and converted my entire basement into a skatepark. The Daigler's residence was the place to be! Naturally they were both completely stoked for me. I decided I wanted to keep it a secret and tell all my friends that night, as we were having a bit of a party that evening already. Somehow everyone had already figured it out, as there were balloons and champagne and all of that waiting when I arrived. Just like my family, I have an amazing group of core friends who knew my goals and pushed me to achieve them. Love you guys!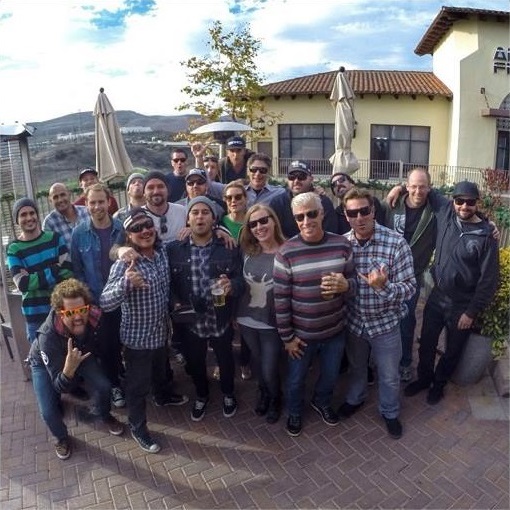 Here is the entire Flow Sport's team at their 2013 Christmas Party.
Is this your first job in action sports?
A couple years ago my good friend Nate and I started a local surf magazine called Exposure. We met a ton of great people, and gained a ton of experience one simply cannot achieve without starting your own company. Though the magazine never actually made it, we got our feet in the door and had a ton of fun doing it!
What aspects of your previous work experience have helped you most in your current position?
The business model between Schneider Electric and Flow Sports is actually quite similar. Schneider Electric's sales strategy is based on building a top of the line premium product line, pushing those products through B2B channels that reward their partners for working with them, and ultimately provide the consumer with the right product for the job they need to accomplish. Flow Sport's product lines, from Flow Snowboarding to SIC Maui paddleboards, are designed around the same concept. Our brands produce premium products at premium price points. With industry leading profit margins, our B2B customers make great profit working with us, and ultimately provide their customers with some of the best gear money can buy.
What's the best thing about your job with Flow Sports?
The best part of working at Flow is seeing the success and accomplishments made by each member of our office on a daily basis. As with any organization going through restructuring processes, there are going to be hurdles to jump and difficult situations to overcome. Our strategy in moving away from the utilization of independent sales reps to a new sales structure with a full time in-house sales force was viewed by many as innovative, however, there were uncertain "mumbles" echoing throughout the industry. Yet six months into our new business model, many of the biggest brands – including our competitors – are following suit. The feeling of accomplishment – knowing I played a part in reshaping how business is being done in the industry – is incredible.
Every person that walks through the doors here at Flow Sports are hard working, results driven people who take pride in the jobs they do. When we are faced with tough goals, tight deadlines and forced to redesign the way things have always been done – these are the times when my coworkers truly shine. And the numbers don't lie! Sales are up, costs are down, our supply chain is running like a well oiled machine – it's all very inspiring. A little food for thought: We just posted our best May in the 18 years we've been in business! We have a little saying we like to throw around here at HQ: "If you are doing things they way they've always been done, chances are you're doing it wrong." Who says change is a bad thing after all?
What initially inspired you to pursue a career in a passion-driven industry like action sports?
It has been my dream my entire life. I knew pretty early on I didn't have what it took to be pro in the sports I partake in, so getting into the industry was how I was going to be able to make my mark. That being said, I like to think I can hold my own on the mountain. Anyone else you'd ask would totally disagree with that (laughs)!!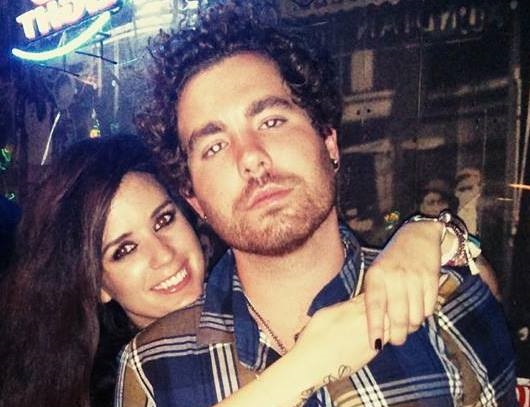 This is Tyler with his girlfriend Brit'Anne. She is a designer over at Beach Bunny Bikinis, a shredder and also a Flow Advocate.
How is your life different now compared to one year ago?
I'll tell you one of the wildest changes is the fact that I dream about work every single night now. Whether I'm coaching my inside sales team on new CRM tooling, or haggling on price with a customer – at some point every night I'm dreaming about work. I've even had some nightmares about missing deadlines and such!! (laughs). Every single morning I wake up, I'm super stoked to get to work. That's a pretty big change for me.
What challenges have you faced while settling into such a major career change?
I would say the biggest challenge for me has been learning the retail market space. Being that I've never really worked in retail, especially in such a seasonal business, the flow ( no pun intended ) of product and cash, along with the idea of pre-booking business and things of that nature were an initial challenge to wrap my head around. I'm glad that Flow Sport's was able to look past my lack of experience in that space, and understand I had the intelligence to pick up on that knowledge. I appreciate it team!!
What do you love most about working in the action sports industry?
The people. Hands down some of the coolest cats I've ever met, I've done so while networking throughout the industry.
Can you share any advice for someone looking to break into the action sports industry or for those wanting to make a career change?
It's tough to achieve. There are a lot of people out there who want to be a part of something so special, so just keep pushing towards you goals and never give up. Finding a way to set yourself a part from your competition is another key element I would urge everyone to do. While it's important to be a part of the market your trying to get into (IE- a snowboarder working at a snowboard company), that simply isn't enough. Companies are looking for a track record of proven results, ability to change and do so effectively, along with fresh thought and out of the box mentality. And of course, utilize Malakye to its full potential. It worked for me - it will work for you.
Any last words?
Of course! Head over to Flow.com along with SICMaui.com and check out our product line. Everyone here at Flow Sport's snowboards, surfs, skates and SUPS - and we take great pride in the product we are bringing to market. Besides that, I'll see you all on the mountain!!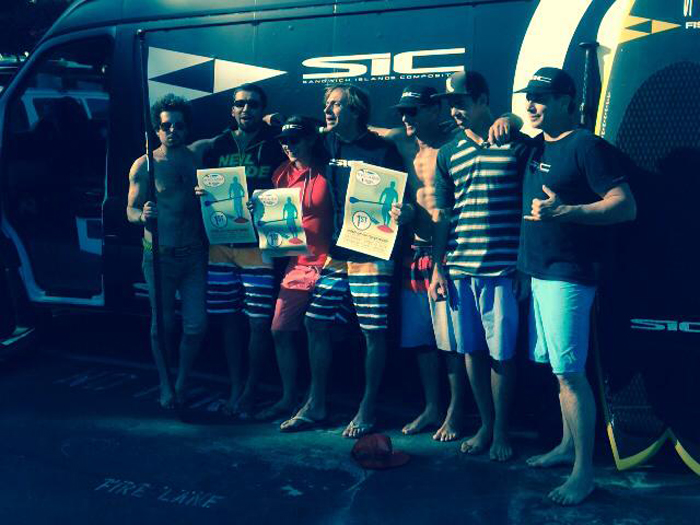 Pictured here is the team from one of Flow Sports brands, SIC Maui, at the "Stand Up For Clean Water " race in Malibu, CA. World Champ SIC Paddle Boarder Lina Augaitis, along with SIC Director of Marketing Braly Joy and Flow Sports President Anthony Scaturro. If you want to check out what Tyler and the Flow Sports team is up, head to flow.com.
---