Back to News
EVENT: Arnette Eyewear Continues Cash Pot Surf Series in South Shore Hawaii July 10-11
June 23, 2014
Arnette Eyewear Cash Pot Surf Series in South Shore Hawaii July 10-11
Two Divisions Pro-Am and 16 and Under Compete for $5,000 Cash Prize
Press Release from Azione PR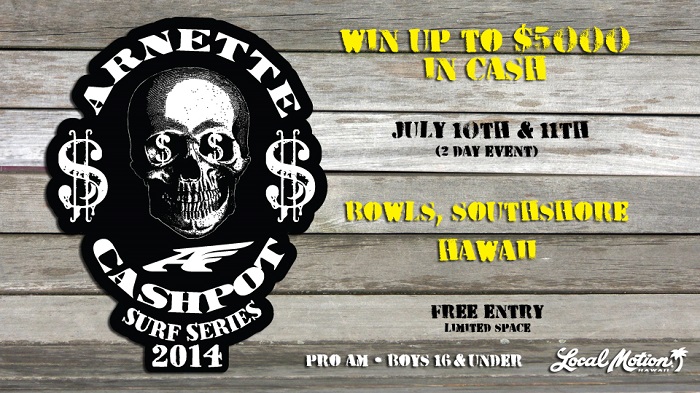 Encinitas, CA (June 23, 2014) – Arnette Eyewear brings back Cash Pot Surf Series to South Shore, Hawaii July 10-11 at Ala Moana Bowls. Over the course of two days, two divisions—Pro-Am and 16 and Under (boys)—will compete for a cash prize of $5,000 dollars. Entry forms are available at Arnette.com and at any Local Motion area surf shop.
This year Arnette returns to Hawaii and has teamed up with local retailer Local Motion for the only stop of the Cash Pot Surf Series. Open to the public, the event is beach entry only, and it is recommended that prospective competitors show up by 6:30am on the first day of the event. The money will be flowing during this two day event, as competitors have chances to win money in every heat.
"We are stoked to comeback to Hawaii because the locals have really embraced the Cash Pot Surf Series and we are super excited to team up with a retailer like Local Motion who has always been a big supporter of Arnette since day one," says Brent Bearden, Arnette's Alternative Marketing Specialist.
Additionally, the Cash Pot Surf Series entry form is available here or on Arnette's blog.
About Arnette
Arnette Eyewear came to life in 1992 in an Orange County garage. Guided by the principle that doing things your way, is the only right way, Arnette sunglasses quickly became the de facto badge for a new generation. Twenty years later, Arnette is found on an eclectic group of personalities from the music, skate, surf and art communities worldwide.
For more information on Arnette Eyewear visit http://www.arnette.com
---