Back to News
EMP: Matix Makes Key Appointments To Sales And Marketing Team
July 8, 2014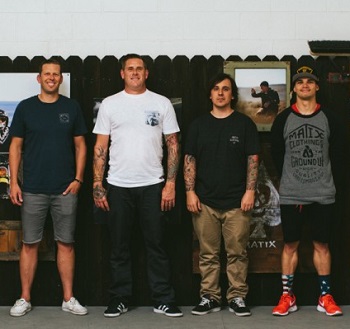 Matix Makes Key Appointments To Sales And Marketing Team
Since being purchased by Westlife Distribution 2 years ago, Matix has gone through an amazing re -tooling and transformation.
Press Release from Matix
(Los Angeles, CA) MATIX has big plans. In order to stay on plan, we continue to adjust our structure and business practices to address our vision and goals in an ever–changing economic environment. Since being purchased by Westlife Distribution 2 years ago, the brand has gone through an amazing re-tooling and transformation. Part of this is our dedication to addressing our global business with a solid sales and marketing team. Effective immediately, we are announcing the promotion of Daran Godfrey to global sales director.
"In this role, Daran will continue to do what he does best; build brands…from the ground up", says Brian Dunlap, MATIX co-founder and president. "We have done great things together and Daran has proven to be a solid asset to the MATIX brand and his vision is on point with where I believe we need to be on a global level."
Part of the current direction in a streamlined and focused approach to our global business is the announcement of a newly-created, dedicated international sales manager position. Jaime Fernandez joins MATIX in this role. Jaime will manage all MATIX sales business outside of North America in the interest of getting this business firing on all cylinders. MATIX has in the past had a very strong international presence and our commitment to this business going forward has warranted a strong focus with this dedicated position. Jaime joins us by way of San Sebastian, Spain. Prior to joining us here at MATIX, Jaime held his most recent position at Skullcandy as sales manager GmbH, sales/marketing management positions at DNA, as well as dealer service positions at Burton for the European market. He holds an MBA in Business from the EAE Business School in Barcelona, Spain.
"I couldn't be more pumped to have Jaime on our team", says Daran Godfrey. "I've known Jaime for some time and am very happy to have the opportunity to get to work side by side with him. Our current and future global partners are in for a treat."
In addition, another structure change designed to provide efficient global support is the addition of Nick Evennou into a newly-created and dedicated sales and marketing specialist position. In a nutshell, this is a role designed to provide inside sales, event and marketing support to our global sales team (reps and distributors) and dealer partners. Nick comes to us by way of FMF Racing where he most recently held the role of marketing and rider support coordinator, handling everything from social media, web and customer service.
"Nick is an overachiever, to say the least, says Godfrey. He has transitioned out of a career as a professional motocross and supercross athlete, into the business side of our industry and is hungry to grow with MATIX."
About Matix:
Matix Clothing was established in 1998 in the heart of Los Angeles, California. We have grown up in surfing & skateboarding cultures and this is what we know. This lifestyle is brought to fruition through the clothing we make. Every day is an adventure and every weekend is a trip. Let your creative sense take hold to explore new paths. In the end, our goal is to create something unique for those who share this common bond. With each season brings new experiences and new ideas.
We pull inspiration from America's not so distant past. Drawing from nostalgia of our heritage while referring to adventure and what it takes to build something with your two hands. The use of uncommon elements with a focus on artisanal craft & work wear styling will show throughout the brand.
Secure your foundation, take a trip, have a laugh with friends, follow your roots.
MATIX ~ "From the Ground Up"
---