Back to News
SURF: Timmy Turner & Rusty Preisendorfer Inducted Into Surfers' Hall of Fame
August 4, 2014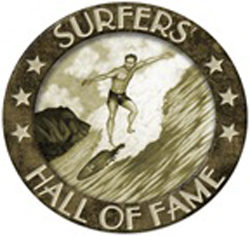 Timmy Turner & Rusty Preisendorfer Inducted Into Surfers' Hall of Fame
Last Friday, Carissa Moore, a two-time world and U.S. Open Champion was inducted in a special ceremony to avoid conflicting with her heat in today's surfing competition.
Press Release from Team MKM
HUNTINGTON BEACH, Calif. – Friday, August 1, 2014 – Against the backdrop of Surf City's 100 Years of Surfing celebration and the 20th Anniversary of the U.S. Open of Surfing, the Surfers' Hall of Fame today inducted Timmy Turner, the filmmaker and modern-day inspiration who overcame a virulent staph infection to return to the water and his craft, and Rusty Preisendorfer, one of the industry's most prolific and forward-thinking shapers/entrepreneurs whose iconic R-dot boards are ridden by the world's elite surfers. Last Friday, Carissa Moore, a two-time world and U.S. Open Champion was inducted in a special ceremony to avoid conflicting with her heat in today's surfing competition.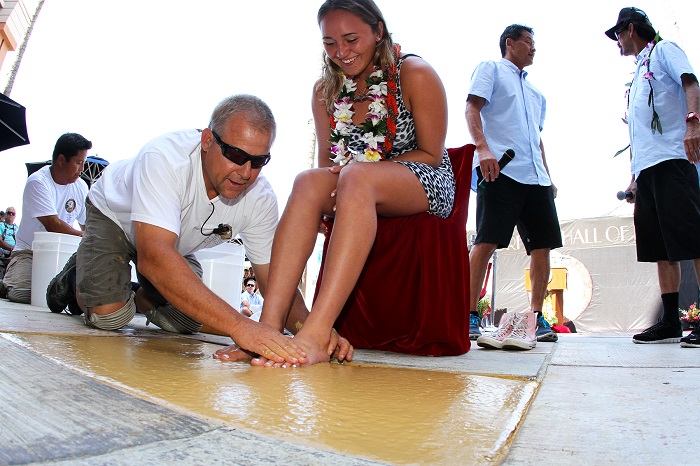 All three of the new inductees now have their hand and handprints immortalized in cement for the ages in front of Huntington Surf & Sport at the corner of PCH and Main Streets. "We are stoked and honored to be here this morning to honor Timmy and Rusty. This place becomes more special with every induction," said Surfers' Hall of Fame founder Aaron Pai. "Timmy, you've done so much for this town and there's a lot of love for you in this crowd. Rusty, your impact has been like dropping a stone in a pond and watching the ripples expand worldwide." Pai added, "Timmy, you got me addicted to surfing Indo (Indonesia) while Rusty, you got me addicted to surfing Tavarua (Fiji)."
Timmy Turner: Huntington Beach's favorite son Timmy Turner is a living miracle. Captain of his high school surf team and busboy at his family's restaurant, The Sugar Shack, a surf trip to Indonesia at age 17 became the catalyst for a burgeoning filmmaking career. Over the span of three years and numerous trips to an uninhabited Indonesian island, Timmy documented three surfers conquering epic waves on a dangerous reef, braving the elements and struggling to survive. "Second Thoughts" won Movie of the Year at the 2004 SURFER Poll and Video Awards, putting Turner on the map.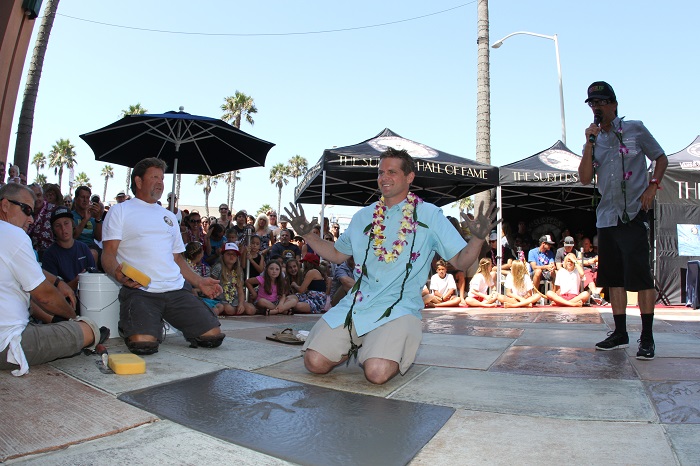 His next film, "The Tsunami Diaries," which documented relief efforts in Indonesia, may have contributed to an aggressive staph infection that attacked Turner's brain in December 2005. After six different brain surgeries, losing most of his skull and spending more than a month in the intensive-care unit of Hoag Memorial Hospital, Timmy survived but was forced to recalculate his life. His next film, "Cold Thoughts," was a tribute to his journey: hospitalization, rehab, recovery and lifestyle changes to ward off future infections, including a ban on trips to tropical climates.
"I thank God for giving me the chance to be here," said Turner, who is married and a father to five children. "When I went to Indo, my whole world changed. Making my movies was an awesome experience, but I love Huntington Beach and am so blessed to be here."
Former world champion Mark "Occy" Occhilupo, who won two Op Pro Surfing Championships while riding Rusty boards, introduced Preisendorfer. "It's an honor to be here to see Rusty getting inducted, especially since he shaped my first winning board."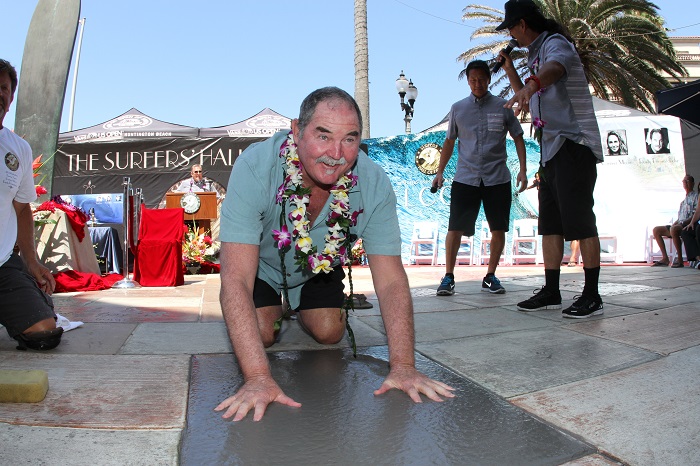 Rusty Preisendorfer: Rusty's huge impact on the sport dates to the 70s when he worked for San Diego's Canyon Surfboards, and shaped for international stars Shaun Tomson, Ian Cairns and Peter "PT" Townend. By the mid-80s his stable of riders grew to include Dave Parmenter and an up-and-coming Aussie named Mark Occhilupo, whose Shortboard prototypes set the standard for the high performance thruster. In 1985 Rusty left Canyon and launched Rusty Surfboards. The iconic R-dot logo boards were ridden by more than half the world's Top 16 surfers at the time and Rusty was the most in-demand shaper anywhere.
He launched a full line of clothing in 1988, growing the business into one of the industry's largest-grossing companies and helped launch the careers of Serena Brooke, Pat O'Connell and CJ and Damien Hobgood. Surfer ranked Preisendorfer fifth on a 2002 list of the "25 Most Powerful People in Surfing" while Surfing magazine named him one of the "10 Best Shapers of All Time," in 2004 and their "Shaper of the Year" in 2008. SIMA honored Rusty with their Lifetime Achievement Award.
"What an honor it is to be here today. I'm so humbled and thankful to everyone that helped along the way,especially Aaron Pai, who has been a supporter or 30 years," said Preisendorfer. "I'm very thankful to my parents who bought me a planer after I promised to work my way through school. They were skeptical at first, but it worked out in the end."
Today's ceremony also honored the Orange County Register's Surfer of the Year Awards presented by Laylan Connelly. Winners included: OC Rising Star of the Year: Tia Blanco; OC Ambassador of the Year: Jon Rose/Waves 4 Water; OC Freesurfer of the Year: Alex Knost; and OC Standout Surfer of the Year: Greg Long.
The Surfers' Hall of Fame induction ceremony pays tribute to those individuals who have made an indelible mark on the sport, industry and culture of surfing. Annually, tens of thousands of visitors travel to Huntington Beach's downtown area and literally walk in the footsteps of surfing superstars and legends from several eras including Laird Hamilton, Andy Irons, Jack O'Neill, Robert August, Bob Hurley, Sean Collins, Kelly Slater, Lisa Andersen, Pat O'Connell, Al Merrick, Shaun Tomson, Rob Machado, Skip Frye and Rabbit Kekai, who are already immortalized in cement.
---