Back to News
COMMUNITY: Sheckler Foundation Supports Top Four Nominees To Be The Change
August 12, 2014
Sheckler Foundation Supports Top Four Nominees To Be The Change
"Be the Change" and Vote for your Favorite Cause by August 25 to Help Injured Action Sports Athletes and Children in Need
Today, the Sheckler Foundation announces its top four finalists for Ryan Sheckler's 3rd "Be the Change" initiative to help action sports athletes and children in need. Board Rescue, Ashley Wade Foundation, Adaptive Action Sports and Brad Smeele were selected as finalists out of the numerous entries submitted from individuals and organizations throughout the country. These top four deserving finalists have been chosen and placed on the Sheckler Foundation's site for the final vote, which raises greater awareness towards its causes. The finalist that receives the most votes by Monday, August 25, 2014 will receive support from the foundation, its SkateBOARD members and up to $10,000 in funding to elevate its cause.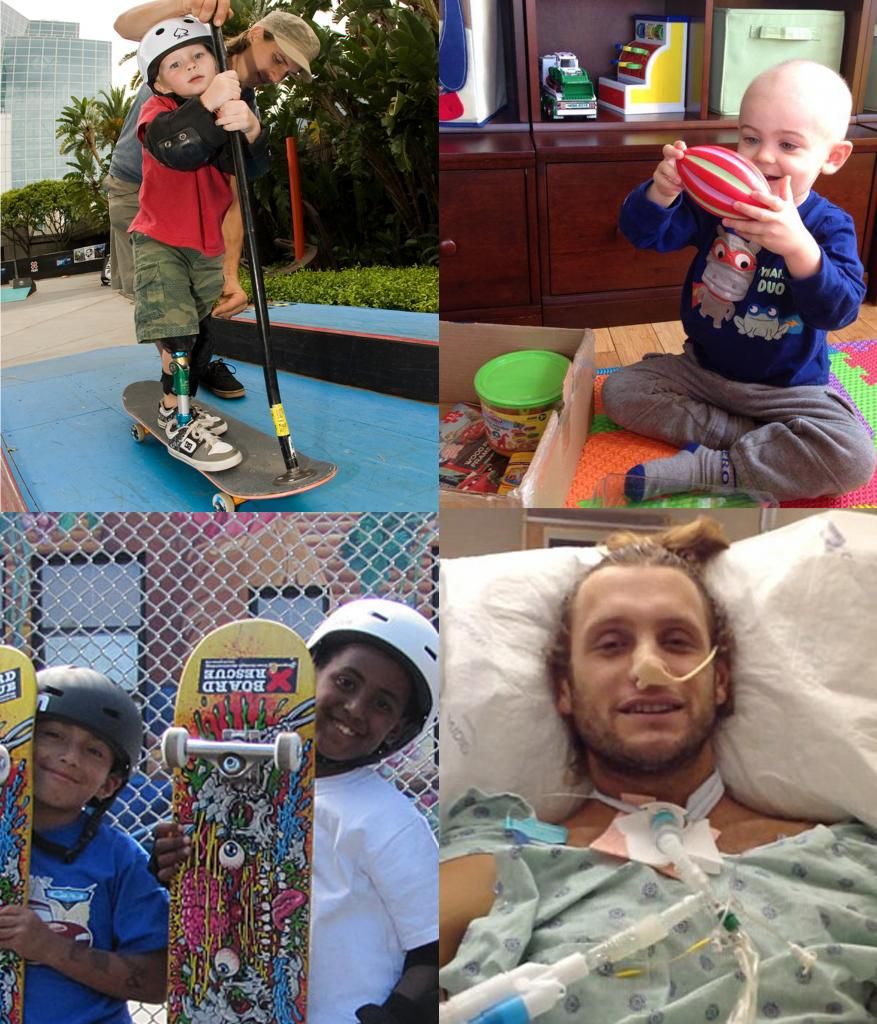 From left-to-right, top-to-bottom: Adaptive Action Sports;
Ashley Wade Foundation; Board Rescue; Brad Smeele
The top four finalists include:
• Adaptive Action Sports – This non-profit organization provides programs that teach injured and disabled children how to skateboard, which shows them how to overcome challenges and boosts self-esteem. Adaptive Action Sports is the first adaptive snowboard and skateboard specific non-profit organization.
• Ashley Wade Foundation – Diagnosed with Crohn's disease at the young age of 17, Ashley has bravely battled treatments and was inspired to create a foundation to help children battling chronic illnesses. The Ashley Wade Foundation organizes care packages, pizza parties and Christmas presents for children placed in hospital care.
• Board Rescue – This non-profit organization works with volunteers to provide under privileged, special needs and at-risk children with skateboards and safety equipment. Since 2008, Board Rescue has helped thousands of children in need.
• Brad Smeele – Brad Smeele is a professional wakeboarder who has been severely injured and now requires assisted living after shattering his C4 vertebrae – rendering him a quadriplegic. Over the years, Smeele has touched countless individuals and now needs help to get back on his own two feet.
Having helped numerous different causes and individuals over the years, the Sheckler Foundation is on a mission to empower people to "Be the Change." Past "Be the Change" winners include The Port Gamble S'Klallam and Peach's Neet Feet.
Voting ends on Monday, August 25, 2014 and the winner will be announced on the following day, August 26, 2014. For additional info on The Sheckler Foundation, stay tuned to: Facebook, Instagram, Twitter, LinkedIn and visit shecklerfoundation.org to cast your vote!
About The Sheckler Foundation:
Founded in 2008, The Sheckler Foundation was created as an avenue for Ryan Sheckler, his family, friends and business associates to give back to the community and industry that they are so grateful for. Fueled by the desire to contribute to the many causes that directly benefit and enrich the lives of children and injured action sports athletes, The Sheckler Foundation will produce fundraising events, passion projects and web-based initiatives to raise capital and awareness. Our ultimate goal is to empower our community to "Be the Change!"
---