Back to News
E&I: What People Want
September 8, 2010
E&I: What People Want
A little while back, we at Malakye conducted a survey of our audience with the intent of answering some basic questions of what people want in their work and career, what they actually get, take a look at the disparity, and share the information with employers who make up the Malakye community. And hopefully the information helps make the "world a better place for everyone."
I'm going to share the "What People Want" section with you here. Before we get to that list, a few qualifiers for you:
About 4500 people responded to this survey
About 40% did work in "the action sports" industry and about 60% did not work in the action sports industry.
Most people work in companies of at least 21 people
There are more bits of information that help to paint the demographic picture. In a word, it's "typical."
On to the list! What people want. One very interesting point is compensation is not top of the list. A friend of mine once said, "It's just not worth the money anymore."
What people want:
Feeling of Fulfillment
Good Management
Opportunity to Advance
Job Security
Compensation
Strong Company Culture
Benefits
Flexible Hours
Career Training
Stock Options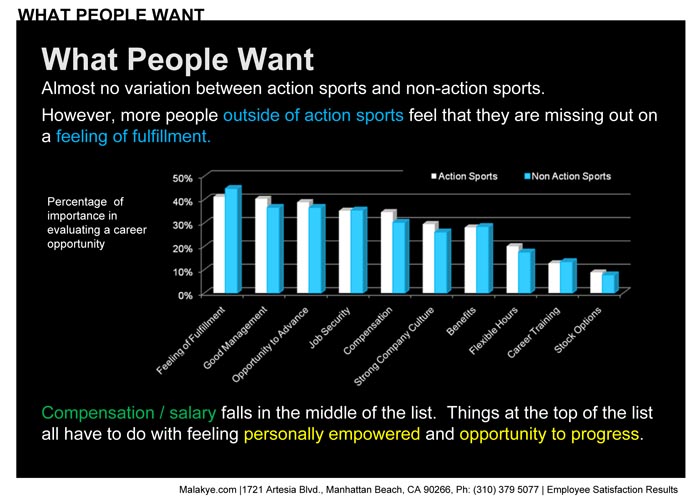 ---