Back to News
ShmoozaPalooza Job Fair | August 2010 at ASR
August 14, 2010


Malakye.com's ShmoozaPalooza Action Sports Job Fair is Back at ASR this August!
* Register at bottom of page!
This is your official invitation to particiate in the ShmoozaPalooza job fair that will take place at the Action Sports Retailer (ASR) show at the San Diego Convention Center Friday, August 13, 2010, from 12-4 p.m. This is your chance to meet with the leading action sports employers FACE TO FACE. Now let's get to it!

WHAT
Malakye.com Shmoozapalooza (Action Sports Job Fair / Networking Event)
WHY
It's the only action sports employment and networking event in the world! You have the opportunity to interview with the leading action sports companies face to face.
WHEN
Friday, August 13, 2010, from 12-4 p.m.

WHERE
The "Plaza Park" outside of the San Diego Convention Center during the Action Sports Retailer (ASR) trade show.
111 West Harbor Drive, San Diego, CAý 92101 (View on Google Maps)
*** Location: The Shmooz will be held OUTSIDE of the convention center at the Southern-Most Tip of the Building.
WHO (i.e. Exhibiting Companies)
This is a current list of companies that wil be present at the Shmooz. It wll be updated as more companies join!
HOW
Simply click the button below to submit your resume and confirm your attendence.





*** OR, if you don't have a resume account on Malakye.com, send an email to shmooz@malakye.com to let us know you're coming!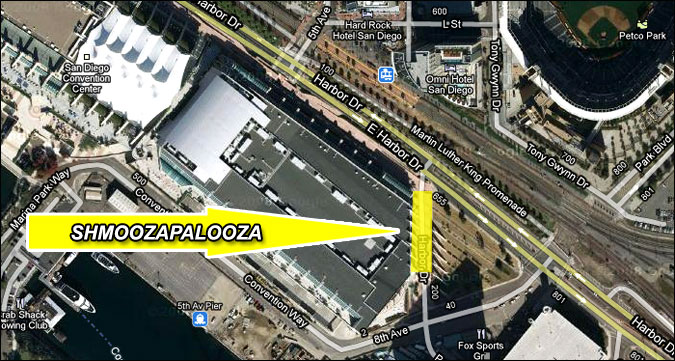 GETTING THERE AND STAYING THERE
Flights:
Hotels:
*** THINGS YOU SHOULD KNOW ***
HOW TO PREPARE
Treat attending this event like you'd be going to a job interview. Bring whatever it is you need to present yourself as a candidate for job opportunities in your profession. Absolutely bring your resume, roughly 20 copies or so. If you're a designer, bring a portfolio and some sort of sample presentation that can be left behind.
WHAT TO WEAR?
Whatever you're comfortable in! If you're curious about what people wear in this industry, check out the Industrial Profiles on Malakye; it's pretty true to how it really is.
HOW WILL THE SHMOOZ BE SET UP?
Once you're at the Shmooz, it's essentially open to the public given it will be held outdoors. Companies will be set up along the perimeter of the Plaza Park.
IS THE ACTUAL TRADE SHOW OPEN TO THE PUBLIC?
No, the tradeshow floor is not open to the public! The Shmooz is reserved for candidates and employers only. But if all goes well for you at the Shmoozapalooza, you will be in the trade show the next time around!
If this information leaves you with unanswered questions, drop us an email.
Photos of the most recent ShmoozaPalooza: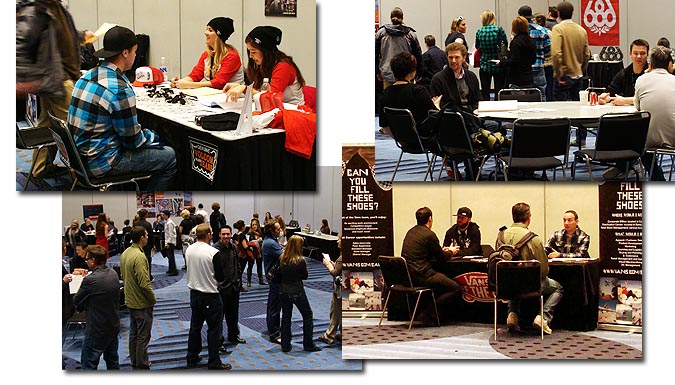 ---