Back to News
B$Z: Apex Ski Boots Launches Smart Phone App to Expand Skier Experience
September 23, 2014
Apex Ski Boots is excited to announce the launch of its new smart phone application, The Apex Inside Edge. Available now for download at the Apple and Google Play app stores, the Inside Edge rewards users with free gear for sharing the comfort and performance of Apex ski boots with fellow snow enthusiasts.
With the unique, modular design of Apex high performance ski boots, users are often asked about the performance, benefits and functions. Featuring a size chart and full product catalog – including the new big mountain MC-X boots with updated seamless, molded tongue - the referral-based app allows skiers to share their Apex from virtually anywhere, even the chairlift. A detailed brand video on each product page also highlights the key components, like the open chassis design and walkable support boot.
Apex offers a Refer-a-Friend feature so users can send the app direct to others via a single text message link. Registered app users receive points for all referrals and can be redeemed for free gear and accessories from Apex. When referred people purchase and register their new Apex ski boots, users get even more points. Apex Inside Edge is available for all iPhone and Android smart phone users.

Visit the newly updated Apex website for more information on the 2014/15 collection and the Inside Edge app at apexskiboots.com.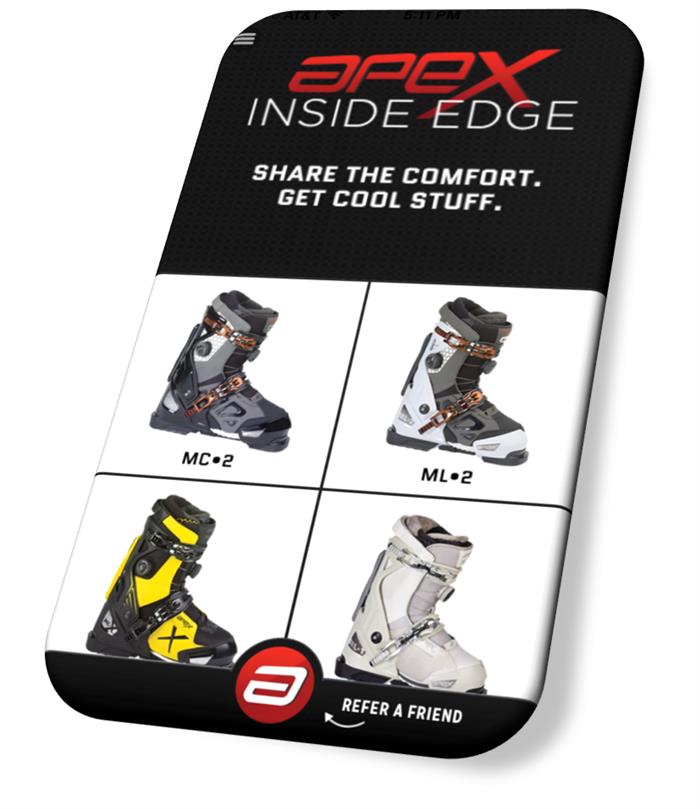 About Apex Sports Group
Based in Boulder, Colorado, Apex Sports Group was established in 2006 by ski industry veteran, Denny Hanson, the co-founder of the Hanson rear-entry ski boot. His lifelong passion for skiing and experience with technical footwear led Hanson to develop Apex Ski Boot System, blending the comfort, fit and warmth of a snowboard boot into a revolutionary new open chassis design that are unlike anything on the market. The independently owned company is dedicated to providing premium quality and innovative products to the sports industry, both domestically and internationally. For more information and to view the current collection, please visit www.apexsportsgroup.com You can also follow and interact with Apex on Facebook and Twitter (@apexskiboots).
---