Back to News
EMP: Arbor Welcomes Stanislauses; More Positive Internal Moves
September 25, 2014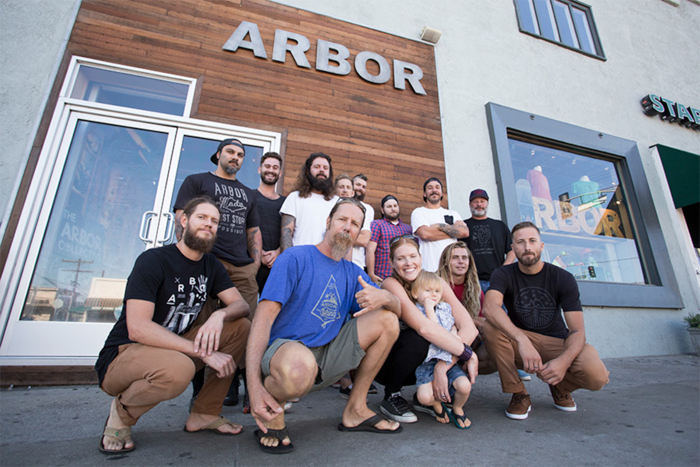 The Arbor Collective is proud to announce that it has partnered with industry veterans, Bob and Amie Stanislaus, to handle sales for both Arbor Snowboards and Arbor Apparel in California, Nevada, Arizona, and Hawaii.
Bob Stanislaus brings more than 25 years of experience as an independent sales representative, having earned multiple awards including SIA's 2008 Western US Rep of the year. He and Amie will add significant experience to Arbor's sales program. Bob previously worked as an independent sales rep for Mervin Mfg., where he received 20+ years of Service Excellence Award in 2013. Bob and Amie also represent Flux Bindings, Oneball Jay, Pro-Tec, and Dye Snow.
"I am stoked to be adding Bob's whole crew to our program," said Ryan Turley, North American Sales Manager for Arbor Snowboards. "He has earned the respect of every dealer in our home territory through passion, loyalty, and hard work. He embodies the attributes of a great salesman and always puts his customers first."
"Bob is an old friend who shares our vision for design and what matters to the future of snowboarding and skateboarding," says Bob Carlson, Founder of The Arbor Collective. "In the years I've known Bob, he has always been a great example of how a rep should live his brands, represent snowboarding, and connect with retailers. I've never seen better clinics or a more long term love for riding."
Arbor's current Snowboard and Apparel rep Dakota Franklin will be finishing up his snowboard clinics for the 2015 Snowboard Line and pre-book work for the 2015 Spring/Summer Apparel Line. He will then be coming in-house as Arbor's full-time Merchandising Manager. Jeff Oborn, Arbor's current Merchandising Manager, will be moving on to a full time National Customer Service role for Arbor Snowboards.
Jay Gatlin, Kenny Hill, Nick Kovack, Katie Adams, and Noel Marchan will continue handling Arbor Skateboard's sales in California, Nevada, Arizona, and Hawaii.
About Arbor: The Arbor Collective was founded in 1995 and remains a family rooted to the experience and fueled by collaboration with athletes and artists who share a vision for forward thinking design. For more information on the Arbor Collective visit: arborcollective.com
---