Back to News
EVENT Recap: Schekler Foundation 7th Annual Golf Tournament
September 30, 2014
Bruce Jenner, Brody Jenner, Sage Kotsenburg, Cris Judd, Laird Hamilton, John McGinley and many other celebs golfed for the Sheckler Foundation's "Be the Change" Initiative

More than two dozen celebrities came together and golfed for Ryan Sheckler NBC Sports' 7th Annual Celebrity Golf Tournament at the Trump National Golf Club in Rancho Palos Verdes. The celebrity golf tournament brought out celebrities like Bruce Jenner, Brody Jenner, Sage Kotsenburg, Austin Carlile, Chris Judd, John McGinley and many others as they golfed and raised more than $200,000. The proceeds from this event will benefit the foundation's "Be the Change" initiative that benefits pediatric causes, enrichment programs for at risk youth and aide for injured action sports athletes.

Left to right: Brody Jenner, Todd Bowman, Travis Clarke, Bruce Jenner and the Wienerschnitzel Weiner getting background props

Laird Hamilton surfed the links on his new Golf Board.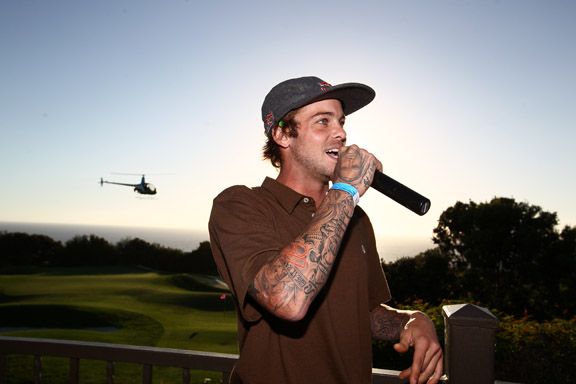 As the sun started to set, the golfers gathered for drinks and Hors d'oeuvres as they watched Fred Water's 200ft. Helicopter Ball Drop.

The Sheckler Foundation would like to thank all the dedicated volunteers, celebrities and sponsors who helped make this celebrity golf tournament successful. Sponsors for the 7th Annual Celebrity Golf Tournament include: NBC Sports; Ford; Red Bull; Oakley; Wienerschnitzel; Playboy Spirits; Wahoo's; Fred Water; Nixon; Tilly's; GoPro; Pin-Up Golf; Stance; G/Fore; J Star; Volcom; Red Bulletin; United/Luxe Travel; Pabst Blue Ribbon; K1 Speed; Deep Eddy; Resqwater.

For additional info on The Sheckler Foundation, stay tuned to: Facebook, Instagram, Twitter, LinkedIn and visit shecklerfoundation.org.
About The Sheckler Foundation:
Founded in 2008, The Sheckler Foundation was created as an avenue for Ryan Sheckler, his family, friends and business associates to give back to the community and industry that they are so grateful for. Fueled by the desire to contribute to the many causes that directly benefit and enrich the lives of children and injured action sports athletes, The Sheckler Foundation will produce fundraising events, passion projects and web-based initiatives to raise capital and awareness. Our ultimate goal is to empower our community to "Be the Change!"
---