Back to News
EMP: Element Positions for Global Growth with Strategic New Hires
October 20, 2014
Element today announced several key appointments to their U.S. leadership team. As the brand continues to expand globally, these experienced leaders will maintain Element's heritage while building the business in North America.

"We are entering a new era at Element," said Global GM Frank Voit. "In almost 25 years, the brand has become a crucial player in the global action sports market and we want to continue to build on our success as a premium brand with skate at its roots. Our number one priority is evolving, editing and interpreting Element's DNA so that it resonates in all regions. Although our organization is embarking on a global brand perspective, we want to ensure that we have the best experts focused on regional market objectives. I am confident that the addition of these well-respected industry veterans to our team will accomplish this so that Element can continue to grow and prosper on a global level."

These additions to the U.S. organization will work alongside the global teams to create a global brand that leverages regional centers of excellence and ensure a universal translation of strategic product categories without losing sight of regional needs.
These appointments will be based at the new North American headquarters the brand calls 'the Branch' in Costa Mesa: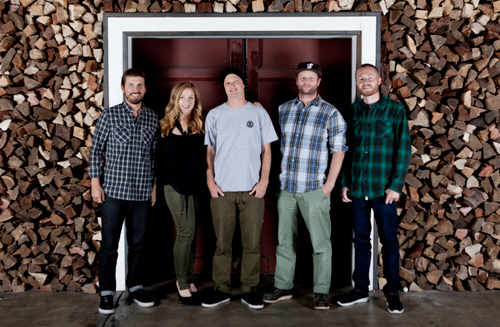 Left to right: Donavon Dartez, Candice Betancourt-Scott, Marc Falkenstien, Brian Erickson and Scott Bredenkamp.
-Donavon Dartez, VP of Sales: With almost 20 years of experience in action sports, Dartez brings extensive sales management expertise to the role. His comprehensive knowledge of the skate industry and effective, ongoing relationships with skate retailers will provide Element with essential sales leadership as the organization develops. Prior to Element, he served as SVP of Sales for DC Shoes and Director of Sales for Volcom.


-Candice Betancourt-Scott, Director of Lifestyle Marketing: She will be driving the lifestyle marketing and PR for the brand. Betancourt-Scott formerly worked for some of the world's most notable brands, including Nike, Coach and Tommy Hilfiger. Her multi-faceted background in sports, apparel and retail will ensure progress in the realms of marketing and communications.

-Marc Falkenstien, Branch Brands Director: An Element veteran, Falkenstien has been with the company for more than ten years, and has played a crucial role in the evolution of Element's team of athletes and advocates to be amongst the best in the world. As the company expands he will assume the role of Branch Brands Director. In this role Falkenstien will lead the efforts in developing the Element and Plan B skate businesses, while nurturing an ever-evolving collection of special projects and brands offered through Branch Distribution.

-Brian Erickson, VP of Merchandise and Design: An expert in translating market needs to product, Erickson has held similar leadership roles at many well-respected brands including O'Neill, Levi's and Quiksilver, among others. In this role, Erickson will focus on continuing to build product and collections that are relevant for the market and consumer.

-Scott Bredenkamp, Director of Operations: Bredenkamp hails from Sole Technology where he most recently worked as Sales Operations and Revenue Manager. Bredenkamp's career includes leadership roles in sales, sourcing and strategy. Bredenkamp's experience in global supply chain and operations will build the global platforms needed to improve customer support directly benefitting Element's retailers and consumers.
---