Back to News
EMP: Watts joins USA Cycling Board of Directors as Cyclo-cross Committee Representative
November 11, 2014
Brook Watts, a longtime marketing and promotions executive with more than 35 years of sporting events production experience, was appointed to the USA Cycling Board of Directors as the Cyclo-cross Committee Representative by the Cyclo-cross Sports Committee.

"I've been involved in the growth of cyclo-cross for the past 35 years," said Watts. "I value the strong relationships I've built over that time with USA Cycling, the UCI, as well as with racers and race directors from the U.S. and abroad"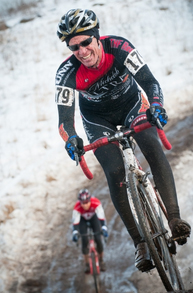 With more than three decades of experience planning and executing sporting events with a strong emphasis on cycling, Watts is best known as the organizer of CrossVegas, the largest cyclo-cross race in the U.S., but his cyclo-cross production experience extends back to his organization of the 1978 U.S. National Championships in Austin, Texas, which was held at the same venue where the 2015 Championships will be held.

"We are very fortunate to have Brook join the board of directors as the Cyclo-cross Committee Representative," said USA Cycling CEO and President Steve Johnson. "As the director of the very successful CrossVegas event, and a longtime advocate for the discipline, Brook brings a wealth of knowledge and experience to the USA Cycling Board."

As the Cyclo-cross Committee Representative, Watts will serve as a voice to members nationwide as well as bring knowledge and experience to continuously improve the cyclo-cross discipline from the grass roots to the elite level.

"One of my proudest accomplishments is the role I've played in bringing the first-ever Continental Championships for the Americas to Cincinnati this November," said Watts. "After years of watching U.S. cyclo-cross athletes lose out on valuable UCI points, I worked hard to lay the ground work to secure a partner organization, ascertain the standards and requirements, liaise with the UCI and obtain unanimous Pan-American Cycling Confederation approval to create the inaugural Pan-Am Cross Championships. I am proud that the Americas now have the same type of competition that the Europeans have."

In 2011, Watts was elected to the Cyclo-cross Management Committee of USA Cycling, and is a member of the board of directors of AIOCC, the Association of International Cyclo-cross Organizers.

Watts is a graduate of the University of Texas and an avid cyclist who proudly – or embarrassingly – claims to have cyclo-cross shoes older than any current professional racer. Watts' lifelong passion for cycling is infectious as he continuously raises the bar to expand the sport.
---