Back to News
EVENT: 17th Annual TransWorld SKATEboarding Awards – 1/7/15
December 4, 2014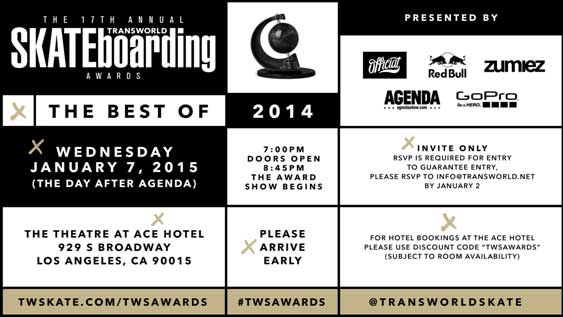 TransWorld SKATEboarding

is proud to announce the
17th Annual TransWorld SKATEboarding Awards
where skateboarding's best of the year will be honored and recognized.

All winners will be announced and awarded during the invite-only live event at The Theatre At Ace Hotel in Los Angeles on January 7, 2015. (The day after the Agenda Tradeshow.)

New for this year's show, TWSKATE is incorporating several new Readers' Choice awards in an effort to open up more category voting to the fans of TransWorld SKATEboarding. From the best photos of the year, to the covers, to the video check outs, and everything in between, the voices of fans will be heard. Be sure to cast your votes and check out all the categories HERE.

In addition, TWS will be presenting the Eric Stricker Memorial Award, in memory of the late Eric Stricker, former editor of TransWorld SKATEboarding, and the TWS Legend Award, recognizing deserving recipients who have dedicated their hearts and souls to skateboarding.

For more information and to cast your votes for the 17th Annual TransWorld SKATEboarding Awards, click HERE and follow Twitter and Instagram feeds at @TransWorldSKATE (#TWSAWARDS).

The 17th Annual TransWorld SKATEboarding Awards is an invite only event. To guarantee entry, industry guests RSVP to info@transworld.net by January 2, 2015.

Special thanks to our sponsors: Agenda, Red Bull, GoPro, Official, and Zumiez.
---