Back to News
Snurfer - Interview with Brew Mocarello
December 15, 2014
For those who have been around the snow industry for a while, you may remember the iconic Snurfer that paved the way for snowboarding during the 1960's and 70's. Snurfers faded away with the introduction of snowboarding as we know it today, but we are happy to share the return of Snurfers. With their release right before the holidays, it's not too late to bring back those childhood memories!

We spoke with Brew Mocarello, Founder and Owner of Balance Designs, Inc. for a little refresher course on the magic of the Snurfer.
Tell us a little about Balance Designs, Inc.
Balance Designs is our company name. We have been selling VewDo Balance Boards since the early '90's. VewDo boards are an evolution of the Bongo Board and are a great balance trainer as well as just a lot of fun to ride. After years of talking about the benefits of balance, the entire sports and fitness world seems to be catching on.
We just re-launched the Snurfer brand with new boards now shipping to dealers. Over a million Snurfers were sold in the late '60's and early '70's but the brand faded away as snowboarding became popular.
Both products are made-in-the-USA and offer a simple, non-tech alternative that are tons of fun to use.
How did the Snurfer change snow sports?
That's a big question, but the simple answer is it is where snowboarding as we know it today began. Imagine Tom Sims and Jake Burton Carpenter standing at the top of the downhill at the Snurfer World Championships…
What is the importance of this being a simple, unplugged outdoor activity?
There's a big hole between what kids can do in their backyards and the ski areas. Just like Snurfers were the gateway to the sport, we think they will also be a gateway to future snowboarders when they can just grab their Snurfer and have some fun on a small hill. Nobody wants to strap-in a thousand times on a hill that's 50 feet long.
Why did you choose to bring back the Snurfer now?
The opportunity presented itself when I discovered the trademark was available and it just seemed like the right thing to do. I checked in with Sherman Poppen, who gave it his ok, and from there we put some boards together for last year's SIA show. From a market perspective, there is a pretty strong movement in this direction but with higher end product, we're aiming for a larger audience with some very affordable boards.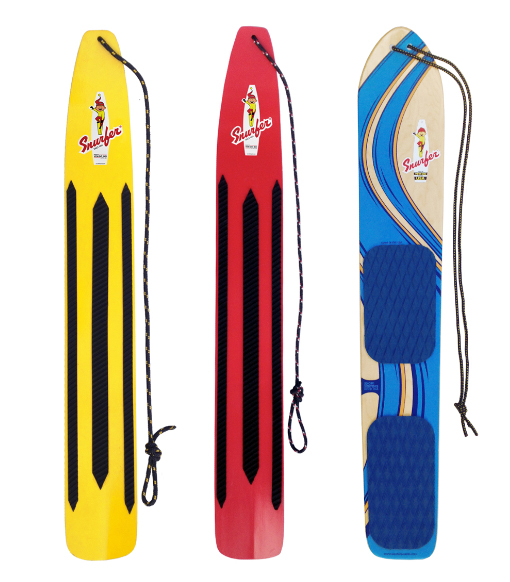 Why was keeping the original name and design essential?
There is history here that needs to be respected as well as passed on to the next generation. By keeping our ties to the past, the next generation might have more appreciation of where the sport came from and what has evolved over the last 50 years. There is also some instant market recognition that only comes from something that has a cult appreciation like Snurfer.
How has the response been so far?
Fantastic. We just started shipping boards to shops and several have sold through that initial order in the first weekend!
How will you evolve or expand the product line as consumer demand and interest change?
Too soon to divulge the line we'll have at the SIA show, but we have plenty of ideas for new boards that will fit right into the Snurfer brand.
How does the Nomad board differ from the classic replica?
The Nomad is wider and a more flexible wood. You can get the board to arch a turn better than the classic, it's just a slightly different riding experience suitable for a wide range of conditions.
When you think about what's next for Snurfer, what gets you most hyped up?
Getting the next wave of riders excited about every snowfall!
---