Back to News
B$Z: Fred Water Breaks Sales Record: Most Stainless Steel Water Bottles Sold Through Crowdfunding
1/7/2015
Fred Water, the company with the mission of "more water, less sugar," today announced that its Kickstarter campaign sold more stainless steel water bottles than any other company in crowdfunding history. Best known for its flask-shaped water bottle that fits comfortably in pockets so people can carry more water more often, support from crowd funders on Kickstarter came from all around the world - 60 countries in total.

Concluding last week on December 31, 2014, the Kickstarter campaign sold 6,397 refillable stainless steel water bottles from 4,623 backers (an average of 1.3 water bottles per person) with a funding average of $31 (excluding shipping). The project raised $205,116, more than 400 percent of its $50,000 goal.

Fred Water continues to set itself apart from traditional beverage companies that exist on a drink-and-toss business strategy. Fred Water not only supports a healthier lifestyle by promoting drinking more water (including water from free sources), but the company also reduces environmental waste by promoting refills on Fred's bottled water products.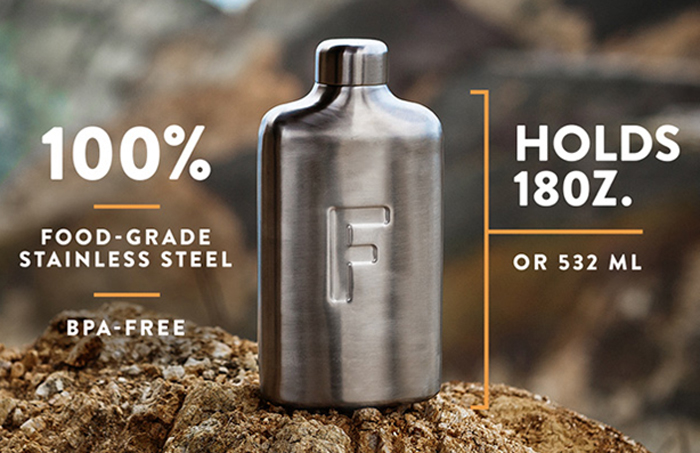 "The Kickstarter campaign has allowed us to connect with fans in a new way and establish a dialogue with those who share the same guiding principles we have as a company, and its success is proof positive that we're on the right track in terms of mission and product," said Adam Gayner, co-founder and CEO. "We would like to thank every backer that made this project so successful. Fred Water has big plans with our unique approach to solving some of the problems associated with sugar overconsumption and at the same time the issue of environmental waste in the bottled water industry. We're excited to gain this momentum and serve our fans evolving needs now and in the future."

The Kickstarter campaign gained momentum quickly, thanks to a witty video featuring Flight of the Conchords' Murray Hewitt (Rhys Darby) and Andrée Vermeulen with cameos by Tony Hawk, Aaron "Jaws" Homoki, Chris Joslin, Annie Boulanger, Joe Sexton, Scott Stevens, Megan Neuringer, Leonard Robinson, Lance Krall, Scott Krinsky and Eliot Schwartz. This video taking viewers through the invention of the pocket-friendly water flask can be watched here: http://kck.st/11Lywni. Viewers were surprised by a cameo at the end of the video of Lil Wayne, a fan of Fred Water and one on the first to receive a Fred Water Stainless Flask. These celebrity contributions helped the popularity of the successful campaign.

The stainless steel Fred Water Flasks are available for pre-order at fredwater.com.

---