Back to News
B$Z: AMSOIL Arenacross Interview of the Week: Get to Know Team Faith's Dawson Newby
January 22, 2015
AMSOIL Arenacross, featuring Ricky Carmichael's Road to Supercross, is loaded with aspiring young talent looking to make a name for themselves on the professional stage. One of those hopefuls is 16-year-old Dawson Newby, from Eaton, Colorado. Newby has dreamed of becoming a professional AMSOIL Arenacross competitor and signing with a top team since he was a young boy. For the 2015 season his dream came true when he signed with Team Faith to go bar-to-bar against the fastest arenacross riders on the planet. AMSOIL Arenacross sat down with Newby to talk about his long-term goals in the sport.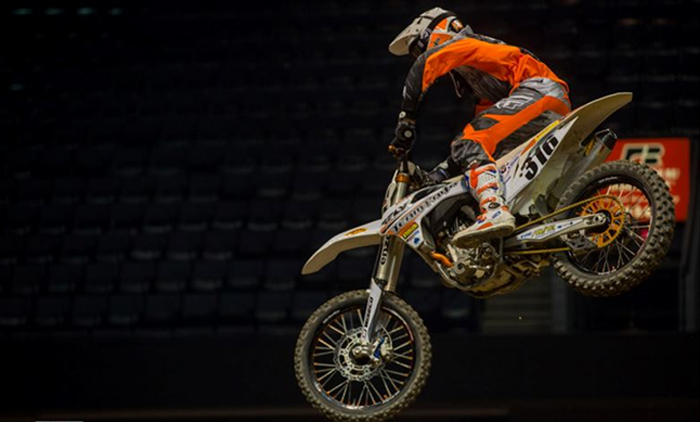 Newby is learning under the tutelage of Team Faith Team Manager Brian O'Rourke.
Photo: Josh Rud / ShiftOne Photography

Dawson, AMSOIL Arenacross is heading to your home state this weekend. Tell us what it means for you to race in front of your hometown crowd.


I am really excited! It's a close race to home so a lot of my family and friends will be there supporting me. The team is coming into Colorado a few days early to do some testing on the race bike and get some things dialed in before the weekend. I am thrilled to have Brian [O'Rourke, Team Faith Team Manager] and Chuck [Lemaster, Team Faith Mechanic] come early and spend a few days with me. The last couple of weekends I have been focusing on building and progressing on the track. I have been learning the ropes and building off every weekend. Going into Colorado this weekend I feel very confident and I am ready to show my home state I have what it takes to be a top competitor in AMSOIL Arenacross!
You have quite a unique background about your start in racing, and more specifically your path to AMSOIL Arenacross. Tell us about your journey through racing and what has brought you to this point in your professional career?
I started riding when I was three, but I was four when I realized I wanted to be a racer. My family never really had a background in motocross racing. My dad grew up racing street bikes but that was a whole different world than racing dirt bikes. After my first race, I knew my dream was to become a professional racer. My heart was 100% into racing and as I got more involved and committed into the sport I knew it was meant to be. It was a few years ago that I knew my ultimate goal in this journey was to race professional arenacross and sign with a top team.
Talk a little bit more about that realization when you knew you wanted to race professional arenacross. What sparked that?
I knew I wanted to race professional arenacross for Team Faith in 2012 at the final AMSOIL Arenacross race in Denver. It was Kevin Johnson who really established that dream for me. As soon as I met Kevin at the Team Faith devotional it was an eye opener for me that I knew it was possible for me not only to share my faith with others, but also to do what I love and race my dirt bike. That afternoon changed everything for me and I knew right then and there where I was meant to be with my life. My dad is a pastor at our local church in Eaton, so I have grown up in the church. I was always looking for that way to tie my racing in with my faith. When I met Kevin he not only became my mentor, but he influenced me in a way that I knew from that moment this was my lifelong goal I wanted to pursue.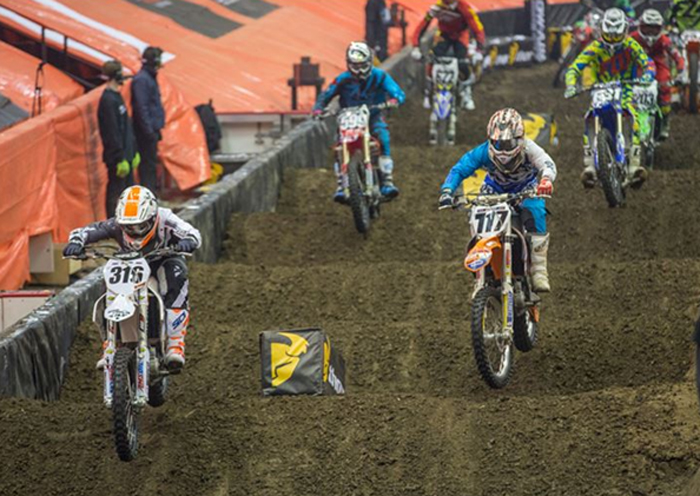 Newby (316) is gaining valuable experience every time he hits the track.
Photo: Josh Rud / ShiftOne Photography
What advice did Kevin give you when you first met him and told him your goals to race AMSOIL Arenacross, and follow in his footsteps?
That evening when I met him at the Team Faith devotional dinner, he made sure to tell me the most important thing throughout this whole journey is that I make sure to have fun and truly do it because I want to do it, and that I make sure to keep my relationship with the Lord strong throughout the entire journey. That advice has really helped me throughout the years and I still remind myself of his advice every time I train and ride. I have definitely gone through hard times since that day, and he warned me the hard times were coming! Throughout those times I reminded myself that this is what I love to do and it keeps me moving forward and continuing to chase my dream.
What have you done to prepare for this season racing AMSOIL Arenacross for Team Faith?
When I was young my dad instilled in me that if I really want something in life I have to go out and get it, and the only way to get that done is through hard work and repetition. When I was 14, I joined the gym and really started buckling down in my training program on and off the bike. I also got in as much seat time on the bike as I possibly could. I knew that if I really wanted to ride for Team Faith someday, I had to give it everything I had. After the Denver Arenacross when I met Team Faith and Kevin, I entirely devoted myself to the Lord and to my racing dream of being a professional arenacross rider. Since that day it has been frustrating. I have definitely have my ups and downs. I qualified for my first Arenacross Lites Main Event when I was 14 and it was a huge milestone towards my ultimate goal of becoming a champion. I can honestly say I have been improving after every race and I try my hardest every time I go out on the track. Through the tough times I remind myself to always look at the big picture and I have been improving every year.
What have you learned in your previous years of AMSOIL Arenacross experience that you are taking into this season?
I am looking to progress and get better every time I'm on the track. I was 14 during my first year of professional racing and I learned a lot from that year. Last year I felt better than I did the year before and this year I am riding for Team Faith and my confidence is at an all-time high being on such an elite, supportive team. Moving into 2015 I am racing against the top veterans and stars of AMSOIL Arenacross and the competition is at an all-time high. I am using that to my advantage and focusing on doing my best and gaining experience every time I am on the track. I feel as though racing against the best riders in the sport can only make me a better rider and that is my ultimate goal, to be an AMSOIL Arenacross champion. I know my time is coming. I want to be a top competitor in the Arenacross Class and I know that with that mindset if I set my direction towards the big picture, I can make anything happen.
What is your long-term goal in AMSOIL Arenacross?
I am learning so much from this year already and we are only 2 rounds into the season. I am so blessed to be a part of this team and this season of racing with such elite riders. It is the most stacked and competitive season to date, so I feel as though I will learn the fastest by being with the fastest. My goal is when I turn 18 is to be a top contender for the AMSOIL Arenacross championship, and I feel as though the quickest way to learn and progress is by putting myself in that environment now. I plan to keep my eye on the final prize [the championship]. I have great team and very supportive family helping me achieve this goal. For Team Faith to believe in me and give me a shot at being on their team has been a childhood dream come true for me, so I plan to give them everything I have.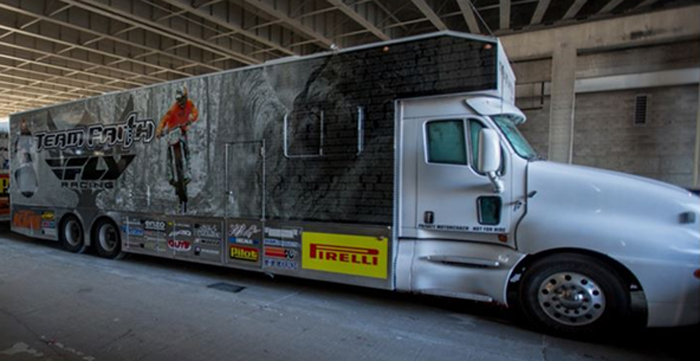 Team Faith is one of the longest-running and most respected teams in AMSOIL Arenacross.
Photo: Josh Rud / ShiftOne Photography
---