Back to News
B$Z: AMSOIL Arenacross Interview of the Week - Husqvarna TiLUBE TUF Racing's Kyle Regal
January 31, 2015
Husqvarna TiLUBE TUF Racing's Kyle Regal is in the midst of his second full season of AMSOIL Arenacross, featuring Ricky Carmichael's Road to Supercross, competition. With a new training program and new approach to racing, along with a full season under his belt, Regal believes in his mind there is no one more deserving and ready to claim the 2015 Arenacross Class title than himself. Fresh off his first win of the season last Saturday night in Colorado Springs, Colorado, AMSOIL Arenacross caught a few words with the 23 year old on his way home from the race.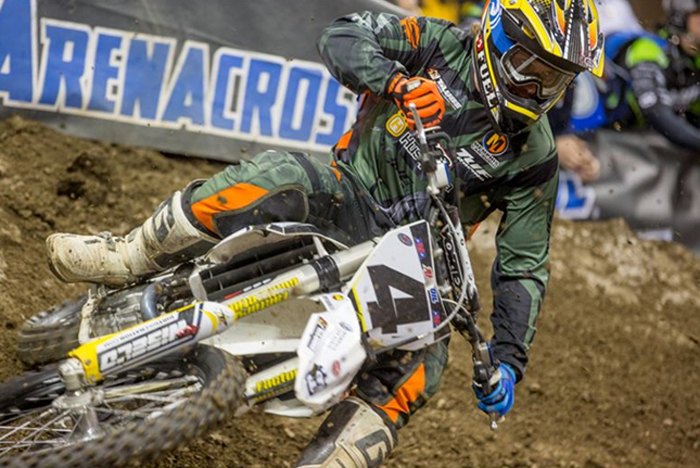 Regal currently sits third in points and is in his second full season of AMSOIL Arenacross competition.
Photo: Josh Rud / ShiftOne Photography
Kyle, you have been racing now for 19 years. Talk about the moment growing up that sparked your dream to some day race professionally?
My career initially started when I was four, but only because of my older sister. She started racing and I would get her old bikes. When I started racing, I wasn't too into it. I would be at the track because of my sister, not because of me. If I raced, I raced, if I didn't, I didn't. It didn't really matter to me. I was 11 when I had the huge turn in my mindset towards racing. My bike broke and my step dad did whatever he could to fix it for me. Shortly after that, he had a huge track built in Michigan [his home state] for my sister and I to ride. Two years later he sat us down and gave us the decision to either stay in Michigan or move somewhere warm and dedicate all year to riding. I was 14 when we chose to move to Texas, so ultimately my parents are the ones who gave me this opportunity and the stepping stones to be where I am today in my career.
This is your second full season in AMSOIL Arenacross. Talk about the competition difference this year compared to 2014, and how do you personally see yourself fitting in with the competition?
The competition this year from last year is still close. Last year there was a three-time reigning champion [Tyler Bowers], so he was the main competition and clearly had the system dialed in. Now there are a lot of guys close in speed. I feel like this year it all comes down to the starts. It's not any easier this year than last, it's just different and there are a lot more guys going at a speed that's able to win, which means there are a lot of guys that have the potential for the championship. As far as how I am feeling this season, I have a lot of confidence in my training program this year. When I am on the line I feel like I am one of the guys to win. I prepare and work harder than I ever have during the week to make the weekends flow that much easier. If I keep doing what I am doing now, there is no reason I shouldn't be winning every weekend. The most satisfying thing about racing AMSOIL Arenacross is achieving goals. Every goal as a racer is to be the first one to the checkers, and to already have accomplished that a couple times this early in the season is such a great feeling. You will be seeing more of me up front than last year. As I am improving as a racer every weekend, the team is improving and the bike is improving, and by the time the Race to the Championship comes, Team TiLUBE TUF Racing Husqvarna will be at 100 percent and ready for a championship.
You mentioned your training program being a huge difference from last year to this year. You train young, aspiring riders during the week. As a professional athlete, what advice do you give to them and how is it also helping you?
The advice I grew up knowing is the same advice I give these kids, which is the harder you work, the easier your goals will come in life. Honestly, as much as I help them I feel like they return the favor by helping me. This is my first year training riders during the season, and so far it has really stepped my game up. Being in this type of environment all the time, watching these kids ride and helping them better their training and riding program is also helping me prepare for the weekends. It's crazy because I give them advice and help them mentally prepare for their events, but in return I am able to take that same advice and apply it into the weekend for myself. Helping these kids achieve their dreams has been huge motivation for me during the week. I love seeing all their hard work pay off. I don't have kids personally, but now I feel like I do. They have changed my whole mindset on racing and wanting this championship. I get phone calls and texts from them during race day cheering me on and wishing me well. It is such a confidence builder for myself. I approach races a lot different than I ever have in my entire life. So far, my results have been a little inconsistent, but I think that was a little out of my control. From here on out I don't see any reason why I can't track down the points leader and take over the lead within the next couple of races.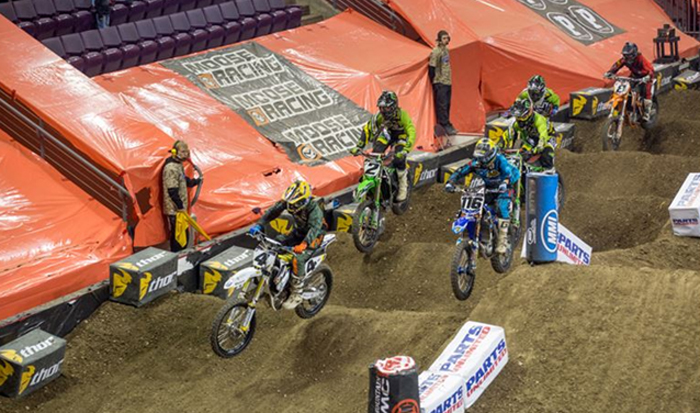 Regal raced to his first win of the season last Saturday in Colorado Springs.
Photo: Josh Rud / ShiftOne Photography


Saturday was the first time you hadn't qualified to compete in the RMATV/MC Head 2 Head Challenge, yet you still ended the night with your first overall win of the season. It had to feel good ending on such a high note!
Saturday was a crazy day. If you had to draw out the perfect night of racing, you wouldn't have done it the way I did, but that's what makes getting the win feel that much better. The night started off great with the holeshot in my Heat Race, but I wasn't able to jump the catapult [finish line] the first lap, so the remainder of the race I played catch up until I actually got back into a qualifying position. Finishing sixth in my Heat Race meant I wasn't able to compete in the Head 2 Head Challenge, and between my teammate [Gavin Faith] and I, we had won every one so far this season! That really bummed me out. My sixth-place Heat Race finish also meant I had a second row start in the first Main Event. I was pretty fired up after that and I really made some smart moves in the first turn, which helped me finish third in that first Main Event. The second Main Event I shot out of the gate for another great holeshot and after a couple-lap battle with Kiniry, I was able to pull away and ride in my comfort zone for the win. Because I didn't race the Head 2 Head Challenge I honestly had no clue I won the overall, so when they pulled me up and broke the news to me I was pumped!
What is the most challenging thing about AMSOIL Arenacross racing fans may not see? What do you do to overcome those challenges and, in turn, ultimately achieve your goal of getting your first AMSOIL Arenacross championship?
The biggest challenge the fans don't see is all the hard work we put in during the week. There are also a lot of things done and said in the pits that goes unseen or heard. Mentally I'm in a different place this year. I know that I am one of the guys to beat and if I execute on race day I shouldn't have a problem doing what I did this past weekend from here on out. My goal is to continue chasing down more wins, but at the same time being smart and looking at the longevity of the series. I feel like I have an advantage on these guys in that aspect. A lot of them are throwing it all on the line for the overall win every weekend, so we have a lot of guys getting hurt in the process and not so much looking at the series as a whole. But that's the way they are going after it and that's their decision. I can only worry about myself and how I go about it. I will just keep putting in the hard work and by the time it comes for the points reset and the Race to the Championship, I have complete confidence I will be 120-percent ready to claim it [the title].
Talking about the last six races of the season, the Race to the Championship, what is the one thing that will set you apart from the other riders to potentially win your first title?
The one thing that sets me apart is my starts, 100 percent without a doubt in my mind. My reaction times to the gate drop are insane this year. I don't know what it is about this year but every time I am on the line, if I come over the gate clean I know I am going to get the holeshot. The setup I have with the Husqvarna and the experience and support from my team, TiLUBE TUF Racing, leads me in the right direction. I have one year of AMSOIL Arenacross under my belt and I feel like I'm building and improving every weekend. I took last year as my learning year and this year I feel like I know a lot more. I feel like I'm the guy that knows how to race the whole season and know where to put myself when it comes time to the last six races and getting that championship.
---