Back to News
B$Z: AMSOIL Arenacross Interview: Team Babbitt's Monster Energy/AMSOIL Kawasaki's Chris Blose
February 5, 2015
Parity has played a major role in the championship so far in the 2015 AMSOIL Arenacross, featuring Ricky Carmichael's Road to Supercross, season. One of the riders who has broke through and achieved success this season is Team Babbitt's Monster Energy Kawasaki's Chris Blose. Just last weekend in Nashville, the 27-year-old Arizona native became the first and only rider this season to sweep the entire night of racing. The veteran rider has raced many years in Monster Energy AMA Supercross, an FIM World Championship, and may be new to AMSOIL Arenacross, but so far he's used his experience to establish himself as a contender and hopes to continue to do so as he aims to earn the Arenacross Class title.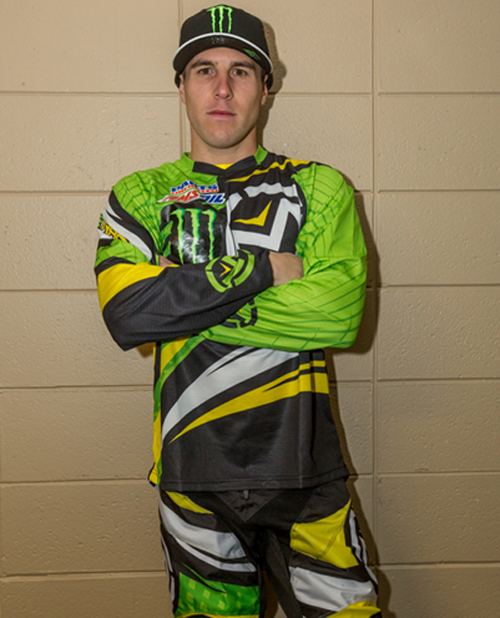 Blose has two overall wins in AMSOIL Arenacross this season.
Photo: Josh Rud / ShiftOne Photography


Chris, what initially sparked your dream of becoming a professional rider?
I grew up around it my whole life, my dad, brother and uncle all raced professionally so everything sort of fell into my lap and I followed in their footsteps. At one point in my career I actually quit racing because I was always hurt. I tried to compete in other sports but I always came back to racing. One year everything just seemed to click and I knew that racing was what I wanted to do, so I put my head down and went to work to start pursuing my dreams and here I am!
You are a new face to AMSOIL Arenacross but certainly no stranger to the industry. Can you give us a background on your professional career before AMSOIL Arenacross?
I started racing professionally in 2006, competing in the Eastern Regional 250SX Class in supercross, then after that I raced in the Western Regional Championship. In 2009 I rode for Troy Lee Designs and finished fifth overall in the Western Regional 250SX Class. At the time I felt it was my break out year, I felt like things were clicking and it made me standout in the industry. Little did I know that I still had a lot more to learn. The next year I moved onto racing 450's in the 450SX Class until 2014. Now looking back at that moment in 2009, I wouldn't say that was my break through year because of what I have learned and gone through since that year. This year I feel like I am in the best shape of my career both mentally and physically. I believe the best is yet to come for me.
Now having raced both Monster Energy Supercross and AMSOIL Arenacross, what are your thoughts on their similarities and what sets them apart? Is it what you expected?
Both series go about running things in the same way, but a couple of things that sets AMSOIL Arenacross apart in a good way is the Head 2 Head Challenge, the Race to the Championship, as well as the Road to Supercross program. I think the Road to Supercross is a great program, and a perfect opportunity for upcoming riders to get their feet wet with not only the intense racing but also with interacting with fans, press opportunities and media. I think it sets them up well for supercross and that's what their main goal is. It's really cool to be a part of it and watch them come through the ranks. The Race to the Championship is new to me this year, but it really turns out to work in my advantage since I had to sit out a night in Grand Rapids [due to injury]. It is definitely going to be intense when the points reset. There will be interesting things going on out on the track and probably some interesting things said in the pits after the races. AMSOIL Arenacross is nothing to take lightly and I did not expect it to be this intense and unpredictable. It is a completely different type of racing. You have fast sprints, 20 second lap times for 15 laps. You have to make things happen fast, and sometimes you have to be aggressive because you don't have much time or space to plan out your moves, unlike supercross. Things have calmed down a little since the first round, but going into Round 5 this weekend anything can happen.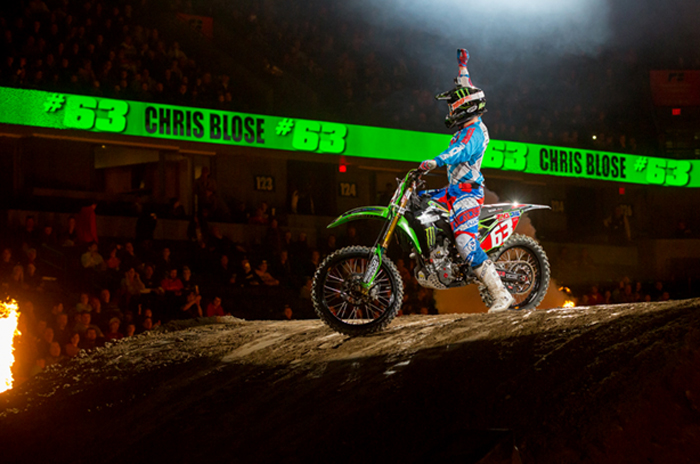 Despite having never competed in AMSOIL Arenacross full time, Blose has established himself as a title contender in his first season.
Photo: Josh Rud / ShiftOne Photography


This wasn't a last minute decision to race AMOSIL Arenacross; you actually have been trying to get involved with Team Babbitt's for quite some time now.
I have been trying to get involved with Team Babbitt's for a couple years now. I have been talking with Denny [Bartz, team manager] trying to put together a deal. In the meantime, I did my own thing in supercross, privateer style, until this deal finally came together with Babbitt's, and I couldn't be happier. This is a huge step forward in my career and I can't wait to excel in AMSOIL Arenacross with Team Babbitt's.
We caught a couple of words with you before the season opener in Cincinnati and you mentioned you have never been more prepared for any season like you have coming into AMSOIL Arenacross. What did you do and what sparked the ambition and motivation?
Coming into AMSOIL Arenacross I knew I had to ride 250F's and I weighted 188 pounds, which you can get away with on 450, but not so much on a 250F. My trainer and I got to work four months before the season. Honestly, I didn't think I would be able to lose the weight, but with dedication and a lot of hard work, I shed 25 pounds and now I am racing AMSOIL Arenacross at my goal weight. Besides that huge preseason accomplishment, we put in countless hours of testing and seat time on the bike and I feel like now that we are in the season, it is all paying off. I have never felt more prepared and I couldn't be happier about it.
Nashville was good to you. You were the first rider in 2015 to sweep the night from your Heat Race to the final Main Event checkers, which had to help with your motivation after your unfortunate injury a few weeks ago.
It felt good to sweep the night. Obviously you just want to get the overall win, but to sweep the night felt awesome. Hopefully we can continue the win streak, whether it's the night or just getting overalls. Most importantly though, I just want to stay healthy and make sure that when it is the Race to the Championship I am ready to turn it up.
What do you think separates yourself from the rest of the riders and makes you think you have what it takes to be the next champion?
I have a lot of experience on everyone. I've been in tough positions and a lot of high-pressure situations. It is something I thrive off of. I am mentally strong and when the going gets tough that's when I really pull through and excel. Whoops are my strongpoint, and my starts are really good and consistent. Knowing my surroundings is always my personal key. I usually know where everyone is at during the race and what I have to do to win. I am not only physically ready, but I am also mentally strong and know what I need to do to win the championship.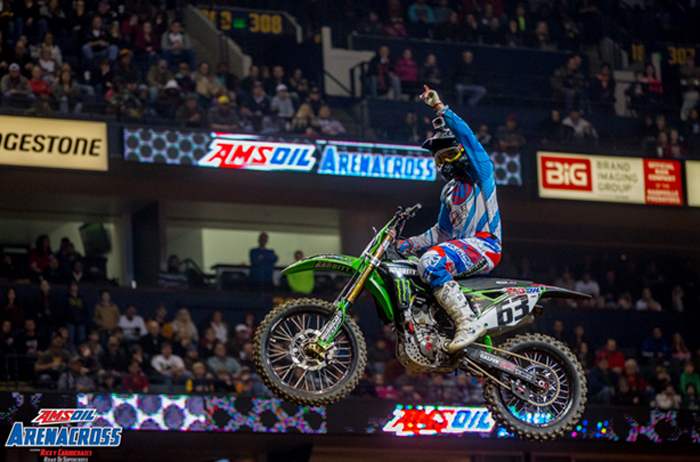 Blose's win last weekend in Nashville came as a result of winning both Main Events and the RMATV/MC Head 2 Head Challenge.
Photo: Josh Rud / ShiftOne Photography
---